Chaos rules roads in walled city
Haphazard parking seen at Mall Road, Lawrence Road and Crystal Chowk among other locations
GS Paul
Tribune News Service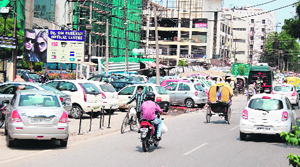 Amritsar, June 16
Even as Deputy Chief Minster Sukhbir Badal recently talked about introducing robotic parking in various cities, Amritsar is crying for basic parking facilities in many of its localities. Haphazard parking can be seen at many places in the walled city, especially outside Mall Road, Lawrence Road, Crystal Chowk.
The introduction of towing away the wrongly parked vehicles has hardly brought any change. A couple of months ago, when the police department had conceptualised the idea of engaging private players for towing away the wrongly parked vehicles, the residents were a delighted lot as such a move was the need of the hour to deal with parking woes in the city.
But after a while this exercise proved to be a temporary relief, courtesy the casual attitude of the police department.
The city police has engaged eight privately-owned hydraulic tow-away vehicles which are hardly spotted performing their job. The on-duty policemen avoid calling the tow-away vehicles thinking the job has been outsourced by the department.
Had this move been taken in letter and spirit, it would have had helped generating revenue besides teaching a lesson to those who care two hoots to the parking norms.
In major commercial areas such as Mall road, Queens Road and Hall Bazaar among others, there is no provision of organised parking spaces which results in a parking chaos.
Even as the city has designated parking lots in posh areas like Lawrence road, Nehru Shopping Complex, the situation is moreover dismal. Due to wrong parking of vehicles on city roads, the traffic flow often gets disturbed.
It has been highlighted umpteen times in these columns that at Nehru Shopping complex, some of the shopkeepers have permanently encroached upon the parking lots meant for four-wheelers by erecting their billboards.
Similar scenario is seen on the roadside opposite Crystal Chowk, in front of malls and banks on Mall Road, opposite shops located on Albert Road, not to forget the mess created by auto-rickshaws opposite the Bus Stand and the main GT road near Railway Station.
As most of the vehicles are parked along the roads, the effective road width gets drastically reduced. This causes traffic congestion, time loss, and inconvenience to commuters and tourists alike.
A proper parking facility is available at the Golden Temple and Gurudwara Shaheedan only.
The traffic congestion is even more visible at fish, iron and furniture markets at Katra Sher Singh and Bagh Akalian, iron and steel market at Cheel Mandi, timber market at Bakarwala-Ghee Mandi as people start loading and unloading vehicles on the roadside.
With no available parking lots, visitors to most of the government offices in the city are forced to use roadsides to park their vehicles.
Parking is a major problem in the District Courts complex and Deputy Commissioner's office complex where most of the public offices (treasury, suvidha centre, patwar khana and many others) are located.
Most of the designated parking lots do not have separate space but have line demarcation on the roads itself which is a regulated form of on-street parking which again reduces the effective road width.
This is seen at Court Road, ICICI Bank-Mall Road and Telephone Exchange parking lots.
In the case of Pandit Deen Dayal Upadhya parking lot which was constructed by the MC to decongest traffic, especially in Hall Bazaar and its surrounding areas, it is lying vacant because people have to walk longer distances to reach places.
Assistant Commissioner of Police (ACP-Traffic) Ketan Patil said, "We are doing our best with the inadequate force we have to streamline the parking problems. Moreover, the citizens themselves should have civic sense to park their vehicles in a proper way. We can only enforce the rules by issuing them challans or towing away their vehicles, if wrongly parked."
Dismal parking scenario
There are no organised parking spaces in commercial areas such as Mall road, Queens Road and Hall Bazaar
The situation is also dismal in posh areas like Lawrence road, Nehru Shopping Complex even as they have designated parking lots
Similar scenario is seen on the roadside opposite Crystal Chowk, in front of the malls and banks on Mall Road, opposite shops located on Albert Road
Traffic congestion is even more visible at markets in Katra Sher Singh, Bagh Akalian and Cheel Mandi where people load and unload their vehicles on the roadside
Inadequate parking at Govt offices
Visitors to most of the government offices in the city are forced to park their vehicles on the roadside as there are no parking lots
Parking is a major problem in the District Courts complex and DC office complex where most of the public offices (treasury, suvidha centre, patwar khana and others) are located
Most of the designated parking lots at Court Road, ICICI Bank-Mall Road and Telephone Exchange parking lots have line demarcation on the roads itself reducing the effective road width
Towing away ineffective
The city police has engaged eight privately-owned hydraulic tow-away vehicles but they are barely spotted performing their job
The police department had conceptualised the idea of towing away the wrongly parked vehicles a couple of months ago
The on-duty policemen avoid calling the tow-away vehicles thinking the job has been outsourced by the department
Official speak
We are doing our best with the inadequate force we have to streamline the parking problems. Moreover, the citizens themselves should have civic sense to park their vehicles in a proper way. We can only enforce the rules by issuing them challans or towing away their vehicles, if wrongly parked. — Ketan Patil, Assistant Commissioner of Police (Traffic)