Construction labourers continue to suffer despite realty boom
Neeraj Bagga
Tribune News Service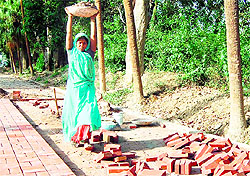 Amritsar, June 12
Even as the real estate sector has witnessed a tremendous growth in this border town of late, those engaged as construction labourers in the sector are still getting a raw deal.
The realty boost, as a result of which a number of townships with plush houses sprung up, has hardly benefited the ones who practically make possible the work on these sites.
And unfortunately, their plight has not been heard either by the government, legislators or the local administration.
The Union government had enacted the ambitious Unorganised Workers' Social Security Act in 2008 for offering various social security benefits to the workers engaged in construction activities but its implementation remains
a far cry here. Besides,
the Punjab government enacted the Punjab Building and Other Construction Workers Welfare Board in 2002.
The Labour Department here has so far registered only 6,500 beneficiaries (labourers) of various schemes run under these two.
Inderpal, general secretary (Punjab), National Centre for Labour (NCL), said after 2000 the border district underwent a construction boom and roughly over 1 lakh construction workers were involved in picking up bricks, masonry, whitewashing, plumbing, tile polishing and others.
Despite the rules and schemes for the welfare of this section being in place, the labourers are being deprived of social welfare benefits primarily due to lack of awareness.
Inderpal said the government had never made sincere efforts to reach out to this section so as to sensitise them about various schemes.
As per the schemes available with the Labour Department, a construction worker has to be a registered member of the Workers Welfare board by depositing a one-time Rs 25 and then monthly Rs 10. To become eligible for the scheme, he/she should have been working for three months.
A labourer registered with the Labour Department is eligible Rs 1 lakh insurance with medical claim of Rs 30,000 for not more than five family members (per person) for a year.
Other benefits include children of registered labourers will get Rs 150 monthly stipend from Class I to V, Rs 200 monthly stipend from Class VI to VIII, Rs 250 monthly stipend from Class IX to XII. In case a student studies in college, she will get stipend from Rs 1,000 to Rs 2,000. In case, they stay at hostel during college education they are entitled to get an annual stipend of Rs 50,000.
Advance for buying bicycle, computer, television and annual wheat loan are given to the labourers without interest.
Girl children get a grant of Rs 21,000 during the time of their marriage. Besides, these workers are eligible for a loan between Rs 30,000 to Rs 50,000 without interest for the marriage of their daughters.
If a family member is afflicted with serious ailment like cancer, a grant of Rs 1 lakh is given for the treatment. During the course of work, if a labourer gets injured or physically handicapped then there is the provision of a grant between Rs 50,000 to Rs 1 lakh, besides insurance.
A registered labour gets an annual sum between Rs 1,000 to Rs 2,000 for pilgrimage or outing.
Inderpal said even though the state government got a cess of one per cent for the construction of a building valued over Rs 10 lakh within the city, the benefit is not reaching the targeted workers. He said the similar cess must be applicable to the rural areas.
Benefits they can avail
A labourer registered with the Labour Department is eligible for Rs 1 lakh insurance with medical claim of Rs 30,000 for not more than five family members (per person) for a year
Children of registered labourers can get Rs 150 monthly stipend from Class I to V, Rs 200 monthly stipend from Class VI to VIII, Rs 250 monthly stipend from Class IX to XII
In case a student studies in college, she will get a stipend from Rs 1,000 to Rs 2,000. In case, they stay at hostel during college education, they are entitled to get an annual stipend of Rs 50,000
Girls can get a grant of Rs 21,000 during the time of their marriage, besides a loan between Rs 30,000 to Rs 50,000 without interest for workers for the marriage of their daughters
The schemes
The Unorganised Workers' Social Security Act was enacted by the Centre in 2008 to provide social security benefits to the workers engaged in construction activities but its implementation remains a far cry here
The Punjab government enacted the Punjab Building and Other Construction Workers Welfare Board in 2002
The Labour Department here has so far registered only 6,500 beneficiaries (labourers) of various schemes run under these two programmes