PUNJAB

HARYANA

JAMMU & KASHMIR

HIMACHAL

REGIONAL BRIEFS

NATION

OPINIONS

LETTERS

BUSINESS

SPORTS

WORLD


Woman set afire, in-laws booked
Amritsar, June 5
A woman, resident of Gharinda, was allegedly set on fire by her in-laws. She was rushed to a hospital with serious burns.
High Court Chief Justice pays surprise visit to Central Jail
Amritsar, June 5
Gross irregularities come to the fore in Amritsar Central Jail when Chief Justice of the Punjab and Haryana High Court Sanjay Kishan Kaul paid a surprise visit to the jail here today.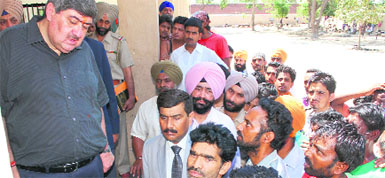 Chief Justice of the Punjab and Haryana High Court Sanjay Kishan Kaul interacts with inmates during his visit to Central Jail in Amritsar on Wednesday. A Tribune photo
Punjab Government releases arrears of GNDU teachers
June 5, 2013
City girls bag 3rd, 5th positions
June 4, 2013
GNDU teachers' hunger strike enters 11th day, assn flays VC
June 3, 2013
HC serves notice on civic body
June 2, 2013
Employees serve ultimatum on staff shortage in Fire dept
June 1, 2013
City students fare well in CBSE Class X exams
May 31, 2013
Trains delayed as two coaches derail during shunting
May 30, 2013
Fire-fighting system a casualty at city hospitals
May 29, 2013
City girls continue with their winning streak
May 28, 2013
Day4: Tussle between GNDU faculty, authorities intensifies
May 27, 2013