Relaxing norms for excavation of brick earth boosts construction
Neeraj Bagga
Tribune News Service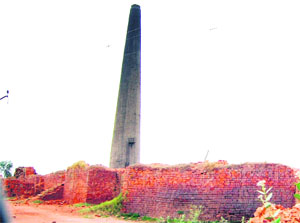 A view of a brick-kiln on the outskirts of Amritsar. photo: Sameer Sehgal
Amritsar, June 2
Relaxation of excavating brick earth norms by the state government has resulted in decrease in the rate of bricks from Rs 7,500 to Rs 4,600 per 1,000 pieces.
Amritsar Brick-Kiln Owners' Association president Mukesh Nanda said construction business had revived in the region which was severely hit following the ban on earth excavation. "Even low volume of sales have jumped up and the demand has picked up," he said.
Earlier, the market was hit by shortage of construction material and subsequent skyrocketing prices. People have shelved their construction plans and only those who could not postpone it for unavoidable reasons were involved in the same.
Simarjit Singh, a resident of Loharka road, said he had been constructing his house when the price of bricks increased unexpectedly.
"Suppliers complained of no supply from local brick kilns. Then they arranged the same from Bathinda, Sangrur and other parts of Malwa. Subsequently, they announced that the stock received from Malwa were also exhausted and they arranged the same from Rajasthan," he said.
Simarjit added that as a result the cost of bricks also rose but they could not afford to desert the construction midway.
Nanda said prices have settled down for now and sales have reached a normal level.
He said kilns here remain operational for six months, from April to June and October to December, in a year.
On further fall of price of bricks, he said nothing could be said with certainty as labour prices had also been increased by nearly Rs 250 per 1,000 bricks since October 2012.
District Mining Officer Dharam Pal Bhagat, who is also the General Manager, Department of Industries and Commerce, said brick-kilns had been allowed earth excavation on two hectares and into 1.5m after getting certificate of approval and permit for the same. However, earth excavation for bricks over two hectares would require the EMP clearance.
For EMP clearance, a district-level committee has been constituted. The committee is headed by Deputy Commissioner and its other members are SDM, District Forest Officer, environment engineers of the Punjab Pollution Control Board (PPCB), Drainage Department, PWD, Irrigation and the district Mining Officer is its Member Secretary.
Residents desirous of constructing their homes had heaved a sigh of relief as escalating sand prices in the city were already on the downward trend. Earlier, many development and private construction works had been hampered, as the rate of bricks remained unabated.
The high prices forced many people to halt construction and repair works.
Earlier, the Punjab and Haryana High Court on August 18 had imposed a ban on mining without environment clearance in all operational quarries less than 5 hectares.
The order is in tandem with the Supreme Court order of February 27. It says that permission from the Ministry of Environment and Forests was mandatory for the quarrying of minor minerals on land less than 5 hectares. It prompted the government to form EMP committees at the district level to provide environment clearance.