Armymen held for robbery: Lure of easy money did them in
Amritsar, June 1
The lure of easy money and lavish lifestyle drove Bikramjit Singh, Sahib Singh and Malkit Singh — the the three armymen arrested yesterday for being part of an interstate robbers' gang — into the crime.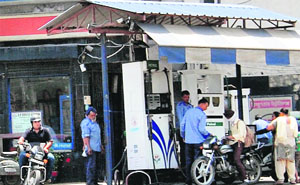 Increase in petrol, diesel and milk prices to affect the common man
Amritsar, June 1
With the oil companies increasing the petrol and diesel prices from tonight and Verka also raising milk prices by Rs 2 per litre, the common man has been further hit by high inflation.

The hike in fuel prices has left the city residents fuming this time again. Photo: Sameer Sehgal

vanishing fresco
Tourism Dept team visits Golden Temple
Amritsar, June 1
A day after a news report was published in Amritsar Tribune regarding a rare fresco on the verge of vanishing near the Golden Temple, a team of the Department of Tourism today visited the site and showed keen interest in preserving the wall painting.
Erratic power supply hits small industries
Amritsar, June 1
It is not only the domestic consumer, the power crisis has also hit the micro and macro industrial units located in unplanned and residential areas of the city.
Non-payment of Arrears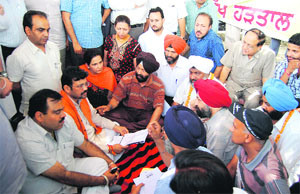 BJP state chief assures of taking up matter with CM
Amritsar, June 1
BJP president Kamal Sharma and other party leaders met protesting teachers of Guru Nanak Dev University here today. Demanding release of their arrears of the Sixth Pay Commission, the protest by GNDU Teachers' Association (GNDUTA) entered its tenth day today.

BJP state chief Kamal Sharma meets members of Guru Nanak Dev University Teachers Association in Amritsar on Saturday. photo: sameer sehgal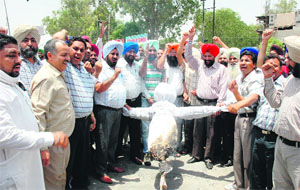 Employees protest against government
Amritsar, June 1
Members of the Sarv Sikhya Abhiyan and Rashtriya Madhyamik Sikhya Abhiyan Non-Teaching Employees Union held a protest at historic Ram Bagh here today against the state government in favour of their demands.

Sarv Sikhya Abhiyan teachers burn the effigy of Punjab Education Minister Sikander Singh Maluka during a protest in Amritsar on Saturday. photo: vishal kumar


City orthopaedist invited to present research paper in Turkey
Amritsar, June 1
Dr Rakesh Sharma, Associate Professor, Department of Orthopaedics, Government Medical College, has been invited for the 14th Congress of the "European Federation of National Associations of Orthopaedics and Traumatology (EFORT)", being held at Istanbul, Turkey, from June 5.
Dr Rakesh Sharma

SAD workers accuse BJP MLA of bias
Amritsar, June 1
A group of SAD workers today protested against Amritsar East MLA Dr Navjot Kaur Sidhu accusing her of ignoring the development works in their area which falls in her Assembly constituency. The SAD workers from Ward Nos. 16, 17 and 34 blocked traffic on the Sultanwind road and burnt her effigy to lodge their protest. They alleged that they worked hard to make sure that she won the Assembly elections, but today they were being ignored. They alleged that the BJP MLA was biased against them, particularly in Ward No. 34.
from schools and Colleges
BBK DAV College girls shine in varsity results
Amritsar, June 1
Aishwarya Sharma of BBK DAV College for Women stood second in Guru Nanak Dev University's Bachelor of Journalism and Mass Communication Semester-II. Her classmate Barkha Chadha and Abilasha Kapoor bagged sixth and ninth positions, respectively, in the university. College principal Dr Neelam Kamra congratulated the students for their success and appreciated the efforts put in by the teachers.
Dhruv Pandove Trophy
Amritsar restrict Chandigarh to 194
Chandigarh, June 1
On the first day of the Dhruv Pandove Trophy for boys (U-19), the local side scored 194 runs for the loss of eight wickets against Amritsar today.
Thieves decamp with cash
Amritsar, June 1
Unidentified motorcycle borne youths robbed a Delhi resident, identified as Baljit Kaur, who was travelling on a rickshaw in the Golden Avenue area here.