Touchstones
Filling every moment versus savouring it
Boredom is good for the soul and children should be allowed to spend long spells that do not have anything to do with mind development. Observing and listening are great for learning about life.
Ira Pande

India was always such a land of wonders and contradictions that the great scholar-President Radhakrishnan, when writing the preface of his famous treatise on Hinduism, declared that every truth about this land is offset by an opposite fact that is equally true. On Saturday morning, I read with pride that a boy of Indian origin had won the prestigious Spelling Bee award in the US. For the sixth year running, this prize has been bagged by an Indian student and it is now sometimes said in jest that no other community can ever hope to win this prize because Indians are the best spellers in the world.
The irony is that the same newspaper where I read this was accompanied by the usual clutch of flyers that come each morning with our papers. The one that caught my eye was from a fix-it man who was a 'speecailist' in 'lickages'. Another flyer advertised 'luxuary' cars, still another 'chikan tikka'. And it goes on and on. I remember a small school in Samrala (where my husband was once posted as an SDM), which proudly declared itself Holy Child Pubic School and a club that called itself the Loins Club. Forget those purists who bemoan the lack of knowledge about apostrophes and split infinitives, what we have to tackle today is the ubiquitous disease of twitter-spell. 'CU' for 'see you', 'mite' for 'might', 'wid' for 'with' and so on. I know that English is a tough language where spellings are concerned and that, unlike Hindi, it is not phonetically logical but if one is going to teach it, perhaps we need to pay some attention to the way it is rendered in print.
Several mandatory language exercises we were made to go through as schoolchildren are now considered a waste of time. Among those were transcription (to encourage writing neatly); dictation (for perfecting spellings) and elocution (for memory and pronunciation). One teacher punished us by making us learn two pages of 'The Acts of the Apostles' or a passage from Shakespeare by heart. Since I was often punished for talking in class, I benefited hugely from this 'punishment'. Another favourite was making sentences with words that sound alike but have different meanings: key and quay; lightning and lightening.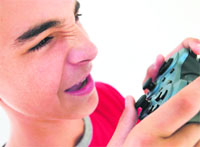 As compared to that Jurassic Age, we now have children attached to their hand-held devices, busy playing games. Their skill with a small keyboard is impressive but if you ask them to write with a pen, their hands get paralysed. Coping with silence and inactivity is another vanished accomplishment. With the summer holidays comes the problem of dealing with energetic children. I see young mothers driving them from one activity to another all day: clay-modelling, painting, origami, cooking without fire and God alone knows what. I do not remember the mothers of our generation doing any such thing: we left the kids to find their own entertainment and mostly it was books or indoor games. I wish to tell all anxious mothers boredom is good for the soul and that children should be allowed to spend long spells that do not have anything to do with mind-developing activities. Minds develop even when not productively engaged. Observing and listening are great for learning about life.
The truth is that whether old or young, we have all forgotten the art of relaxation. While children are being dragged from one activity to another, retired folk – who should know better – are busy chasing jobs and assignments when they should be enjoying the fruits of their toils. When I quit working about a year ago, the most common question I was asked was, 'What will you do now?' As if all that made life worthwhile was the rat race that kept you chained to a routine from morning to evening. In this last year, I have read, written, translated, travelled, cooked for friends, seen more movies than in the past 30 years, and felt younger than ever. The joy of drinking your morning cup of tea with a crisp newspaper, having a leisurely breakfast and not rushing through a bath before driving through rush-hour traffic — all these have given me a vision of heaven on earth. I pity those who could have all this but choose not to avail of it because they dread dealing with leisure or losing control over other lives.
If only the seniors would choose to hand over while the young are young, we would not see the spectacle of political parties presided over by a mummy or daddy, sometimes even a grand-daddy. To face the ignominy of a disgraceful exit (such as Arjun Singh) is far worse than retiring when you know that there is an impatient world waiting for you to make place for a new generation. Those dreaming of leading this country when they are in their eighties must realise their days are over. The 'luxuary' of choice is not theirs any more: move on before being turfed out. The young are tweeting their thoughts but you lack the eyes to see and the ears to hear. Sip that morning cup of tea with birdsong in your ears rather than curses muttered behind your back.