PUNJAB

HARYANA

JAMMU & KASHMIR

HIMACHAL

REGIONAL BRIEFS

NATION

OPINIONS

LETTERS

BUSINESS

SPORTS

WORLD


City girls continue with their winning streak
Amritsar, May 27
City girls have outshone boys in the Central Board of School (CBSE) Class XII examination, the results of which were declared today.

Students of Spring Dale Senior School celebrate after the result of CBSE Class XII examination was declared; (right) students being felicitated at DAV Police Public School in Amritsar on Monday. Photos: vishal kumar
Man flees from police custody, arrested
Amritsar, May 27
Just a few hours after his arrest, an alleged drug peddler escaped from police custody at the Chatiwind police post. However, he was arrested again by the police from Sangra village and has been sent to judicial remand.
Mayor-led MC team visits Bhagtanwala dumpsite
Amritsar, May 27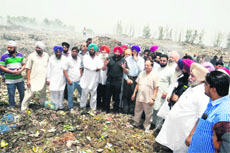 Sensing the alarming state of affairs prevailing at Bhagtanwala garbage dump yard, Amritsar Mayor Bakshi Ram Arora, Chief Parliamentary Secretary Inderbir Bolaria and Municipal Corporation officials today visited the spot.
Mayor Bakshi Ram Arora and MLA Inderbir Bularia (centre) at the garbage dumpsite at Bhagtawala in Amritsar on Monday. A tribune photograph

Day4: Tussle between GNDU faculty, authorities intensifies
May 27, 2013
Gang of forgers busted
May 26, 2013
GNDU hostels serve unhygienic food
May 25, 2013
GNDU faculty goes on hunger strike
May 24, 2013
Eco-rickshaws ply on city roads
May 23, 2013
Two undertrials clash in Amritsar Central Jail, one sustains injuries
May 22, 2013
Heatwave claims 3 lives in a week
May 21, 2013
Rahul Sharma of DAV school tops city in PSEB Class XII exams
May 20, 2013
With Sharif at helm in Pakistan, city traders see a ray of hope
May 19, 2013
Police admn starts cancellation process of arms licences
May 18, 2013
15 child labourers rescued
May 17, 2013
Central Jail canteens charging exorbitantly, allege prisoners
May 16, 2013
Kingpin of looters' gang arrested
May 15, 2013