15 child labourers rescued
PK Jaiswar
Tribune News Service
Amritsar, May 16
In a late-night raid, the Sultanwind police rescued 15 children, aged between 5 and 10, who were reportedly being forced to work in inhuman conditions.
They were forced to work for around 18 hours daily and were also beaten up with wires and wooden sticks in case they tried to defy the contractor, who had brought them here after luring their families.
A majority of these children belong to Bihar and their parents are very poor and work as farm labourers. The children said they were given food only twice a day. The wounds and marks on the body of several children tell the tale of inhuman treatment meted out to them.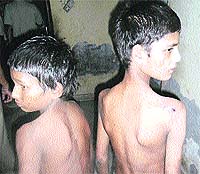 Some rescued children show the injury marks on their arms in Amritsar on Thursday. Photos: Sameer Sehgal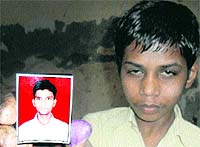 A rescued child shows the picture of the contractor, Arwind Jaiswal, who brought them from Bihar to Amritsar, on Thursday. Photo: Sameer Sehgal

They used to manufacture artificial earrings.
The police has initiated action under the charges of the Human Trafficking Act against their contractor, identified as Arvind Kumar Jaiswal, also a resident of Bihar.
For the past one and a half year, they never went out of their rented accommodation. They were kept in the house taken on rent by Jaiswal.
"Since the day we were brought from our house in Bihar, we were never allowed to go out of the house," said an inmate Vikas Kumar (10), who used to cook the food for all the children. He said, "Our maalik (owner) allowed us to prepare and serve food at 11 am and at 6 pm, while we woke up at about 4 am and sleep at 12 pm."
Another child Ritav Kumar said they were not given money for their labour. Jaiswal told us that he gave Rs 1,000 per month as salary to our parents in Bihar.
A team of the Labor Commissioner office and health department reached the spot after they were informed by the police party.
Jagir Singh, labour inspector, said their condition at the rented accommodation were pitiable. All children were packed in a single room where they lay on the floor. They were given dirty and torn clothes to wear.
The matter came to light when a lady, Shambo Devi, noticed three boys on the roof the house who were demanding something to eat.
"I entered the house from the rooftop and was shocked to see the pathetic condition of these children. I immediately informed the police station about this," she said.
Snehlata, child development and project officer, said a meeting of child welfare board would be held tomorrow morning about the rehabilitation of the rescued children.
Arun Sharma, SHO, Sultanwind police station, said a case under the Human Trafficking Act was being registered against Jaiswal, who had gone to his village for his marriage.