Beer and whisky
Non-availability of particular brands hits hotel business
Amritsar, May 14
Business in city hotels is suffering as these are not getting beer and whisky of certain brands even though these are available in liquor vends of the city. Hoteliers complain that this has further hit their business, which was already passing through a bad phase due to high taxes imposed on them.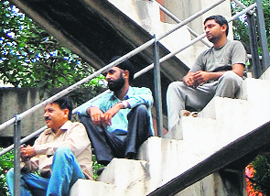 Waiting to be seen, heard for a month and a half
Amritsar, May 14
The agitation and wait of unemployed youths, sitting atop a water tank in Pink Plaza area even after a month and a half, seems unending. Demanding jobs in Power Corporation on compassionate grounds, the youths had climbed atop the tank on April 3. Later, one of them, Manjinder Singh, initiated a hunger strike on April 15.
Unemployed youths sitting atop a water tank during their protest in Amritsar. Photo: Sameer Sehgal

Punjab eves win 5 matches in tennis tourney
Amritsar, May 14
Punjab eves ruled the second round of the All-India Tennis Association's Talent Series Tournament as they won five of the six matches in the under-16 age group. Jannat Khurana, Sarah Dev, Gurneek Bhandal, Gurleen Singh and Kavya Gupta had easily defeated their opponents. Chandigarh's Tanya Batra beat Punjab's Seerat Kaur Pannu 9-6.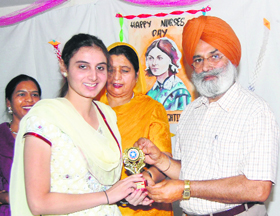 Rajinder Mohan Singh Chhina (right), Khalsa College Governing Council honorary secretary, gives prize to a student during a function to celebrate International Nursing Week at Khalsa College of Nursing in Amritsar on Tuesday. Photo: Vishal Kumar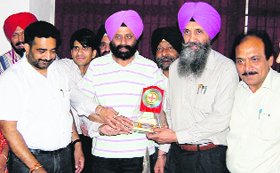 Dr Ranjit Singh Bhuttar (2nd from right ) being welcomed by Civil Hospital staff on his joining in Amritsar on Tuesday. A Tribune Photograph
AC repair agency asked to pay up
Amritsar, May 14
The District Consumer Disputes Redressal Forum directed an air-conditioner (AC) sale and repair agency to pay a fine of Rs 5,000 to a local, whose AC was not repaired in time. The forum has further directed the shop, Bholi Brothers, to pay Rs 2,000 as litigation expenses to the complainant.
Human rights association to educate masses
Amritsar, May 14
The march organised by the All-India Human Rights Association to create awareness about human rights reached here yesterday. The march was taken out from New Delhi on May 1, led by national president of the association MV Dua.
One booked in accident case
Amritsar, May 14
The police has booked one person in connection with a road accident which led to the death of a person. However, no arrest has been made so far in this connection. The accused has been identified as Meenu, a resident of Mule Chak village.
Woman commits suicide in village
Amritsar, May 14
A woman committed suicide by hanging herself from a ceiling fan at Sohian Kalan village under the Majitha police station here yesterday. The police arrested Kashmir Singh, husband of the deceased, on abetment to suicide charges. Kashmir is currently serving as a subedar in the Army and posted at Srinagar. He had come to the village on leave.
Drugs seized from Central Jail
Amritsar, May 14
The Amritsar Central jail staff has seized narcotics from the jail premises. During a routine checking, 77 capsules of pavon spas were recovered from the possession of a prisoner, Vikas Kumar. A case under Sections 22/61/85 of the NDPS Act 42 Prisoner Act has been registered with the Cantonment police station on the basis of the complaint registered by the Superintendent of the jail. — TNS
Red Cross unit felicitated
Amritsar, May 14
The Red Cross unit of BBK DAV College for Women was awarded trophies for overall participation in activities in the Punjab Youth Red Cross Unit's function to commemorate Red Cross day at Talwara, Hoshiarpur. — TNS