City celebrates the spirit of motherhood
Neha Saini
Tribune News Service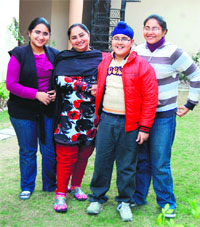 Jyoti Arora of Masterchef fame with her kids in Amritsar. A Tribune photograph
Amritsar, May 11
Mother is not just the first companion of her child, she is also the first teacher and the first mentor. On the occasion of Mothers' Day, we talk to some supermoms in the city, who are well managing office work and talking care of their children.
Kanwaljit Kaur, inspector, women's cell, Amritsar, is dealing with family crisis, abandoned women, kids and broken families throughout the day. The 49-year-old Punjab police official has been constantly working to protect the rights of citizens. But just when the distress come calling, she knows exactly which door to knock. She goes back home to her three kids. "After a day's work, it is important for me to go back to my kids and attend to their needs. My children should not suffer because of my work. In fact, going back to them works as a stress buster for me," says the mother of three. Her 19-year-old daughter is her biggest support. "I deal with some tough situations every day, so when I am stressed, I share it with my daughter," says Kanwaljit.
She is not just a working mother, but a single parent. But that never made raising three kids a challenge. "They knew I had to strike a balance between work and home. They were never difficult kids, though I must confess i had to deal with growing teens." But then her police training covers that part as she says, "Of course, they know I can be a tough taskmaster when it comes to discipline."
Jyoti Arora, another super busy mother of three, has a big task at hand. A celebrity chef from city, this homemaker was catapulted into instant stardom with her appearance on popular show Masterchef. Since then, Jyoti owns her own cooking academy in the city, freelancing for known five-star hotels in the country and writing books in culinary history of India. "I was pushed into the limelight by my kids, who were my first and only food critics. Usually, a mother shapes dreams of her kids, but here my kids made me live my dreams," she says. Just back after arranging a month-long food festival for JW Marriott in Mumbai, her busy schedule doesn't let her lose out on maternal duties. "I spend as much time with my family. One of the best things that work for me is cooking for them," she says.
The next mother doesn't exactly fit the category, but the task she has on her hand is bigger than just raising a kid. She has protected and saved her kid from an untimely death. 63-year-old Naresh Bamba, is a mother with undying spirit. Her two kids kept her busy throughout life. But in her old age, her biggest test as a mother happened.
Her son, Vishal, became a drug addict and after fighting for 13 years, he was about to give up. Just then the mother took the charge. "I knew how drugs destroyed families and I couldn't stand the fact that my son was losing the battle. I was determined to fight his addiction and save his life," she shares. And she did. She got him back from the UK, where he was living, took charge of his life, got him admitted him to a rehab, all by herself. She covered the journey from being a mother losing her son to drugs to being his saviour and an example for others to follow. Today, he is four years clean and the mother-son duo work as councillors at a rehab centre to help those in the grip of addiction. "As a mother I had to do everything I could to save my son. And I did," she says.