Tourism, hospitality industries gain from air-linking with Mumbai, Kashmir
Neeraj Bagga
Tribune News Service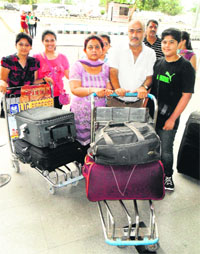 Passengers at the Sri Guru Ramdas Ji International Airport in Amritsar. A Tribune photograph
Amritsar, May 4
Travel, tourism and hospitality industries here have reaped significant profit with the air-linking of the city with Mumbai and tourist getaway Kashmir valley.
Budget airline SpiceJet introduced thrice a week flight linking these two lucrative destinations in July 2012. Encouraged by the response, it made the flight four times a week last month.
Airport Director Suneel Dutt said the airport requested the management of the private airline to make run flights throughout the week.
He said the request was made after the Mumbai-Amritsar flight recorded a sustained traffic of over 80 per cent and the Amritsar-Srinagar flight registered occupancy of over 65 per cent.
He said a successful domestic connectivity remarkably increased the footfall at the airport and in the long term it would spell good for international connectivity.
He said they had made similar requests to other domestic players like Indigo, GoAir and Jet Airways to fly air wagons on this circuit. He said these airlines were contemplating over this circuit and they were optimistic of positive response in near future.
Amritsar Hotel and Restaurant Association (AHRA) President APS Chatha said flights to these two lucrative destinations helped to raise the travel, tourism and hospitality business by over 15 per cent in one year.
He said more could be done to popularise the circuit and extract economic benefits to the border town. He said the circuit brings three kinds of passengers to Amritsar - religious tourists to the Golden temple, pilgrims from Amritsar and Punjab who travel to Nanded to pay obeisance at Takht Hazur Sahib and Sai Baba shrine at Sirdi.
Secondly, there is a trade link between the business community of Amritsar with Mumbai and other western towns like Ahmedabad and Gujarat.
Thirdly, the establishment of tourist circuit between western India with Himachal Pradesh and Jammu and Kashmir via Amritsar has also great tourism potential.
He said this circuit needed to be nurtured, developed and consolidated. For this, the state tourism department's active support was required, he added.
It was after over two-and-a-half decade that SpiceJet had flown its maiden Amritsar-Srinagar flight in 78-seat capacity Q400 NextGen turboprop aircraft on June 13 last year. After a stopover here, the same flight goes to Srinagar. Its success can be gauged from the fact that the airline has now introduced a 189-seater Boeing 800 aircraft.
Operationalisation of flight between Amritsar and Srinagar was a long pending demand of passengers, businessmen, tourists, pilgrims, operators and travel agents.