Now, MC plans to widen Bhandari Bridge with help of Railways
Earlier, Railways had rejected Amritsar Improvement Trust's proposal to widen the stretch
GS Paul
Tribune News Service
Amritsar, April 28
The Amritsar Municipal Corporation is mulling over to widen the pre-Independence era Bhandari Bridge in collaboration with the Railways. Earlier, the Railways had rejected the widening proposal submitted by the Amritsar Improvement Trust in this regard.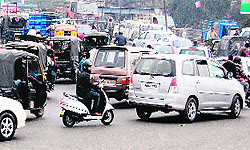 Popularly known as Uchcha Pul, the bridge is the lifeline of Amritsar as it connects the Old Walled City with various locations in the Civil Lines area.
With the passage of time, the bridge has fallen short of space. The impact on the bridge has multiplied manifold after the Rs 244-crore flyover on the main Amritsar-Jalandhar GT road came into existence.
At present, the bridge is 21.7 metre wide and has three-meter pedestrian path on its both sides.
Sources said the Municipal Corporation had mooted the proposal to immediately widen the bridge by at least 5-6 metres from both the sides as the extension of the elevated road across the railway crossing was a time-consuming exercise, besides being a costly affair.
RITES, the firm entrusted with the task to assess the impact being borne by the bridge, has drafted a proposal worth Rs 3 crore to upgrade it. Pollution level at this point has also increased because of vehicles stuck in frequent traffic jams across the bridge.
According to RITES, 1.64 lakh vehicles pass through this bridge in 24 hours.
Another reason which attracted the attention of the authorities was a recent Punjab Pollution Control Board report on vehicular pollution at key areas like Chattiwind Chowk, Sant Singh Sukha Singh Chowk, Kitchlew Chowk and Bhandari Bridge.
The report termed the area around Bhandari Bridge as most polluted due to vehicular pollution between 9 am and 8 pm.
The particulate matter at Bhandari Bridge was as high as 599 per cubic metre (µgm/m3) during peak hours while it was 232 per cubic metre (µgm/m3) during lean traffic hours. If everything goes according to the plan, the task to upgrade the historical bridge will be looked after by the Amritsar Improvement Trust.
City Mayor Bakshi Ram Arora said, "Before preparing this proposal, it was mandatory to seek permission from the Railway authorities. I have directed the Executive Engineer (civil wing) HS Khosa to prepare a DPR for widening the Bridge. The proposal of RITES could be taken as a reference because it was the most practical, viable and cost-effective plan for widening its edges by some metres."
NEED FOR WIDENING
1.64 lakh vehicles pass through the bridge in 24 hours and the pollution level has also increased manifold as vehicles get stuck in frequent traffic jams
A recent Punjab Pollution Control Board report assessed vehicular pollution at Chattiwind Chowk, Sant Singh Sukha Singh Chowk, Kitchlew Chowk and Bhandari Bridge
The report termed the area around Bhandari Bridge as most polluted due to vehicular pollution between 9 am and 8 pm
City's lifeline
Popularly known as Uchcha Pul, the bridge connects the Old Walled City with various locations in the Civil Lines area
The impact on the bridge has multiplied manifold after the Rs 244-crore flyover on the main Amritsar-Jalandhar GT road came into existence
21.7 metre wide and with three-meter pedestrian path on both sides, the bridge has fallen short of space