Amritsar Improvement Trust's housing schemes come a cropper
Majority of flats in New Amritsar and Sri Guru Teg Bahadur Nagar remain unoccupied
Neeraj Bagga
Tribune News Service
Amritsar, April 19
The Amritsar Improvement Trust has not been able to fulfil the housing needs of city residents. For, most of the flats it has constructed under various categories such as the high income group (HIG), middle income group (MIG), low income group (LIG) and economic weaker section (EWS), have gone into the hands of either investors or the land mafia.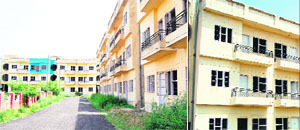 Flats in the Shri Guru Teg Bhadur Mall Mandi locality are locked years after they were constructed by the Amritsar Improvement Trust.
On the other hand, people who actually need the housing facility are finding it difficult to get a roof on their heads in view of the skyrocketing prices of construction material and labour cost.
Construction of flats in the city started after the Amritsar Improvement Trust's Ranjit Avenue scheme came into effect.
Later, it constructed apartments in New Amritsar and Sri Guru Teg Bahadur Nagar Mall Mandi. Barring Ranjit Avenue, majority of the flats in other two locations remain unoccupied. Prabhjit Kaur, a resident of Baba Sahib Chowk, said she was staying with a joint family comprising 15 persons in a house measuring not more than 70 square yards.
"Our family requires more space but affordable houses are not easily available even in the narrow-winding lanes of the walled city," she said. During search for a house she was surprised to find majority of the flats locked in New Amritsar and ri Guru Teg Bahadur Nagar Mall Mandi.
Deepak Kumar, another house seeker, says Mall Mandi which is situated on the GT Road is not far from the bus stand but ironically the locality is by and large unoccupied.
He said the rising cost of land and construction material is also driving more and more people to apartments rather than an independent house. There are other factors like safety and easy maintenance which are turning people to explore to buy apartments, he adds.
The government should devise a policy to construct more built-up houses for residents, he added. There is no fun in keeping the flats locked keeping in view the purposes of market speculation which helped only investors who want to increase their profit, he says.
Amritsar Improvement Trust (AIT) chairman Sandeep Rishi said, "The Trust distributed the flats following a draw of lots as per the established norms. The reason of these flats remaining closed may be due to the fact that these were handed over to people in a state-level draw of lots. The buyers from outside the city may keep these flats for investment purposes."
The second reason behind this could be absence of provision of levying penalty for uninhabited flats after certain period of time. These were policy decisions taken at the government level, he added.
The Trust (AIT) initiated all its schemes only after conducting a demand survey, he said, adding it was now engaged in conducting another such survey for super-deluxe flats in New Amritsar and on the Amritsar-Jalandhar GT Road.
The total area of construction and open space would be in the proportion of 20:80. A three-bedroom flat would cost at around Rs 65 lakh with a dining room, store and a servant room and attached bathrooms, Rishi said.
Not for beneficiaries

Amritsar Improvement Trust had constructed flats for high income group (HIG), middle income group (MIG), low income group (LIG) and economic weaker section (EWS) categories

Ironically, most of these flats have been bought by either investors or land mafia rather than going to their actual beneficiaries

People who actually need housing facility are finding it difficult to get a roof on their heads with the skyrocketing prices of construction material and labour
Speculation watch

Barring the apartments at Ranjit Avenue, majority of the flats in New Amritsar and Sri Guru Teg Bahadur Nagar Mall Mandi remain unoccupied

Some investors, it has been learnt, after buying cheap flats under various housing schemes are waiting to sell them at much higher prices later on