Lifestyle exhibition brings delight for city shopaholics
Neha Saini
Tribune News Service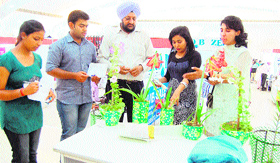 Visitors have a look at items during the Lifestyle and Interior Exhibition at Sifty International in Amritsar on Saturday. Photo: Sameer Sehgal
Amritsar, April 13
It's another happy weekend for shopaholics of the city. The four-day Lifestyle and Interior Exhibition at Sifty International, Sam Show, has brought some festive delights for the Amritsaris on Baisakhi with hi-end lifestyle products and brands.
The exhibition is a haven for all those who want something different for themselves. The exhibition comes with a wide range of fashion and lifestyle products, from known designer houses and brands.
If you are never tired of picking and choosing from a sea full of designer wear, the exhibition is a must visit. With over a dozen designer wear brands from across the border displaying their collection, the clothes section was the most crowded. With particular style of hand embroideries, lacework and silhouettes, the ethnic wear have made a brand of themselves with city women. The range of bright designer wear starts at Rs 1,000 and above.
Another staple item that is a huge hit with city shoppers is home décor pieces. Options don't fade out with a wide variety onyx and wooden furniture, antique clocks, and décor pieces in crystal and glass are quite impressive. Home appliances and electronics also was a major hit, with shoppers. The other highlights had stalls of dry flowers and designer jewellery pieces in Boho-chic and sterling silver, designer home décor items, antique watches, garden furniture, water fountains, lamps and fancy candles.
Shop for a cause
Chances are that in a choice between buying a prized designer piece and saving the planet, our loyalties will forever be with the former.
But this doesn't mean the latter is not worth giving a try. That's what is riding city-based NGOs and community help groups at the exhibition who have put up their stalls.
"Its a good thing that organisations working voluntarily towards social causes are given some space at such high footfall events. While the business is as usual, there are many who would lend their ears and support to social issues as well," shared Dipak Babbar from Mission Aghaaz, a NGO working for environment.
"We have a stall on environment awareness with an emphasis to save the five elements of life. And the response has been great," he said.
From distributing written word to throwing facts on face, visual and verbal appeals and calls for support, these stalls have caught decent attention at a lifestyle event.
"Being a part of a lifestyle event makes us fill in the gaps we otherwise miss out on during field work," shared Rajiv Chaudhary, district coordinator for Project Akshay of the Voluntary Health Association of India.
The Delhi-based NGO works to spread Tuberclosis awareness and runs health camps in 10 districts of Punjab. Then there is the Bharat Vikas Parishad, which is trying to make the world a bit greener with their efforts.
"We have been distributing plants to all visitors at the exhibition since its opening. We are also educating people about water conservation and control pollution," said Rameshwar Dutt Sharma, president, Bharat Vikas Parishad.
He felt that not many people stop and care to think about such issues. "It's not that people are not interested but lack of education and awareness tools make them indifferent.
If more social issues are given spotlight at Such lifestyle events, probably catching attention would not be an issue," he added.