NRI youth assaulted, FIR lodged
Amritsar, April 6
An NRI youth, identified as Amandeep Singh, was allegedly assaulted by some persons late last evening here.
SC/ST Commission summons IG, SSP
Amritsar, April 6
The National Scheduled Caste/Scheduled Tribe (SC/ST) Commission has summoned IG Border Range and Amritsar Senior Superintendent of Police (SSP-rural police) besides serving a notice on the city Commissioner of Police in two incidents.
VIP, emergency duties take toll on doctors' morale
Amritsar, April 6
VIP and emergency duty assignments are taking a toll on the morale of the doctors at the local Jallianwala Bagh Memorial Civil Hospital here.
Silver leaves in sweets becoming thing of past
Amritsar, April 6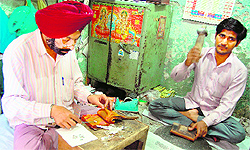 The use of edible silver leaves used in embellishing traditional sweetmeats is gradually decreasing these days. A skilled artisan and trader Jaspal Singh says that his is the only shop left in Punjab that is still preparing and dealing in edible silver and gold leaves.


Jaspal Singh prepares silver leaves in Amritsar. Photo: Sameer Sehgal

Comedy film festival in memory of satire king
Amritsar, April 6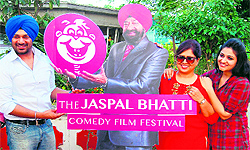 What better way to serve than a heavy dose of laughter mixed with reality as a tribute to the king of comedy, Sardar of Satire, Jaspal Bhatti? And so MAD Arts Film Institute, founded by the late actor-satirist himself, will now be organising the 'Jaspal Bhatti Comedy Film Festival' every year to promote his ideology of pure and clean entertainment.

Jasraj Bhatti, Savita Bhatti and Sureily Gautam in Amritsar on Saturday. Photo: Sameer Sehgal

Star cast of TV soap 'Anamika' comes calling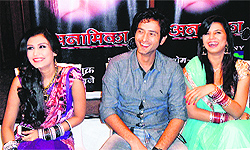 Amritsar, April 6
India is a land of myths and folklores, bathed in endless allegories founded across centuries of profound history. As much as we take refuge in education and science from all things 'evil' in the world, some things just refuse to go away. Like this concept of 'buri nazar' that we grow up with.


Star cast of TV soap 'Anamika' interacts with mediapersons in Amritsar on Saturday. A Tribune photograph

Transport office holds auction of fancy numbers
Amritsar, April 6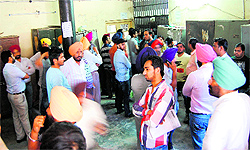 Sahil, a student of Guru Nanak Dev University, procured two fancy registration numbers for his vehicles at Rs 5.35 lakh in an auction of fancy numbers held by the District Transport Office yesterday.


People gather outside the district transport office during the auction of fancy numbers in Amritsar. Photo: Sameer Sehgal

Five booked for drug trafficking
Amritsar, April 6
The Amritsar rural police has booked five more persons, who worked as couriers for the smugglers based in villages close to the Indo-Pak border.
14 fishermen, 3 prisoners repatriated to Pakistan
Amritsar, April 6
The Indian authorities repatriated about 14 fishermen and three other Pakistani prisoners to their country through the Attari-Wagah land route here today.
DAV College students shine in varsity results
Amritsar, April 6
Two girl students of DAV College Amritsar attained merit positions in MCom first semester in Guru Nanak Dev University.
Designer exhibition a hit among residents
Amritsar, April 6
Seems like the city can never get tired of a treat, whether in flavour or fashion. The spirit of fashion exhibition at the MK International attracted a lot of attention, especially on its opening day.
Drugs worth Rs 8,000 seized
Amritsar, April 6
The Health Department, during a raid at a medical store in Katra Sher Singh market, has seized drugs worth Rs 8,000. The department has initiated action against the owner of the shop. — TNS