Residents rue lack of good school transportation for their children
Neeraj Bagga
Tribune News Service
Amritsar, April 18
Even as the traffic police has tightened its noose around the faulty school transportation system here, continuing traffic violations point that something is amiss in the system.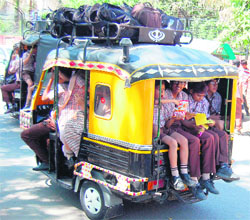 An overloaded autorickshaw takes children home in Amritsar. Photo: sameer sehgal
Four children were injured in yet another school bus mishap in the district a day before. Overloading was found to be the reason behind the incident.
Assistant Commissioner Police (Traffic) Ketan Patil Balram said nine vans, a bus, and 75 autos, carrying schoolchildren, were challaned for flouting various traffic norms in January. Three vans, a bus and 84 autos, falling under school transportation, were challaned in February. He added that the drive was intensified in March and 75 vans, 12 buses and 185 autos were challaned in March.
Bus, mini-bus, van, auto and rickshaw are the popular modes of transportation for ferrying schoolchildren. With the opening of a number of private schools on the outskirts of the city, the number of buses and minibuses has risen sharply on city roads.
Interactions with parents of various popular schools of the city showed that they had a lot of queries and doubts, but found these caught in red tape prevalent in these schools. Fearing the management of these schools, they backed out from being quoted in the newspaper, leave aside being clicked.
Naresh Johar, a social activist, said, "A majority of schools do not have their own transport facility and are reluctant to do so to get rid of the responsibility in the event of a mishap. Obviously, the school managements pass the buck on to contractors in case of any unsavoury incident."
He said it was strange that semi-literate drivers are always held responsible for violations, but the school managements escaped the law of the land as these outsource the school transportation to private hands.
He said relevant laws were available to regulate schools buses. As per these norms, a driver of a school bus can be booked for driving-related offences, while the school management/owner and principal can be held responsible for other types of violations.
He added that even private vehicles like vans, cabs, autorickshaws and rickshaws ferrying school children were bound to follow the safety measures. The authorities have not been able to rein in erring drivers, owners of buses and vans. Rickety and worn-out vehicles being driven by inexperienced drivers, are the root cause of these accidents, civic activists pointed out.
Alarming situation
* Four children were injured in yet another school bus mishap in the district on Tuesday
* Overloading was found to be the reason behind the accident
* Rickety and worn-out vehicles driven by inexperienced drivers are the root cause of most of the accidents
* The authorities have largely failed in reining the erring drivers, the owners of these buses and vans