Slow pace of work on sewerage system irks Ghanupur Kale residents
Authorities indifferent to the problem n Dirty water, foul stench a health hazard for people
PK Jaiswar
Tribune News Service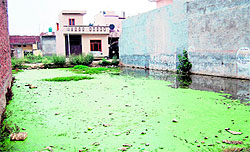 The slow pace of work in Ghanupur Kale on the sewerage plant has made life difficult for the residents. Photo: Sameer Sehgal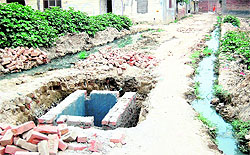 mritsar, June 10
Residents of Ghanupur Kale are forced to live in hell-like conditions due to the slow pace of work on the sewerage plant under the JICA project.
Repeated pleas made to the civic authorities by the residents have fallen on deaf ears.
The residents are irked over the over-flowing sewerage water and foul smell emanating from it. The dirty water gets accumulated in vacant plots and ponds are formed.
The conditions here can lead to an outbreak of epidemic anytime, while the MC and health authorities are turning a blind eye to the issue.
"The authorities have dug up roads because the earlier drainage system had been dismantled. Because of this, the water has been spilling on to the streets," said Tarsem Singh, a resident.
"Even the Municipal Corporation authorities have done nothing to solve the problem and officials involved in the project have not been pulled up," said Rattan Singh Randhawa, a communist leader and a resident of the locality. The work on the sewerage system had started about a year back, but it is far away from completion. With monsoon approaching, life would be miserable for the residents. It would become difficult to ply vehicles on the pot-holed road. "This is ward number no. 1 of the Amritsar Municipal Corporation and the basic amenities are zero here. This is an apt example of the MC's apathy towards our ward," said Kamaljit Kaur, another resident. Nirvail Singh Fauji, the councillor from the ruling party SAD, said, "I am aware of the problems of the resident as I also live in the same locality." He also expressed his unhappiness with the JICA authorities over slow pace of work.
He said he took up the matter with the Mayor and the MC Commissioner but it did not serve the cause.
An authority with the JICA said they had already warned the contractor and he was given the final warning for speeding up the work. He said the contractor had failed to provide the material to workers and he had been pulled up for the same.
Meanwhile, the residents threatened that if the authorities failed to desilt the drains in the area, they would lodge a protest by blocking the main GT Road for an indefinite period.
Protest call
The residents have said that if the authorities concerned fail to desilt the existing drains and dirty water accumulated in the area, they would lodge a protest by blocking the main GT Road for an indefinite period.
Residents speak
This is ward number no. 1 of the Amritsar Municipal Corporation and the basic amenities are zero here. This is an apt example of the MC's apathy towards our ward. — Kamaljit Kaur
}The authorities have dug up roads because the earlier drainage system had been dismantled. Because of this, the water has been spilling on to the streets. — Tarsem Singh