OPED

Culture
The continuing story of timeless trousers
George Jacob
Impacting five generations of art, music, design, lifestyle and creativity, and influencing social revolutions thrice, the simple pair of jeans has become one of the strongest symbols of gender equality through its 160-year-old history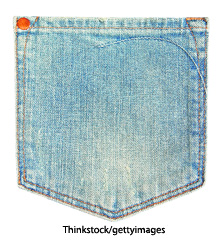 May 2013 marked 140th Anniversary of the 'Jeans' being patented by Levi Strauss. It has since become the biggest grossing garment sales of all times. With 2018 projected sales of over $56 billion, tracking the timeless trouser through the ages reveals a continuing story that touches us all.
When German-born Jewish immigrant started the Levi Strauss & Company in San Francisco in 1853, little did he know the power of denim as an icon synonymous with American pioneer spirit.Strauss started off importing fine dry goods including clothing, bedding, combs, purses, handkerchiefs from his brothers in New York and peddled canvas for tents to prospectors of the California Gold Rush two decades prior to Jeans being patented.
In 1872, Levi received a letter from Jacob Davis, a Reno, Nevada based tailor. Davis was one of Levi Strauss' regular customers who used to purchase bales of cloth for his own business. In his letter, Jacob explained an interesting new approach to stitching pants with metal rivets at the points of strain for the working man — pocket corners and at the base of the button fly. The rivets made the pants stronger. He wanted to patent this new idea but needed a business partner to get it off the ground. Levi was enthusiastic about the idea and the patent was granted to both men on May 20, 1873. The 24-year-old Levi Strauss started to increase the pant production made out of left-over, heavyweight brown canvas tent material, to fill a need that the California gold miners had for sturdy trousers. He then switched to a lighter but strong fabric made in Nimes, France, called Serge de Nimes, later shortened to "deNim."

Blue Indigo from India aided this material to be dyed in the familiar friendly blue and riveted for extra-strength. The term 'Jeans' drew its roots from the cotton trousers worn by ancient-day sailors from Genoa, Italy, which the French called 'Genes.' And voila, the legendary blue jeans were born!
Movies, music and museums
Hollywood fuels fashion. Never in the history of movie-making has a pair of pants reigned timelessly supreme as the Jeans unleashing trends transcending geo-political boundaries, straddling generations of stars and sundry in one of the most ubiquitous unisex garment ever worn in the human history.
The Jeans moved from the domain of miners to movie stars to factory workers and personified the Great Depression and post-World War II industrial era that included denim-clad female workers. Continuing to wear jeans in the post-war era was a symbolic refusal to reintegrate into mainstream capitalistic society and consequently a rejection of social norms of propriety. Beat poets like Jack Kerouac and Allen Ginsberg wore denim as a kind of anti-fashion statement. Others formed motorcycle clubs banding around cult-brands spawned by Harley Davidson and Indian, and drifted in droves from town to town in jeans, boots, bandanas and GI leather jackets.
The pants that became the pantheon of the cool was aided by Hollywood superstars wearing them in western Cowboy movies by John Wayne immortalizing the Levis 501 Jeans in the 1938 Classic Stage Coach.The Wild One (1953) with Marlon Brando and Rebel Without a Cause (1954) with James Dean captured that anti-social biker attitude on film, and put this relatively new underground sub-culture smack in front of every teenager in America. The mania exploded three years later with the release of Elvis Presley's musical film Jailhouse Rock that showed jean-clad prison inmates-- gyrating a generation of crazed consumers, quadrupling the global sales of denims. The 1959 movie Blue Denim was a popular hit as it highlighted liberalism exemplified by teen pregnancy, this was opposed by the media. The Denim Council banded together to fight the notion with powerful media campaigns against what was the cultural influence of Jeans. From Clint Eastwood to Jack Nicholson to Robert Redford in Three Days of the Condor (1975), Jeans moved from the edgy anti-hero drain-pipes to low-rise to boot-cut ruggedly suave fashion statements with endless creative iterations of unisex inventiveness, year after year.
Last November the Centraal Museum in Utrecht paid homage to Jeans by presenting the first large-scale exhibition in the Netherlands on this unique material. The exhibition includes the traditional 19th century Levi's for miners, JurgenBey's window installation commissioned by Levi's RED and Dutch design label Droog, as well as designs by Chanel, Jean Paul Gaultier, Maison Martin Margiela and Marithé + François Girbaud and Yves Saint Laurent.
Fade fad to acid wash
The marketing machine behind the famed jeans openly bucked the prim traditions of the times by flaunting that Levi's blue jeans are guaranteed to shrink, wrinkle and fade. These characteristics were built in as the core style ingredients over the years to enhance the untamed wildness, popularity and unbridled-charm of the tsar of trousers donned by gold-prospectors, cowboys, presidents, celebrities, hippies and socialites alike and became synonymous with the American spirit.
The next genre of movie icons took away the rough edge of the denim psyche from Levis, Wranglers and Lee, with the arrival of Calvin Klien, Guess and Jordache.Even as the barely 15 Brook Shields purred her infamous advertisement commercial lines "nothing comes between me and my Calvins", teenage girls went wild by adding everything from studs, paint, and patches to their jeans. The most common artwork to find on these jeans were collages of their favourite rock idols.
In the early sixties, these jazzy jeans made a comeback with the flower children. Men and women both became slave to this fashion by spending weeks to get their jeans to look perfect – skintight and faded. Unlike the decals of the forties, jeans from the disco era had a more drug-oriented flavour, as leafy hemp plants and cigarette logos graces thousands of legs.
From frayed jeans, stone washed distress, rips, holes, to pumice and chlorine induce acid wash, this magic garment transcended from pants to infiltrate the world of accessories including bags, totes, moccasins, jackets to belts. Synonymous with heavy metal, head-bangers, skin-heads, rocker bands and punk phenomena, these influenced the post-Woodstock, anti-war angst among identity seekers and drifters.
Late Indian cinematic legend Dev Anand projected bell-bottomed Jeans in his films as a visual prop engaging a nation struggling with the fine line between liberal values and conservative heritage as a lifestyle. Epitomized with jean-induced iconoclastic notions, it swept through the mindset of a generation of youth in irreversible ways. From Dev Anand to Devgan or Zeenat to Zinta, Jeans are the ultimate, eternal, irreplaceable fashion denominator that steals the numerator.
Denim dynamics
With 7 pairs being sold every second worldwide, a 2006 survey indicated that the massive global demand for jeans was concentrated on the production abilities of a small number of countries with Bangladesh, Tunisia, Mexico, Turkey and China capturing 70% of the manufacturing, while the United States leading combined consumption of the rest of the economies. Designer brands projecting jeans as a hipper dress pants have penetrated markets in Japan, France, Netherlands, Germany and Italy with Tommy Hilfiger, Vanderbilt, Dolce &Gabbana, Gucci, Guess, Armani, Calvin Klein, Ralph Lauren, Peppe, Fiorucci, Nudie and Zara.
In a significant tectonic shift, India with its booming middle class and consumerist overdrive is turning into one of the biggest consumers for jeans. It is the most donned legging among the 96 million or so college and university students across campuses nationwide with another 100 million pairs walking the streets and sites at any given time. The numbers are mind-boggling.
So what lies in the future of the Jean Genie, this feisty combination of fabric and function? The Pandora pants will likely live through another century of crazed creativity and outlive more generations of functional fashion than every other trend combined. With Japanese designer creating the emotional jeans that change color with mood, to the South Korean Eco Yaa's "Jeather" jeans that offer a leather-like denim finish, blue denims are on a flight through limitless blue skies seeking new pots of gold under the rainbows yonder the California Gold-rush a 160 years ago, that let loose a trouser-trail of stardust.
FRAYED FACTS
20th MAY is the official 'birthday' of blue jeans on which Levi Strauss and Jacob Davis received patent of the riveted jeans Patent no.139.121 from the U.S. Patent and Trademark Office.
The'YKK' acronym on jeans zippers stands for 'Yoshida Kogyo Kabushikikaisha', or 'Yoshida Company Limited' 1934.
During World War II, jeans for men had the zipper down the front, whereas jeans for women had the zipper down the right side.
Every American owns, on average, seven pairs of jeans.
An original pair of Levi Strauss & Co (USA) 501 jeans aged over one hundred fifteen years were sold by Randy Knight (USA) to an anonymous collector (Japan) for $60,000 (£33,230) through net auction website eBay on June 15, 2005.
The most expensive jeans Dussault Apparel's Trashed Denim jeans are priced at $250,000!
Jeans' desi connection
Jeans have more European and Indian connection than American. Both words, jeans and denim, are of European (and not American) provenance. The term jeans owes its origin to the Italian city of Genoa, whose navy ordered it in large quantities for its sailors from the French town of Nimes (hence 'denim' ) where the fabric was made. Jeans were dyed blue even at that time . The dye came from Indian indigo, from the plant (Indigofera Tinctoria) which was first domesticated in India.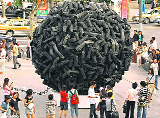 Visitors watch a two-ton Globe made of a bulk of JEANS in Xiamen, China's Fujian province as part of the exhibition themed "Fashion Slave".

At some point, the Genoa-an denim trousers for sailors evolved into what were called overalls or boilersuits, probably to protect their shirts. The overalls were made from coarse undyed calico, a fabric which owes its name to Calicut (now Kozhikode). The main manufacturing centre for these overalls, for which denim eventually began to be used, was the Bombay area now called Dongri. Hence Dongris, which came to be known as Dungarees.
One principle beneficiary of the worldwide spread of denim and jeans manufacturing was India, in particular Arvind Mills. Like Levis, Arvind has had its own share of troubles, but it is now said to be one of the largest denim makers in the world. The company was born in Gandhi's Gujarat in 1931 and its patriarch, Kasturbhai Lalbhai, was a Gandhi acolyte. Today, the firm's licensed brands include Lee and Wrangler. Gandhiji supported khadi, which was close to denim.
Blue and white collar


Things changed in the 1990s. The rock-and-roll generation gave way to the hip-hop crowd. Blue collar made way for the white. The craze for jeans began to fade. For the dot-com dudes, the sartorial key was khakis. Denims made way for Dockers. A company that once had a 90 per cent of the market and made 90 per cent of its jeans in the US started to fray. Today it has branched out to khakis and other apparel and it now parcels out 90 per cent of its production far and wide so that it can have a leg up on the fast evolving market.
George Jacob is a museologist and a free-lance writer based in Canada