Dhumal govt took loans of Rs 9,110 crore: Minister
Shimla, June 10
Lambasting the BJP for blaming the Congress for taking excessive loans, Industries Minister Mukesh Agnihotri today said the Dhumal government raised loans of Rs 9,110 crore during its five-year tenure.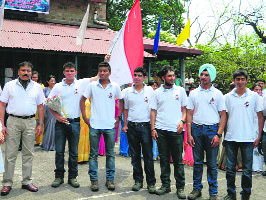 Everest team gets rousing welcome on return
Solan, June 10
The seven-member team of The Lawrence School, Sanawar, which had scaled the world's highest peak, Mt Everest, recently, was accorded a rousing welcome on their return to the school today. Their return marked the flagging-in of the Sanawar Everest Expedition 2013 amid much fanfare and gaiety.
The seven-member team that scaled the Everest back at the school in Sanawar on Monday.
Rose without thorns developed by Himalayan institute
Dharamsala, June 10
Roses and their thorns have been a subject for poems by many poets in India and abroad. However, a research by the Institute of Himalayan Bio-resource Technology (IHBT), a CSIR centre at Palampur, seems to be putting an end to poignant couplets relating to roses and thorns.
Pratibha, Jai Ram cross swords
Mandi/Kullu, June 10
Pratibha Singh, Congress candidate and "crorepati" wife of Chief Minister Virbhadra Singh, and her BJP rival Jai Ram Thakur have launched an attack on each other. Pratibha Singh and other Congress men claimed that Jai Ram, a four-time legislator, could not do much for Seraj. Whereas Jai Ram and BJP men claimed that Pratibha had failed as an MP as she could not do much for Mandi during her 2004-09 tenure.
Retreat on 'social dynamics of urban' begins at IIAS
Shimla, June 10
The Third Shimla Retreat on the theme "The Social Dynamics of the Urban", began at the Indian Institute of Advanced Study (IIAS) here today. The two-day retreat is being organised by the IIAS in collaboration with the School of Advanced Studies, University of London, and the South Asian Studies Council, Yale University.
HLP seeks action against BJP leaders for 'robbing' state
Bilaspur, June 10
The state government should take immediate action against all those BJP leaders who had indulged in large-scale corruption and looted the state exchequer, apart from selling poor farmers' land to the land mafia from outside the state by misusing Section 118 of the HP Land Act. This demand was made in a resolution adopted by a largely attended meeting of the Ghumarwin unit of the Himachal Lokhit Party (HLP) presided over by state vice-president KD Dharmani at Ghumarwin near here today.
Security beefed up on Chamba border


Chamba, June 10
For the smooth conduct of a free and fair by-election in the Bharmour Assembly constituency of Chamba district which falls in the Mandi Parliamentary constituency (Lok Sabha seat), security arrangements on all the checkpoints bordering Jammu and Kashmir and Punjab have been beefed up. Superintendent of Police BM Sharma
INIFD organises grooming session for fashion hunt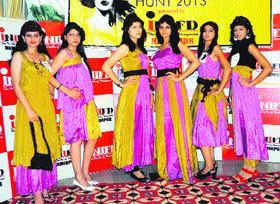 Nurpur, June 10
To provide a platform to youngsters who are keen to become models or designers, INIFD, a fashion institute of Hamirpur, organised a grooming session, phase-II, for Himachal Fashion Hunt-2013 here today. The shortlisted participants showed their talent on the ramp through a catwalk.



Participants at a grooming session for Himachal Fashion Hunt-2013 in Nurpur on Monday. Photo: Rajiv Mahajan

93 sports grounds to be constructed in Kangra district: ADC
Kangra, June 10
In Kangra district 93 sports grounds will be constructed under the aegis of PICA at a cost of Rs 1 crore to bring sports closer to rural youth and help them be away from drugs. This was stated by Kangra district Additional Deputy Commissioner (ADC) Rohan Thakur while presiding over a district PICA Executive Committee meeting in Dharamsala today.
Advani's resignation jolt for BJP
Mandi, June 10
The resignation of seniormost BJP leader LK Advani today came as a major setback for party workers in this constituency at a time when the campaigning for the by-election has picked up.
Vigilance has sought FIR against ex-minister: Birender
Mandi, June 10
In charge of Congress party affairs in state Birender Singh has claimed that the findings, submitted to the President of India, have recommended an FIR against a minister of the previous Dhumal government.
1 dies in road mishap
Bilaspur, June 10
Gurvinder Singh (22) of Bhet Pattan village in Gurdaspur district, Punjab, was crushed under a speeding tourist bus. The bus is said to have hit the bike (PB18S-4211) near Kothipura on the National Highway No.21, 12 km from here, last evening.
Fact-finding inquiry report submitted
Shimla, June 10
The Additional District Magistrate, Shimla, has submitted a report of his fact-finding inquiry into the alleged irregular land transactions and construction of flats, which figured in the Congress charge sheet against the Dhumal government, to the DC.
Reshuffle in higher judiciary
Shimla, June 10
The HP High Court today transferred three Judicial Officers of the District and Sessions Judge cadre. A notification said CB Barowalia, Registrar (Judicial) and Judges Branch in the HC, has been posted as Director, HP Judicial Academy, Shimla. KS Chandel, president, District Consumer Disputes Redressal Forum, Shimla, has been posted as Registrar (Judicial) and Judges Branch. The services of JK Sharma, Director of the academy, has been placed before the state government for being posted as president of the forum. — OC
Remark against Sukhu flayed
Hamirpur, June 10
District Congress president Sunil Kumar Sharma has criticised former Chief Minister PK Dhumal and other BJP leaders for making baseless allegation against HP Congress Committee president Sukhvinder Singh Sukhu. Talking to mediapersons here today, he said, "The allegation by BJP leaders that Sukhvinder had been a contractor is unfounded since he had joined politics in his student days." — TNS