M A I N N E W S
Modi vs Advani: BJP plunges into crisis


Advani quits key party posts


Slams leaders for pursuing personal agendas


Parliamentary Board rejects resignation, works on peace formula
Vibha Sharma/TNS
JD-U angle
Another theory doing the rounds is that LK Advani has the backing of NDA ally JD-U in his decision. The JD-U also conveyed to BJP leaders to get their House in order and provide Advani a respectable option. Party leaders said it would be difficult to continue with a BJP minus Advani.
New Delhi, June 10
A day after Gujarat Chief Minister Narendra Modi's coronation as the BJP's campaign committee chief for the 2014 General Elections seemingly paved the way for his becoming the party's prime ministerial candidate, the party's 2009 PM candidate LK Advani resigned from all organisational posts, sending party chief Rajnath Singh into a tizzy and other leaders searching for words.
Advani, a BJP founder-member and the tallest leader after Atal Bihari Vajpayee, resigned from all main party fora -- Parliamentary Board, National Executive and election committee. The party is said to be making attempts to placate the miffed 85-year-old. While, sources say, the party will not go back on its announcement on Modi, attempts will be made to ensure that Advani's demands are accommodated. These include ensuring a "safe seat" for him, either in Gujarat or Madhya Pradesh.
Taken aback by Advani's surprise action, BJP leaders held parleys through the day and its Parliamentary Board met late in the night, deciding to reject his resignation, saying his "sage advice" and "guidance" was required now "more than ever before". "The Parliamentary Board has rejected the resignation of Advani," Rajnath said after the meeting.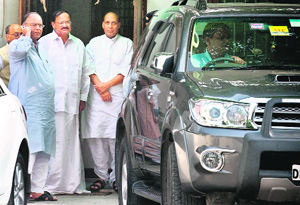 BJP president Rajnath Singh (R) with party leaders Arun Jaitley (L) and Venkaiah Naidu (C) in New Delhi. — AFP

Rajnath had taken the call to elevate Modi despite senior leaders Sushma Swaraj and Ananth Kumar trying hard to delay the announcement.
Apparently, it has been conveyed to the angry patriarch that an equitable responsibility-sharing formula acceptable to him will be worked out. Sources said it may now be decided to hold on to any further elevation of the controversial Gujarat CM, at least till there is consent from the Advani camp.
Besides, Rajnath may also concede to Advani's original demand: to distribute power in the party with equal responsibility for one of his chosen leaders, possibly party ex-president Nitin Gadkari.
Rajnath is learnt to have earlier turned down Advani's dual-power centre formula that included giving the responsibility of Assembly elections to Gadkari. Rajnath believed Gadkari, who was battling corruption charges, could not be equated with Modi. This, he felt, may send the wrong signal to the cadre.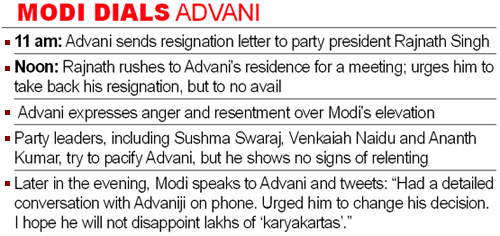 Some party leaders said today's angry public posturing was meant more to cause discomfort in the party than anything else. "He just wanted to retaliate for being sidelined," they say.
Significantly, Advani did not resign as BJP parliamentary party chairman and NDA working chairman, important positions of power within the coalition and the party.
Interestingly, after his anointment as poll panel chief, the Gujarat Chief Minister claimed to have spoken to Advani and got his blessings. Today, he said: "Spoke to Rajnathji. In such a short time (I) cannot reach the Parliamentary Board meeting, but will stand by whatever decision the Board takes."
If sources are to be believed, the battle between Advani and his once-upon-a-time protégé Modi is for the party's PM candidate for 2014. According to them, Advani, who fought his last Lok Sabha elections from Gandhinagar in Gujarat, was likely to be eased out in favour of Modi confidant Amit Shah.
"In any case, the situation is such that Advani is unlikely to win from Gujarat even if he is presented with a 'safe seat'," they explain. Further on, even though party ideologue RSS believes that no leader above the age of 70 should contest, sources say the veteran leader has been offered a seat from Madhya Pradesh, which he does not want because Gujarat is his first preference.
"To become a potential PM candidate, he needs to win an election first and he wants to do that in Gujarat. But he seems to be forgetting that it is now all in the hands of voters and cadre, who are distinctly in favour of Modi," they say.
They add that public sentiment at the ground level in Gujarat and elsewhere, including MP, is distinctly against Advani, especially after the way he has been seen opposing Modi. Apparently, even the RSS is also clear that it is time the veteran leader lets popular leaders take charge to ensure that the BJP gets the "critical mass" in the form of seats to attract new allies. But Advani, it seems, is insisting on holding on to what he believes could be his last shot at the top job.