LIFE+STYLE

CHANDIGARH

LUDHIANA

BATHINDA

JALANDHAR

AMRITSAR TRIBUNE

JALANDHAR TRIBUNE

BATHINDA TRIBUNE

JAMMU TRIBUNE

KASHMIR TRIBUNE

DELHI

DEHRADUN

DEHRADUN PLUS
Nation page:


Modi urges Advani to withdraw resignation


Advani: BJP no longer the 'same idealistic party'

Resignation result of isolation or grand strategy?
New Delhi, June 10
The swiftness with which Lal Krishna Advani plunged the Bharatiya Janata Party (BJP) into a crisis by resigning from three main party fora is a sure sign that the octogenarian leader is angry with the leadership for increasingly pushing him to the margins of decision-making.
Discomfort in NDA, Cong muted on Advaniís exit
New Delhi, June 10
Senior BJP leader LK Advaniís decision to resign from party panels evoked a sympathetic reaction from the allies, with Janata Dal-United (JD-U) and the Shiv Sena saying the development would cast a shadow on the National Democratic Alliance (NDA), while the Congress interpreted the move as a repercussion of Narendra Modiís elevation as chief of the election campaign committee.
Rupee sinks to all-time low of 58.16 per dollar
New Delhi, June 10
The rupee got pounded today losing as much as a breathtaking 110 paisa in a single day to sink to a all-time low of 58.16 to the dollar exacerbating the weakness in the economy already reeling under a decade low GDP growth and high current account deficit (CAD).
(Details on Business page)


OTHER PAGES

HARYANA: Cong in inaction mode


HIMACHAL: State sees bumper apple crop


CHANDIGARH: Police failed to take timely action


LUDHIANA: Wife's role under scanner


DELHI: Govt waives power bills of Punjab migrants


Business:

Rupee sinks to all-time low of 58.16 per dollar

OPINIONS: Advani strikes back

SPORTS: Indians try to lift the gloom

WORLD: Communal tensions on the rise in UK


The tribune guide to best colleges

Budget
2013-14

INDIA CHINA WAR 50 YEAR LATER

YEAREND SPECIAL: 2012

Year of survival

The tribune 130 years
a witness to history
book released by prime minister manmohan singh

Guide to best colleges

Results of Punjab Assembly Polls 2012

HIMACHAL VOTES 2012

EARLIER FEATURES
GameShame
BCCI suspends Kundra; lists clean-up measures
New Delhi, June 10
Rajasthan Royalsí co-owner Raj Kundra was provisionally suspended pending further inquiry into his alleged involvement in betting during IPL matches at a BCCI working committee meeting here today. The board also spelled out a string of measures to restore the credibility of the IPL.

Iíve been made a scapegoat, says Kundra
Nation page:


Sreesanth, Ankeet, 17 others get bail


Chennai hotelier arrested
Suraj Pancholi arrested for abetting Jiahís suicide


Mumbai, June 10
Suraj Pancholi, son of actor couple Aditya Pancholi and Zarina Wahab, was today arrested for allegedly driving his girlfriend and actress Jiah Khan to suicide. Jiah had left behind a suicide note stating that she was "heartbroken" in her relationship with Suraj and fed up with his "womanising".
Seasonís first rains disrupt traffic in Mumbai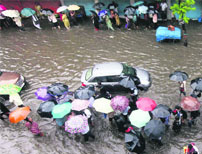 Mumbai , June 10
Heavy and incessant rains overnight and early this morning have thrown normal life out of gear in the metropolis, as rail and road traffic was disrupted inconveniencing lakhs of office-goers.
(Details on Nation page)


Modi prevails, gets top BJP poll post
June 10, 2013
Storm in BJP intensifies over Modi
June 9, 2013
Nod to Amritsar-Kolkata industrial link
June 8, 2013
Kundra placed IPL bets: Police
June 7, 2013
Opposition CMs reject anti-terror body despite amendments
June 6, 2013
Cabinet nod to real estate regulator
June 5, 2013
Punjab woos industry with tax sops
June 4, 2013
Srinivasan steps aside, Dalmiya called back as interim BCCI chief
June 3, 2013