PUNJAB

HARYANA

JAMMU & KASHMIR

HIMACHAL

REGIONAL BRIEFS

NATION

OPINIONS

LETTERS

BUSINESS

SPORTS

WORLD


Congress in Haryana a house divided
Sirsa, June 10
Recent developments in Haryana politics — both in the ruling party as well as in the opposition — have evoked the interest of political observers. While the developments in the Opposition have suggested that there could be new permutations and combinations before the state goes for the poll next year, the political activities within the ruling party have shown that the Congress in Haryana is a house divided when it prepares to go to the people for a third consecutive term.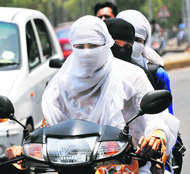 Braving the heat: Girls cover their faces to fend off sunrays in Gurgaon. Tribune photo: Sayeed Ahmed
FABRICATED case
Woman apologises to 'accused'
Rewari, June 10
In a rare situation of a U-turn taken by a woman complainant in a case of her "fabricated" molestation, the woman tendered an unconditional apology to "accused" Hoshiar Singh, husband of the sarpanch of Bisoha village, about 45 km from Rewari, at a panchayat held at Nahar village, near Kosli, recently.