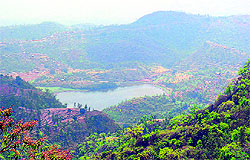 Water is the way
Summer is at its peak and temperatures are soaring ; a splash in cool water is the best bet to beat the heat! We bring you a quick view of where you can prance, frolic or enjoy the cool showers around the Tricity or just sit by serene water to sooth the frayed nerves.


nature's special: The picturesque tikkar taal in the morni hills
An art of craft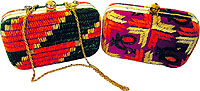 Punjabis have a boisterous lifestyle and it is best reflected in their folk tradition. Believed to be a dying art till some time ago, Phulkari fascination was brought to the ramps in Manish Malhotra's collection, where actors Jacqueline Fernandez, Sidharth Malhotra and Esha Gupta walked as the showstoppers donning phulkari-embroidered saris, floor-length Anarkalis and angarakhas.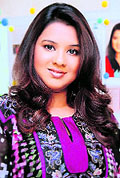 A champion storyteller
Kamal Kumar Barjatya's daughter, Kavita Barjatya, knows about the feelings of viewers because she belongs to a family that is respected in television and films. The humble, polite and grounded Kavita only believes in hardwork. She debuted as a producer with Woh Rehne Wali Mehlon Ki, which was on air for six years. Her next show Yahan Mein Ghar Ghar Kheli was also a hit. Now, she is in the news with her family show, Jhilmil Sitaron Ka Angan Hoga. This show has a new storyline with the entry of Aamir Ali and Aleeza Khan in the lead roles.

Telling tales: Kavita Barjatya
Par Excellence
Get ready to swing
To be physically ready to swing well one needs to do some stretch exercises well before the round.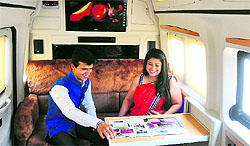 Mobile magic
Turn the recliner up at the press of a button, switch on the home theatre, enjoy a chilled drink from the refrigerator as you look out of the window and admire the landscape.


on the road: Customers experience the feel of luxury inside a caravan. Photo: Himanshu Mahajan

HEART talk
Figure it out
I am a 28-year-old working woman. Of late a colleague of mine has started bothering me a lot. He talks behind my back and is spreading rumours against me. How should I deal with him? Nisha, Chandigarh
Big target
After the boom in Punjabi film industry, now is the turn for reality shows. To bring out different colours of Punjab, some old, some new on the screen is what the newest show Big Fame Star promises.
Punjabi Tadka

Born to sing
Navjeet Kahlon had never thought of anything else but music. All he ever wanted to do was sing, which is what he is precisely doing today. He entertains the audience with his soulful voice. His second album Born To Rise has received an award for the best sound recording. We catch the singer for a candid chat.

RISE & SHINE: Navjeet Kahlon
B'town welcomes Monsoon in Mumbai
The southwest monsoon hit Mumbai on Saturday night, a day before its scheduled arrival, allowing Mumbaikers to heave a sigh of relief. It's raining in the city and celebrities expressed their joy on Twitter:
star track
Karan Johar endorses Ranveer-Sonakshi chemistry
Even though Bollywood has made hundreds of love stories over the years, the most memorable are the ones in which the star pairs have a never–seen-before seen chemistry. Over the years, this kind of onscreen intensity has been visible in the films starring Rajesh Khanna—Mumtaz, Amitabh Bachchan – Rekha and Shahrukh Khan-Kajol. These star pairs have mesmerised the audiences with their performances especially when they are together in the most intimate scenes.
chatter box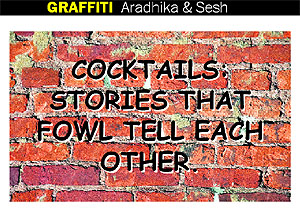 Jaw-dropping revelation
Amitabh Bachchan's recent announcement about doing a fiction show on television left many shocked. The fiction series will be a finite one and Anurag Kashyap will helm the project as director. Here's what Big-B had to say about the show and more…
Astro turf
ARIES: Take care of your diet. Love life will be exciting. A friend of the same sex will be helpful. Financial matters will come under strains. Singles will find a partner today. Tarot message: Watch your best interests. Lucky colour: Yellow. Magic number: 56.