Continuous heavy rain batters Doon
Tribune News Service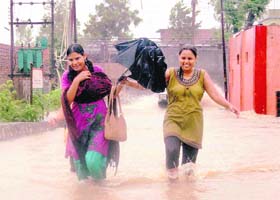 Two girls wade through knee-deep water in the Clementown area. Tribune photo Vinod Pundir
Dehradun, June 16
Continuous heavy rain has thrown life out of gear in Dehradun. Most of the areas in the city are waterlogged and water has entered several localities. Many houses caved in while some partially damaged due to incessant rain. The district administration and the Dehradun Municipal Corporation have set up disaster control rooms, which have started relief operations.
Fourteen families from Satto Wali Ghati have been shifted to a government premises. An alert has been sounded in slum colonies situated near the Bindal, Rispana and Song rivers. Slum dwellers have been asked to vacate their houses and shift to the premises provided by the administration. A police force, along with the PAC, has been deputed to assist in rescue operations. MLA from Rajpur Road Rajkumar, along with Additional District Magistrate Jharna Kamthan, visited his constituency today. Since many embankments have flooded, he gave an estimate for the construction of new embankments as well as the repair of houses damaged due to incessant rain.
The localities that are the worst hit in the Rajpur constituency are Guru Tegh Bahadur Road, Balbir Road, Purn Balmiki Basti, Nai Basti, Nimi Road, Mahatma Gandhi Basti, Nai Basti, Rajesh Rawat Colony, Karan Pur, DL Road, Arya Nagar, Bhagat Singh, Shanti Vihar, Indira colony, Chukku Mohalla and Kanwali Road.
Rainwater entered 20 houses when a vacant plot adjacent to Himani Gas Godown overflowed. Besides this, areas around the ISBT and Claimontown are also waterlogged. Cars, autos and two-wheelers could be seen partially submerged. Gandhi Gram, JMS Road, Saraswati Vhar, Panditwadi, Gobindgarh, Teachers' colony and Yamuna Colony are also the worst hit. MLA (cantonment) Harbans Kapoor, along with higher officials of the district administration, also visited his constituency today.
MLA from Mussoorie Ganesh Joshi took stock of the situation. He said some houses in Rajender Nagar, Dhani Gaon, Bapusar, Badri and Suman Nagar in his constituency swept away. He demanded a hike in the fund released for the naturaldisaster-hit victims and said the amount should be distributed among the victims without any delay.
Wreaking havoc
Many houses collapsed, some partially damaged
14 families from Satto Wali Ghati shifted to a government premises
Alert sounded in slum colonies situated near Bindal, Rispana, Song rivers