Officials must have sound knowledge of ST, Forest Dwellers' Act: DM
Over 150 participants attend RLEK sensitisation workshop
Tribune News Service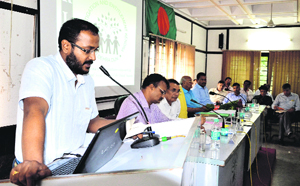 District Magistrate BVRC Purushottam addresses a workshop on forest rights at the RLEK auditorium in Dehradun on Saturday.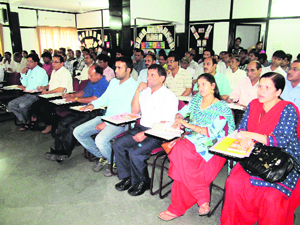 Participants in a workshop on forest rights organised by the administration and RLEK in Dehradun on Saturday.

Dehradun, June 15
"Till the time the persons who are supposed to take care of effective implementation do not act, it will be a long way for the people to be benefited by the Scheduled Tribes and Other Traditional Forest Dwellers' (Recognition of Forest Rights) Act, 2006 to get their dues." These were the observations of Dehradun District Magistrate BVRC Purushottam, while addressing a gathering of officials from the district administration, volunteers and social workers at a one-day sensitisation workshop organised by Rural Litigation and Entitlement Kendra (RLEK) here today.
He said that the district administration along with Rural Litigation and Entitlement Kendra shall strive to ensure that the district administration officials get adequate knowledge of the Scheduled Tribes and Other Traditional Forest Dwellers (Recognition of Forest Rights) Act, 2006, in letter and spirit. He gave a time line to the gram panchayat officers to hold meetings in their respective villages till July 20, 2013, and submit their reports by July 30. Each panchayat adhikari has been given a target of minimum 20 claims to be put up.
District Magistrate Purushottam, District Social Welfare officer Ram Avtar, DFO, Chakrata, and District Panchayat Officer MM Khan were also present on the occasion along with nearly 150 district administrative officials.
The different aspects covered in this workshop were forest rights and constitution of committees under it, procedure to object the claim, procedure of filling the form, strategy to give form to the Forest Act, evaluation and questionnaire.
India ranks second in the world when it comes to being most populous; 8 per cent of the total population is that of tribals. When Uttarakhand separated from UP in the year 2000, 90 per cent of the tribal population of the state of UP came to Uttrakhand. Bhotia, Tharu, Boaxa, Raji, Jaunsari are some of the known tribes. After Independence India's population grew from 30 crore to 120 crore, almost 4 times but the increase in the tribal population is just one and a half times. The population of Uttrakhand is 2, 91,903, out which 1, 11,663 stays in and around Dehradun, that means almost half of the total population. Van Gujjars, the only Muslim forest dwelling tribe, has been given the status of ST in the states of J&K, Himachal and Punjab and Haryana, but in Uttrakhand and UP they still haven't been accorded this status. RLEK along with Minorities Commission of India is striving to get that for the Van Gujjars.
"The Social Welfare Department, Revenue Department and the Forest Department have all the records with them to ensure that these communities get the rights for the Schedule Tribes. We extend our total support to all those who are willing to spread the knowledge that benefits the poor, marginalised and downtrodden. I call upon all those NGOs who claim to fight for the rights of Jal, Jangal and Jameen to join hands with us in this endevour," said Avadhash Kaushal, Chairperson, RLEK, said.
Quoting from the Act, he pointed out that Section 2 of the Act clearly states that community forest resource means customary common forest land with in the traditional or customary boundries of the village or seasonal use of landscape in the case of pastoral communities, including reserved forests, protected forests and protected areas sancturies and national parks to which the community had traditional access.
Forest land means land of any description falling within any forest area and includes unclassified forests, undemarcated forests, existing or deemed forests, protected forests, reserved forests and sanctuaries and national parks.
"This is not understood by all in the same manner and hence atrocities take place against the forest dwellers. He further pointed out another provision of the Act from chapter 2, Section 3 (d) other community rights of the uses or entitlements such as fish and other products of water bodies, grazing (both settled or trans human) and traditional seasonal resource access of nomadic communities," he said. He further added that in other states like Jharkhand and Chattisgarh, claims worth lakhs have been settled but in Uttarakhand only two claims have been filed under this Act, which shows the ignorance on part of administration as well as the communities.
District Social Welfare Officer Ram Avtar gave a detailed account of the claims that were filed and the processes that were undertaken to address them. Praveen Kaushal from Sophia, a voluntary organisation, spoke on the experience of filing for the claims and the exchange of knowhow. He has offered that in any gram sabha meeting if need be RLEK shall send it's volunteers to spread awareness about the Forest Act. If other district administrations approach us, RLEK would organise these awareness workshops for them on no-profit, no-loss basis.