Guest Column
When privilege of surveillance becomes abuse
The Snowden episode gives ammunition to rights activists in their fight for privacy. The debate is vital from the points of view of both national security and citizen freedom. There is nevertheless a need for clarity, balance and compromise, or else things would go awry.
R.K. Raghavan
You can have a democratic surveillance state which collects as little data as possible and tells you as much as possible about what it's doing, or you can have an authoritarian surveillance state which collects as much as possible and tells the public as little as possible.
— Prof Paul Krugman, talking to abc television on june 9, 2013

THE current debate in the US on the all-pervasive role of the National Security Agency (NSA) in eavesdropping on private phones and electronic mail has significance in India too. First is the question as to how many in India have suffered privacy violation at the NSA's hands. New Delhi has already sought information. It is too much to expect an honest response from any intelligence body. This is also the occasion for us to get to know more about our own National Technical Research Organization (NTRO), which has acquired a dubious reputation.
It is part of the Cabinet Secretariat and therefore overseen by the PMO. If those in position in South Block expect transparency on the part of a foreign spy outfit, the Indian citizen would expect the same from the Government of India. Looking back, till the 1970s we even denied we had a foreign intelligence outfit. Wisdom prevailed later, and RAW was acknowledged. We are the better for it, because whatever be RAW's performance, our enemies across the border now know we are not all that impotent. Without prejudice to its most sensitive operations and installations, we now have a right to know that the NTRO is genuinely directed against terrorist groups and those working against our security, and is not misused to settle political scores. The new NTRO Chief, Chandrasekhar, is an honest man with a record for professionalism. This gives us hopes.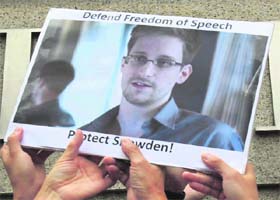 Protesters supporting Edward Snowden during a demonstration outside the US Consulate in Hong Kong on June 13. Reuters
It all began with an interview in the Guardian in which Edward Snowden — a 29-year-old technical assistant who worked with the CIA and had access to NSA data — in Hong Kong charged the NSA with systematic hacking of computers and telephones all over the world. He added that he had specific material to substantiate his allegation. What should rub salt on Washington's wounds is the revelation by Snowden that China was the main target of the NSA's operations. Saying all this from Hong Kong should add to US discomfiture. There is speculation that the US would ask for Snowden's extradition. Beijing is yet to react.
The disclosures give new dimensions to the debate on how much freedom from the law should apply to spy agencies. Not that there was any doubt that the NSA had awesome capabilities, and was using them without much restraint. Whatever we have from the US media lends credence to the feeling that White House does not know how to handle the maverick Snowden. Is he a mere whistleblower, or a traitor? There is a clear division between those who condemn Snowden as a betrayer and those who hail him as a patriot who has done yeoman service to a country that cannot define the limits to spying.
Interestingly, there is bipartisan support for turning the US into a full-fledged surveillance State. Republicans want more vigorous implementation of all President Bush did immediately after 9/11, including the promulgation of the draconian Patriot Act. Right Wing Democrats believe President Obama should not relax the pressure on terrorists who want to ruin the peace in the country and endanger Americans all over the globe. Obama is clear he cannot back off from his current stance, which runs like this: "You can't have 100 per cent security and also then have 100 per cent privacy and zero inconvenience. We're going to have to make some choices as a society."
The Snowden episode gives ammunition to rights activists in their fight for privacy and less authority to the Establishment. The debate is vital from the points of view of both national security and citizen freedom. There is nevertheless a need for clarity, balance and compromise, or else things would go awry.
There are two issues that should agitate the minds of those who claim to cyber security experts. The first is how did Snowden, a lowly contracted employee, secure access to the most sensitive data that he now parades from Chinese soil. Was it his technical prowess that helped him? Or was it his 'social engineering' skills that facilitated his befriending someone in the NSA/CIA who had access to and parted with the information he now claims to be in possession. As with Wiki leaks and the breaches that are reported every other day on the most secure of IT servers, the exposure of NSA once again proves there is nothing like 100 per cent information security.
Secondly, how do we identify and keep track of predators like Snowden? Security experts often talk of the profile of cyber criminals. Looking at various cases over the past decade, there seems a certain pattern that helps organisations and individuals to protect their online assets. A high school dropout from North Carolina, who attended a community college for a while, Snowden had computer abilities that won him a position in the national security establishment. He earned security clearance probably because he served the Army Reserve for a short period. He worked for both the CIA and NSA on contract and a princely compensation of $2,00,000 per year. As a systems administrator, he had access to classified information.
As per the Guardian correspondent who spoke to him in Hong Kong, Snowden was not penitent. He was actually convinced of the rightness of what he did. Unlike many other cyber criminals, Snowden betrayed no abnormalities or tension. His motive? He told the Guardian that he was disturbed by what he saw in the NSA. His expectations were that President Obama would correct the course, but he was disappointed with the President's blind support to his predecessor's policies. Snowden had therefore to go public himself. ("I had been looking for leaders, but I realised that leadership is about being the first to act.")
Interesting days are ahead for those in the business of spying. The lessons learnt should not be lost on us in India. We should not only bolt our stables, but also go beyond and assure the citizenry that intelligence outfits will be devoted purely to protecting the nation and not those in the Establishment who may have strayed from the path of virtue.
(The writer is a former CBI director.)