Rethinking India's reforms process
The nation is yearning for development which is not only socially, politically and economically inclusive but also respects its age-old pluralism, its values and traditions. Nehru's mixed economy approach took cognizance of all this but he left many fundamental questions to social engineering.
H.K. Manmohan Singh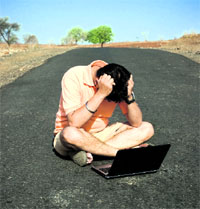 Instead of delivering on more jobs and shared growth, the reforms India embraced in 1991 have resulted in an unceasing growth of corruption, unemployment and inequality
India's bogged down process of reforms, set going again recently, brings home the fact that for sustainable and equitable development production policies cannot be divorced from distribution policies. Also, with the unchecked growth of population the core concern of a nation ought to be with the growth of employment opportunities rather than with the stepping up of the economy's overall rate of growth.
India's planners, mostly trained in Western liberal education, not only failed to see all this; they also failed to impress upon the policymakers that for success the first generation reforms – aimed at dismantling of controls – and the second generation reforms – focusing on building institutions (social, political and legal) – go together and are not sequential. They were more concerned with factors like saving-investment ratios and technological inputs which could change the growth trajectory without realising that they were dealing with a nation which is one of the world's oldest civilizations and had its roots deep in the past which cannot be pulled out all too easily and suddenly.
Nehru's four reasons for mixed economy
Jawaharlal Nehru, independent India's first Prime Minister, was not only a statesman but also a widely travelled historian. He chose for his country the mixed economy approach discarding both the Marxian economics which he thought was doctrinaire and the free market system which he thought led to socially divisive growth. His decision in favour of the mixed economy approach was based on four major considerations.


Considering the dismal record of the government over which he is presiding, Dr. Manmohan Singh's high reputation stands noticeably obliterated. He has tried to bend the arc of history against much that he stood for in his earlier years. Perhaps, the system has failed him.
First, he thought that an 'acquisitive society was no longer suited to the present age' and sought its replacement by 'a classless society based on cooperative effort with opportunities for all'.
Second, as a historian Nehru was fully alive to the fact that the free enterprise system had a built-in tendency to promote economic and social inequalities and had therefore to be discarded. At the same time he could not give his assent to a fully controlled system as he thought that such a system is bound to lead to 'authoritarianism' and 'totalitarianism' and was therefore irrational. He sought a system which could 'realise economic growth and social justice without the sacrifice of freedom and the democratic rights of the common citizen'.
Third, contrary to popular belief, Nehru did not regard the mixed-economy pattern as a half-way house between the capitalistic and the communistic forms of economic organisation. To him the mixed economy was a synthesis of the two systems and, freed from their dogmatic approaches, represented a higher form of economic organization. Moreover, he took the position that the mixed economy alone possessed flexibility and resilience to assimilate changes in human activity and modes of production made possible by the continued phenomenal growth of science and technology.
And forth, Nehru believed that there was a direct relationship between economic activity and development of human character. He argued that if the individual had to realise his dignity and the fullest development of his higher faculties, it was necessary to provide him with adequate incentives – both pecuniary and non-pecuniary. Indicating that 'private enterprise would ... have a large field' in the future set-up of the country – though its functioning would necessarily have to be modified to delink it from its acquisitive basis – he justified it thus: 'We have to encourage the spirit of adventure, of invention and of taking risks in order to give an edge and substance to our lives'.
Development is not just about growth of incomes
Nehru was a great champion of rationalism but he did not believe in ethical neutrality. While formulating his economic policies he carefully weighed their impact on social fundamentals. For him, development was not just about growth of incomes. It was everything that promoted human wellbeing. That dream did not last more than half a century. In 1991 India embraced neo-liberalism in which the main concern of the State policy was to promote the fundamentals of a free economic system regardless of how the fundamentals in people's lives were thereby affected. The new economic order was introduced without a mandate and not every section of the Indian society felt upbeat about it.
The change in the system, welcomed initially, is now being increasingly regarded as unfortunate. Instead of delivering on more jobs and shared growth it has resulted in unceasing growth of corruption, unemployment and inequality – both economic and social. All this has been affirmed by no less an authority than the President of the World Bank Group Jim Yong Kim. Of corruption, he observes that 'it acts as a regressive tax, penalizing poorer citizens and smaller firms'. In his Foreword to this year's World Development Report his emphasis is on job creation which he describes as a matter of critical concern across the globe. In this context he also cites an estimate of 200 million people who are unemployed of whom 75 million are under the age of 25. In place of a socio-economic revolution the free market system has heralded a technological-managerial revolution which has polarised the Indian society into two sharply antagonistic orders – upper classes and submerged masses.
Where do we go from here? There is a saying, 'No one goes farther than the one who knows not whither he goes'. It did not occur to those in power at the time when the blueprint of the new economic policy was being scrutinised for adoption that the free economic system was relevant only for the countries which had adequate resources considering the size of their populations. Furthermore, public opinion in these countries favoured laissez-faire – the doctrine that 'individual freedom in economic enterprise should not be restricted by government or social regulation'. The two textbook examples quoted in this context are those of the United States, where the switchover to an unfettered free market system was accomplished by President Ronald Reagon, and Great Britain, where this was accomplished by Prime Minister Margaret Thatcher. Unfortunately, what is overlooked in this context is the adverse impact of their policies such as widening disparities of income and loss of employment opportunities on those who were on the fringe of society – the Blacks in the United States and the migrant labour in Great Britain.
Mahatma Gandhi, the greatest nationalist leader of India in recent times, repeatedly warned his countrymen to evolve their own strategies of development and avoid living on borrowed wisdom. In his simple way of reasoning he put his exhortation thus: the Western countries have plenty of resources, we have plenty of wants; their problem is making optimum use of resources, our problem is moderation of wants.
India's switchover to free market system
Although Prime Minister Rajiv Gandhi is often mentioned as the mentor of the free economic approach, it was P.V. Narasimha Rao who in that position set about implementing it as a system. After shortlisting Dr. I.G. Patel and Dr. Manmohan Singh, he invited the latter to join his Cabinet as the Minister of Finance and present that year (1991-92)'s budget embodying the spirit of the new system.
Quoting Victor Hugo (the French novelist and poet) that "no power on earth can stop an idea whose time has come", Dr. Manmohan Singh in his budget speech assured the Parliament that he will not renege on his Government's commitment 'to the pursuit of equity and social justice'. That this did not happen shows that the free market system cannot deliver on both development and shared growth at the same time.
The fear that its adoption may lead to the formation of monopolies, oligopolies and similar malpractices and encourage practices like cronyism in public decision-making has come largely true and made the state apparatus and governance dysfunctional to a considerable extent.
In an article, perhaps the only one The Tribune published when Dr. Manmohan Singh took over as the Prime Minister, I wrote the following:
'History is fiercely protective of space it has reserved in its hall of fame, and is generally disinclined to honour every celebrated person with a bust or a tablet. As someone who has known Dr. Manmohan Singh as a close personal friend for almost 50 years and has tried to study his work and thought, I have nothing but profound admiration for wholesome pursuits to which he has dedicated his life. It is too early to judge at this stage how he is going to acquit himself as Prime Minister in the highly polarised politics of the country. But the dignity, humility, and goodwill with which he has taken over provide some indication that he is going to succeed. I consider him both a man of the moment and a man of history'.
Considering the dismal record of the government over which he is presiding Dr. Manmohan Singh's high reputation stands noticeably obliterated. He tried to bend the arc of history against much that he stood for in his earlier years. Perhaps, the system failed him.
The nation today yearns for leadership of Nehru's stature and vision so that it can march forward with confidence and hope, bearing all tribulations and sacrifices the process of development entails willingly. In its absence could we not at least get rid of our obsessions with the free market economy and rethink the process of development in the mixed economy pattern?
The writer is Emeritus Professor of Economics and formerly Vice-Chancellor of Punjabi University, Patiala