good news
Where lack of sight, hearing won't hinder growth
The Society for Welfare of the Handicapped, Patiala, has touched the lives of many children and helped them merge with the mainstream and be financially self-reliant.
by Gagan K. Teja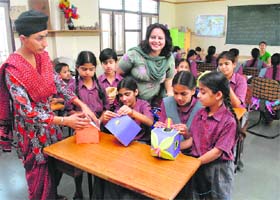 The schools run by the society run on donations received from the public. Tribune photo: Rajesh Sachar

Established with a view to integrating hearing and visually impaired children in the mainstream and equipped with modern models, aids and teaching standards, the Society for Welfare of the Handicapped has transformed many a life.
Founded by the late Amar Singh Kamboj in 1967, the society is a pioneer in North India in the field of education for children with special needs. It has come a long way from being an academic institute to an institution which realises personal independence, economic self-reliance and social inclusion for special children.
The society's first school in North India functioned from a temporary building given by the founder. It moved to its present building at Saifdipur village behind Punjabi University, Patiala, after Balwinder Singh Saifdipur, a resident of Patiala, donated 4,000 square yards of land to the society. In 2005, Prem Puri, an NRI, provided the funds to start construction of the first academic block, and in 2010, Ashok Khosla, from Singapore, gave funds for another block, which was inaugurated in 2011.
For the first 15 years, the schools were financially supported by its founder. As the schools became popular, donations started pouring in. The schools still function only on donations received from the public.
Under the guidance of Col Karminder Singh (retd), secretary of the society and son of Amar Singh, the society is now running Patiala School for the Blind, Patiala School for the Deaf, and Patiala School for the Deaf-Blind (for children with multiple disabilities).
Holistic growth
To date, approximately 900 boys and girls and 400 visually impaired children have passed out from these schools. About 90 students have pursued BA and MA courses with the society's assistance and are gainfully employed.
Col Karminder Singh says Patiala School for the Deaf and Patiala School for the Blind run from nursery to class XII. "These schools are co-educational and residential. They have 175 children, of which 45 are visually impaired boys and girls and 130 are hearing impaired. As many as 140 children are staying in the hostel free of cost. Admissions in all schools are on the first come, first served basis, with preference to girls, orphans, and children from poor families," he says. Patiala School of Deaf-Blind is the only such third school in the country and has become popular within two years of its establishment.
"While most visually impaired students who have passed from this school are in government jobs, our priority is hearing impaired students as there are no government jobs for them. Jobs are not offered to them in the private sector also. We provide them with vocational training so they can earn their livelihood and live with dignity," he says.
The faculty is dedicated and qualified. Proper attention is paid to the overall development of individual personality, personal traits, and qualities of good leadership.
Future plans
The society owns over 2 acres, and the school, with 48 class rooms, is built on a carpet area of 36,000 sq ft. The hostel is re-appropriated in the academic block. The society proposes to increase the capacity of the schools to 300 hearing and 150 visually impaired children, and the hostel to 300.
It also plans to give one-year diplomas in vocational trades after class XII. Some proposed trades are candle making, tailoring and embroidery, electrician, mobile and automobile repair, carpet weaving, photography and video making, among others.
Apart from education, students are trained in various sports disciplines. Recently, deaf students of the school represented Punjab in the All India Games for the Deaf at Aurangabad. They won six gold and two silver medals. These children will represent India in the World Olympics Games to be held in Bulgaria in August 2013.
Hi-tech facilities
While Patiala School for the Deaf envisions total communication being used to teach the children using the latest available techniques. The staff is trained in sign language, speech therapy, computers, arts and crafts, sports, extra-curricular activities, etc., the Patiala School for the Blind is the only residential school for visually impaired girls in the state.
It has the latest equipment for children, including "Read IT Wand" which can scan a book, newspaper or magazine and read it aloud to the students. The school also has a big library with all facilities and great ambience. The society helps students pursue college degrees after completing class XII. The children are also put through arts, craft and other vocational training capsules.
Patiala School for Deaf-Blind is for children with multiple disabilities like visual and hearing impairment. The classrooms are equipped with sophisticated teaching aids and equipment. The school has "PACMATE", which enables students to read books, newspapers and magazines in Braille. There is one teacher and an attendant for every two students.