DMC to clear footpaths of encroachments from today
Dehradun, June 5
The Dehradun Municipal Corporation (DMC) will start a drive against encroachments on the footpaths in the city tomorrow.
Silver stolen from temple
Dehradun, June 5
Silver jewellery and tiara adorning deities at Sri Sai temple on Sahastardhara Road were found stolen today.
CID team shoots murder mystery in Mussoorie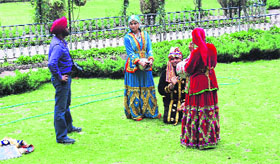 Mussoorie, June 5
The CID team from tinsel town in Mumbai today arrived in Mussoorie to shoot few scenes for the television serial.






Artistes enact a scene during the shoot of televison serial CID in Mussoorie on Wednesday.

Stress laid on need to recognise protection of intellectual property
Dehradun, June 5
The Indian Council of Forestry Research and Education (ICFRE) organised a meeting yesterday for recognising the importance of protecting intellectual property laws and hoping to commercialise them in a manner befitting its commitment to public service and welfare.
Doon Hospital gets 4 new machines
Dehradun, June 5
Uttarakhand Minister for Health and Family Welfare Surinder Singh Negi today inaugurated a B-type natriuretic peptide (BNP) blood test analyser, semen analyser, high performance liquid chromatography (HPLC) analyser and coagulation machine at the Doon Hospital.
MC honours travel writers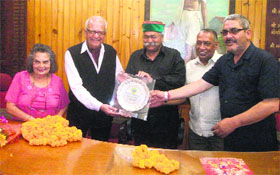 Mussoorie, June 5
Colleen and Hugh Gantzer, a local husband-wife author team, which brought laurels to the hill town by winning the prestigious National Tourism Award 2011-12 for their two books on tourism and heritage of the country, were felicitated by the municipal council at a simple function held here.


Municipal Council president presents an award to Colleen and Hugh Gantzer in Mussoorie on Wednesday.

Ayurvedic doctors go on strike
Dehradun, June 5
Protesting against the government order to bring the contractual ayurvedic doctors, pharmacists and multi-purpose workers recruited under the National Rural Health Mission (NRHM) and deployed in allopathic health facilities under the chief medical officers of the districts, the members under the the banner of the NRHM Samvidha Ayurvedic Sanyukt Karamchari Sanghthan (Uttarakhand) launched an indefinite hunger strike today.
Health camp today at Shanidham Ashram
Dehradun, June 5 A medical camp will be held at Shanidham Ashram, Vikas Nagar, on the occasion of Shani Jayanti on Thursday. District Magistrate BVRC Purushottom will inaugurate the camp, which will be held from 9 am to 5pm.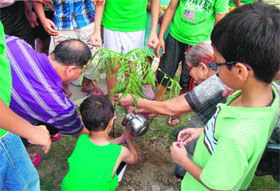 Volunteers of "Kaash" (dial a tree), a voluntary organisation, plant saplings on Wednesday, World Environment Day, in Dehradun.
Camp to spread awareness of Forest Rights Act
Dehradun June 5
District Magistrate BVRC Purushottam said yesterday that though the provisions of the Forest Rights Act were enforced to recognise the rights of forest dwellers, their rights could not be implemented in true letter and spirit unless they were aware about it.
Auction of minerals on June11
Dehradun, June 5
On the directions of District Magistrate (DM) BVRC Purushottam, Sub-Division Magistrate (SDM), Sadar, Ranjana Verma, has announced June 11 as the date of auction of minor minerals stored in Pradeep Singh Screening Plant and Abdul Hamid Screening Plant at Markham Grant.
6 gamblers held in Kotwali area
Dehradun, June 5
The Kotwali police arrested six persons on the charge of gambling at Maliyan in the Lakhi Bagh area yesterday and confiscated Rs 1.34 lakh from them. However, the main accused, Roshan, managed to escape. A non-bailable warrant has been issued against him.
197 challaned for flouting traffic rules
Dehradun, June 5
On the directions of SSP, police officers carried out a campaign against those who indulge in drunken driving, triple riding and rash driving. The officers installed barriers at many places in the city.