Governor's Cup Golf Tournament begins from June 14
Big boost to tourism
Tribune News Service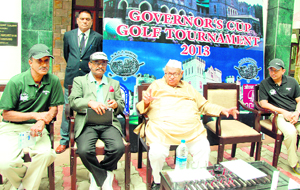 Uttarakhand Governor Dr Aziz Qureshi addresses mediapersons regarding Governor's Cup Golf Tournament at Raj Bhavan, Nainital, on Wednesday.

Dehradun, June 12
Uttarakhand Governor Aziz Qureshi said here today that this year's Governor's Cup Golf Tournament has received good response .The tournament will be held from June 14 to 16. The inaugural tee-off is scheduled for June 14 by the Governor.
Addressing the media at Raj Bhavan Golf Club here, the Governor said that the aim of the annual tournament was to place the beautiful and challenging Raj Bhavan golf course on the national map.
"It is my dream to bring Uttarakhand on the international golf tourism map, which shall provide a great boost to the economy of the state and also provide greater employment opportunities for the youth of this hill region. For this we need to create golf infrastructure integrated with tourism," said the Governor.
He said he wished that this tournament should grow from strength to strength and become one of the highlights of Uttarakhand's sporting calendar and a premier event in India's golf calendar.
"To give a greater boost to golf, we have now positioned a professional golf coach who will train local people, including women and children. Children who are deprived or under-privileged and have an interest in this game shall be given special preference."
He thanked Uttarakhand Tourism for their interest in promoting golf and tourism. He also thanked ONGC along with other sponsors for their support to the tournament.
This year the 11th edition of the Governor's Cup Golf Tournament is being conducted by Lt Col (Retd) Pradeep Goyal as tournament director. He has accreditation from the United States Golf Teachers' Federation and is a renowned golfer of the national level.
In this tournament, where only amateur golfers are invited, some leading players from the defence services, corporate community, government representatives from Dehradun, Delhi, Pune, Bangalore, Barielly, Lucknow, Allahabad, Agra, Gorakhpur shall play for top honours.
The Governor said that the tournament shall be played during the autumn festival of Nainital. He said he will be inviting some leading national and international golfers for that.
Welcoming the players, Major PPR Chowdhury, secretary, Raj Bhavan Golf Club, thanked them for their warm response to the event. He expressed the hope that such events would lead to the development of a full-fledged golf circuit in Uttarakhand.