M A I N N E W S
Rain fury: 131 dead, 500 missing


Over 70,000 stranded in U'khand


Kedarnath Temple submerged in slush


Rescue ops on war-footing
Dehradun/Shimla, June 18
Fifty persons were killed and the famous Kedarnath Temple was virtually submerged in mud and slush in the unprecedented flash floods that have claimed 131 lives in Uttarakhand and Himachal Pradesh and left over 70,000 pilgrims for Himalayan shrines stranded.
The shrine, one of the four holy dhams in Uttarakhand's Rudraprayag district, bore the brunt of the torrential rains. About 500 persons, including several pilgrims, are said to be missing in the area.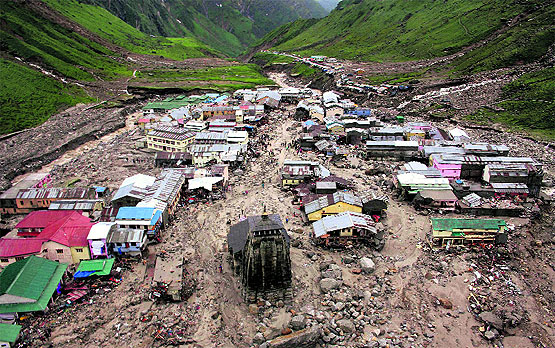 RAINING DISASTER: The damaged Kedarnath Temple (centre) and surrounding buildings in Rudraprayag on Tuesday. — AFP

Kukhimath Sub Divisional Magistrate Rakesh Tewari told reporters after his return from Kedarnarth that 50 bodies were lying in areas adjacent to the shrine. "We are right now concentrating on rescuing those who are alive," he said.
The death toll may rise significantly once the water recedes and relief teams are able to access the affected areas. A portion of the Kedarnath Temple compound was washed away, but authorities said no damage was reported to the structure itself.
The Ram Bada area, a busy spot near the temple, has been completely submerged and was not visible from rescue helicopters. Army Central Command officials said nearly 6,000 to 8,000 people were stranded in Kedarnath, 2,500 in Hemkunt Sahib and around 8,000 in Badrinath.
Flash floods, cloudbursts and landslips have so far claimed 131 lives in North India. Thousands have been displaced in Uttar Pradesh where several rivers are in spate.
The death toll in Uttarakhand has reached 102. Rudraprayag district is the worst hit with 20 persons dead and 73 buildings, including 40 hotels, along the banks of the Alaknanda swept away in the swirling waters of the river.
A total of 71,440 pilgrims bound for the Himalayan shrines of Kedarnath, Badrinath, Gangotri and Yamunotri are stranded at Rudraprayag, Chamoli and Uttarkashi districts of Uttarakhand with the famous Char Dham Yatra having been suspended due to massive landslides and damage to the road network.
While 27,040 tourists are stranded in Chamoli, Rudraprayag and Uttarkashi have 25,000 and 9,850 pilgrims from various parts of the country stranded, disaster management authorities said.
Meanwhile, with a slight let up in the rain today, rescue efforts are being intensified in the affected areas.
More than a dozen helicopters have been deployed in Uttarakhand and Himachal Pradesh for relief and rescue operations with officials saying that all the stranded people are expected to be evacuated soon. Union Home Secretary RK Singh said food, medicines and blankets were air-dropped in remote areas of Uttarakhand and Himachal Pradesh. Home Minister Sushilkumar Shinde, too, talked to the chief ministers of the two states.
"We have provided seven helicopters to Uttarakhand. The state government has also hired four private helicopters. We are providing helicopters to Himachal Pradesh," Singh said in New Delhi.
Himachal Chief Minister Virbhadra Singh, who was stranded in Kinnaur district for nearly 60 hours due to landslides, was evacuated this morning by a chopper hired by his party.
The threat of floods, meanwhile, loomed large over Delhi as the water level in the Yamuna climbed well above the danger mark. Around 1,500 people in various low-lying areas of east Delhi have been evacuated and sent to relief camps.
"The water level of Yamuna crossed the danger mark of 204.83-m at 7 am and reached 205.58-m at 7 pm," an official in the Flood and Irrigation Department said.
A high alert has been issued in Uttar Pradesh following heavy rainfall across the state and the release of water by several barrages since yesterday. Four persons were killed in rain-related incidents in the state, including three teenagers who were struck by lightning in Maharajganj. Another woman was killed and six others injured when a house collapsed in heavy rains in Muzaffarnagar. — PTI
Delhi: Yamuna above danger mark
The Yamuna river is flowing above the danger mark in the national capital. "By 9 am today (Tuesday), the water level in Yamuna had reached 204.98 metres. The danger mark is 204.83 metres," said an official from irrigation and flood department. The state government has started evacuating people from low-lying areas along the banks of the Yamuna.
HP CM evacuated
Himachal Pradesh Chief Minister Virbhadra Singh was evacuated on Tuesday morning by a helicopter hired by his party after being stranded in Kinnaur district for nearly 60 hours.


Evacuations may take a week
Tribune News Service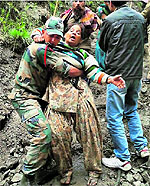 Armymen rescue a pilgrim in Chamoli district on Tuesday. — PTI

New Delhi, June 18
It could take rescue teams at least a week to complete evacuations in the flood-ravaged hill states of Uttarakhand and Himachal Pradesh, said top government officials. The Union Home Ministry today termed the devastation in the two states as "extensive."
An assessment of the ground situation by the government revealed that over 31,000 people, mainly pilgrims and tourists, were stranded between Kedarnath and Gauri Kund. Another 7,000 were trapped near the Badrinath shrine. Around 5,000-6,000 pilgrims, including cricketer Harbhajan Singh, were stuck at Joshimath. In total, over 70,000 people were reported to be stranded in different areas.
With the road network taking an extensive hit, the pilgrims would have to be evacuated by air. At many places, re-alignment of roads would be required by cutting through mountains.
The bridging equipment needs to be taken to affected areas to set up temporary bridges. Over a dozen Mi-17 and Mi-17-V5 helicopters of the Indian Air Force have been pressed into service to carry supplies and air-lift those who were stranded. The Army has pressed its entire Brigade - some 5,000 men - into rescue operations in Uttarakhand. ITBP men are busy in rescue work in Joshimath, Okhimath, Kedarnath, Rudraprayag and Govindghat.
"Medical facilities, refreshments and lodging have been provided to all," said an Army spokesperson. Blankets and sleeping bags have been provided to pilgrims. Army engineers have been told to lay cable bridges across the surging Alaknanda to evacuate pilgrims.
The IAF has put its bases at Ambala, Chandigarh, Bareilly, Sarsawa and Agra on high alert. A unit of Mi-17-V5 copters — having night-flying ability — has been moved to Dehradun from Bathinda.
At Rudraprayag, IAF copters air-dropped around 100 Army troops to carry out rescue work on Tuesday morning as the bridge had been washed away. Army jawans constructed a log bridge near Harsil. Evacuations were on between Badrinath and Mana. Union Home Secretary RK Singh has asked the Border Road Organisation to restore road links in the affected areas.