Monumental neglect
About 35 structures of great architectural relevance have vanished from their sites, from under the safety net of the Archaeological Survey of India. And, it has not ruffled feathers in the department — celebrating its 150th anniversary
Jasvinder Kaur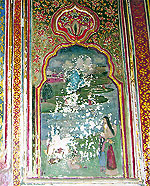 Faded frescos on the walls of Sheesh Mahal, Patiala

The frightening revelations would have remained buried in some official file, had it not been for a question raised in Parliament during Question Hour on March 12. The Archaeological Survey of India (ASI), the agency responsible for preserving India's ancient monuments and structures, admitted that 35 of its structures had gone missing. These structures had simply disappeared from under the ASI's safety net.
It had no clue as to what had happened to these structures that included a prehistoric structure in Mysore, a 12th century temple in Rajasthan, guns used by Sher Shah Suri etc. In Delhi alone, 12 out of 174 monuments are untraceable. The vanishing pieces of history include—Moti Gate, Phool Chadar, Barakhamba cemetery, Alipur cemetery, Joga Bai Mound, Shamshi Tallab in Mehrauli, Nicolson Statue, Inchla Wali Gumti in Kotla Mubarakpur and others. The baffling question that remains unanswered is how can a monument become untraceable? Has it been removed brick by brick or dismantled for some other structure without notifying the ASI?
While the Agency says the reason for their disappearance is encroachment and development, it is in fact due to sheer neglect on the part of the authorities and a callous approach towards preservation of our heritage that stems perhaps from the fact that the premier agency responsible for conservation of monuments is severely understaffed and under funded.
Last year, the ASI was only able to clear 24 encroachments out of a reported 249, at monuments and heritage sites. The institution has the expertise and capability, as it has shown in carrying out major restoration work on the Angkor Wat temples at Siem Reap in Cambodia under UNESCO (The United Nations Educational Scientific and Cultural Organization) guidance. Why it has not been able to use the same expertise to maintain and upkeep its own monuments in India, is not such a mystery. It can deliver provided the government treats conservation of monuments a priority to come up with a well drafted policy on it.
The long yarn of Punjab history
Archaeological sites of Punjab have unfolded several different cultures, which thrived from the Stone Age onwards. Hoshiarpur has 16 such Stone age sites where tools from this age have been unearthed. Some of the sites are Atbarapur, Rehmanpur and Takhni. Atbararpur has yielded 80 tools consisting of 9 hand-axes, 19 cleavers, 17 pebble tools etc. The tools are made of medium grained quartzite. Evidence of Indus Valley civilization was discovered at Hoshiarpur, Rupnagar and Sanghol. Archaeological Museum at Sanghol in Fatehgarh district houses antiquities from the Indus Valley Civilization (2000 BC) to later day Kushan and Gupta periods. The discovery of 117 Kushan sculptures at Sanghol was important, as it was for the first time that Kushan (1st - 2nd century AD) statues belonging to Mathura school were discovered outside the Mathura region. In spite of having such important historical sites, the Punjab government has failed to generate public interest and awareness to develop them as major tourist attractions.
Religious places form a very important part of our heritage and some of these are looked after by religious bodies. It is a different matter that the concept of looking after is different from how a 'conservator' would like it to be done. The challenge lies in keeping the original form and materials.
Punjab has a rich tradition of wall paintings, which are not well known beyond the local area as these have neither been advertised nor well preserved. Many of the frescoes have faded over the years. There are about ninety structures, which have beautifully painted walls. Among these are the Haveli of the Sandhanwalia Sardars (Raja Sansi), Shri Raghunath Temple (Amritsar), Gurdwara Baba Bir Singh (Naurangabad near Tarn Taran), Samadh of Bibi Bani( Kartarpur), Thakurdwara of Lala Chuhar Mal (Nakodar), Quila Mubarak (Patiala), Sheesh Mahal (Faridkot fort). A reality check would bring to light as to how many frescoes are still intact. At Sheesh Mahal (Malerkotla) the mirrors are most exquisitely painted with flowers and laid in beautiful arches. The ownership of this palace is under dispute and a legal battle is on between the Waqf board and some private entity. While courts take a long time to decide the case, the hall with the painted mirrors will be destroyed forever by the time the case is settled. There is lack of legal provision in such cases, which can offer an interim arrangement to facilitate conservation of such buildings.
While some structures are in a state of virtual collapse, the Punjab government has demolished some others. The 109-year-old building of Patiala Jail has already been razed and a hundred year old building at Sangrur is also in danger. There are other structures that the government has demolished with no concern for the importance the old structures hold for our heritage. Another report says that the building of the Government school for boys situated at Sangrur is to be razed. This building was commissioned by Raja Ranbir Singh of Jind in 1913.
Heritage- people's responsibility
While governments can be blamed for a great many things, it is the responsibility of individuals to keep our culture alive. People deface monuments and often etch their names on the walls, buildings etc. It is important to pass the living and oral traditions and skills to the next generation. This living heritage gives us a sense of identity and continuity.
Many rich traditions of Punjab are extinct or are in the process of dying. Crafts like tinsel printing, indigo and madder dyeing have now disappeared from the map of Punjab. Even Kimkha'b fabric (a type of brocade) was woven at Nabha and Malerkotla but is virtually non-existent now. Early twentieth century had 300 factories manufacturing shawls where both Amli (embroidered) and Kani (woven or so called jamavar) shawls were made. Amritsar was known for its excellent indigo dyed shawls with gold or tilla embroidery. At one point there were as many as 6,493 weavers in Amritsar alone. In the catalogue of Indian Art at Delhi 1903, Sir George Watt lists different types of products which were exhibited at this big event and which came from the Punjab region.
Gold printing industry existed in Punjab, but there is none today. Tinsel (gold or silver) printing was done with gold or silver leaf. Cloth was first printed with a thin paste of kharia mitti (mud), suresh (fixer) and gond (glue) using water. To the design made with the paste, a leaf of gold or silver foil was applied. This type of work was known as nik-ka-kam. Natural dyes like madder and indigo were widely used in Punjab.
One may argue, in the era of machine made mass production of textiles, what is the relevance of keeping these traditions alive. It is important to keep our traditions for they provide us the knowledge of where do we come from, how have we travelled to the present state, and how different cultural streams at different times and geographical regions shaped our present cultural fabric. In 1950 Japan was the first country to introduce Law for the Protection of Cultural Properties and introduced legislation to preserve and promote intangible as well as tangible culture. UNESCO at its 32nd session in 2003 set out a framework for identifying forms of intangible culture. The convention became a milestone in the evolution of international policies for promoting cultural diversity. The main goal of this convention was for safeguarding the practices, expressions, knowledge and skills that communities recognize as part of their culture.
The fourth pillar of development
The cultural resource management is a vocation by which not only the cultural heritage is protected but is also managed. The scarce elements of cultural heritage are given consideration in the modern world. The resources are limited which are not used productively. The forts, archaeological sites etc. do not exist in a vacuum but are in an environment where people live and work. The sites are encroached upon and the forts are dilapidated. Under these circumstances decisions must be made to strike a balance between the various interests with an eye towards protection of cultural heritage balancing it with the needs of development.
2013 will be an important turning point for the way culture is treated by the governments. In July, a ministerial group of ECOSOC (United Nations Economic and Social Council) will meet at Geneva to assess the role of culture for sustainable development. Contrary to the view that culture is decorative or secondary to development, mainstreaming and integrating it is crucial for development. Culture is about creativity, heritage, knowledge and diversity. These values are recognized as the 'cultural dimension' (or the fourth pillar) of sustainable development. The myth regarding relationship between culture and development has been that an emphasis on cultural differences and continuity of traditions would lead to social and political conflicts, perpetuate inefficient government and thus hamper development. In fact there is no evidence that cultural diversity leads to fragmentation and conflict. Development rooted in culture and sensitive to local context is in fact the only one, which is likely to be sustainable. As Nobel Prize winner Amaratya Sen explains, "cultural matters are integral parts of the lives we lead. If development can be seen as enhancement of our living standards, then efforts geared to development can hardly ignore the world of culture". It is for the first time that cultural issues are specifically integrated as one of the themes of the ECOSOC debate.
What Punjab needs is a vision to frame a culture policy. It is the responsibility of the government to safeguard the cultural heritage and develop the resources in such a way that it adds to the economy of the state. Tourism is one of the areas that Punjab needs to look into. It has potential in development of religious, historical and archaeological tourism. States like Rajasthan and Gujarat are giving a lot of importance to tourism. Many countries have been able to develop the economy by developing tourism like Vietnam, Thailand, Malaysia, etc. In Cambodia the town of Siem Reap has grown just to cater to the influx of the tourists who come to see the largest Hindu temple in the world at Angkor Wat. Businesses centred around tourism have flourished due to the boom in tourist flow. It is the responsibility of the government to take positive steps so that we leave a rich cultural heritage and a sound economy for the future generations.
The vanishing act
The historic monuments, missing from different states include Arunachal Pradesh-1, Assam-1, Karnataka-1, Gujarat-2, Haryana-2, Rajasthan-2, Jammu & Kashmir-3, Uttarakhand-3, Uttar Pradesh-8 and on top of the list is Delhi with 12. They all add up to 35 missing structures.
Some of the missing protected monuments are - Guns of Emperor Sher Shah in Assam, Two Kos Minars in Haryana, Rock Carving in J&K
Victims of encroachment are Prithvi Raj Chauhan Fort at Hissar, Buddist stupa at Champaran, Prehistoric rock shelter at Raison, ancient burial cave at Trissur, rock cut caves at Bongaigaon, Jama Masjid at Agra, Ellora caves, and Golkonda fort.
Other conservators
3,675 centrally protected monuments in India
Apart from ASI, other players who have conserved many more building in India are
Monuments and Sites( India)
INTACH(Indian National Trust for Art and Cultural heritage)
WMW(World Monument Watch)
UNESCO (The United Nations Educational Scientific and Cultural Organization)
The writer is a textile researcher who has worked at the National Museum, New Delhi and Muse'es d'at et histoire, Geneva