Latke jhatke, Punjabi way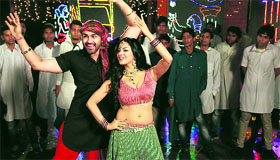 Everything is moving seemingly fine in the Punjabi movie Jatts In Golmaal, when suddenly a lady starts gyrating in and around a dim lamp post. The song picks tempo and you see Veena Malik shaking a leg to Shaboo dey chaubaarey! For a split second, you want to turn around to someone sitting next to you in the theatre — what is she doing in a Punjabi movie?

Veena Malik and Aarya Babbar in Jatts in Golmaal

Foreign hand, our screen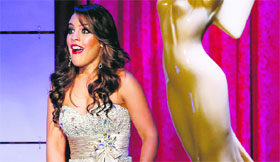 We really don't know who it started with, but the channels and the makers hit the nail with our own format of UK game show Who Wants To Be A Millionaire? Our Indian version of American Idol followed. Soon, there was no looking back. Isn't Indian television now adept at remakes and adaptations?

Kristen Alderson of General Hospital accepts the outstanding younger actress in a drama series award.

Money matters
There are all kinds of rules for business, all kinds of rules behind investing money. But the three basic things that are never supposed to go out of mind and sight — overwhelming, intimidating and scary. Indeed when it comes to investing, there is no harm in moving around these three words.
the 'in' side
Singularly outstanding
A monochrome or tonal décor scheme is one which uses any shade, tint or tone of one colour from the colour wheel. The one colour is often paired with white or another neutral. For example, a monochromatic room in blue might use a single shade of blue paired with white.
indulge
Magic of Mexico
We have tried everything in the summer vacation, right from different outfits to trying out different looks to traveling to different locations; so why should food be left behind. In fact, enjoying the food that complements the mood is important.
Grill & greens
If you fancy vegetarian cuisine, Chandigarh offers only a limited variety. So, how would you like to savour your vegetarian food with a twist of barbeque? Saffron, a multi-cuisine restaurant, offers the much-needed respite from the regular eateries as it offers pure vegetarian food while allowing you to grill your own dishes.
Weight watch
Guaranteed to lose
Losing weight is one thing. Keeping the weight off permanently is another. For many people weight loss is a chronic endeavour. All too often the shedding of pounds is a temporary event followed by a steady regain of lost weight.
Elegant beads
Zaveri & Co's latest line of beautiful pearl jewellery is spectacular and exuberant and is being specially crafted for those who are looking for eminence and uniqueness. Pearls are veritable jewels of the sea, and living symbols of purity and perfection.
star track


On screen scribes


Besotted by Bebo


Hero material


Action & reaction


One happy family


Defending bhai


Monsoon miseries
chatter box


Salman's birthday special


Tea connoisseur


Party time


One for the lovers