Twinning programmes
The power of two tango
The number of students going abroad for higher studies, and those wanting to go abroad has seen a steady increase over the past few years. According to the Forbes India magazine currently 2.64 lakh students are studying abroad. A majority of these are in the US and the UK, but colleges and universities in Canada, Australia and some other European and Asian countries are also attracting Indian students. Studying abroad is highly valued these days not only because of globalisation and for the multicultural and multidimensional perspective, but also because of the tough competition that students have to face to get into the top league Indian institutes.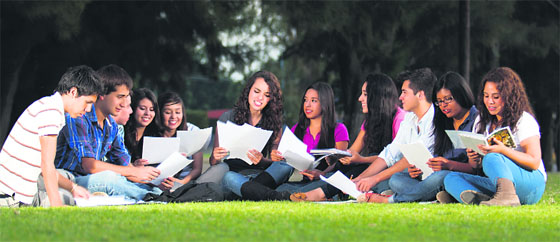 Check the credentials of the partner university and the recognition of the course offered in order to get the most out of your experience of studying abroad
Career Hotline
How can I improve English-speaking skills?
Q. I'm from a small town in Punjab and my spoken English is very average. Will it be a problem in getting a job? How can I speak the language fluently and also enhance my GK? Please advise. — Yash Medha
news board
Leadership programme for parliamentarians at Yale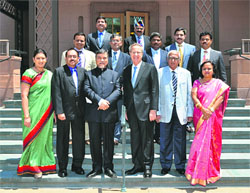 This year's edition of Yale University's India-Yale Parliamentary Leadership Programme concluded last week. The programme was held in a new partnership with the Governance and Public Policy Initiative of the Center for Policy Research in New Delhi. The 2013 cohort of 11 MPs went to the Yale University campus in New Haven, Connecticut on June 19 to complete a six-day leadership programme. The programme was complemented by a four-day programme of meetings, discussions, and interactions in New York City.

GADVASU Student selected for course in us varsity
Deepjot Singh a student of first batch of Bachelor of Fisheries Science (BFSc) degree programme from College of Fisheries, Guru Angad Dev Veterinary and Animal Sciences University, Ludhiana has got selected for the MS in Fisheries and Mariculture Programme in Texas A&M University-Corpus Christi (USA).
scholarship roundup
Junior Research Fellowship for DRDO project
Applications are being invited for Defence Research and Development Organisation (DRDO)-funded post of a Junior Research Fellowship at PRIST University. The fellowship is awarded in 'Medicinal Plants -Their role in Wound Healing and Regeneration'.
subject matter: microbiology
Not micro in gains
Do you enjoy a hearty breakfast that gives you the energy to take on the challenges of life throughout the day? Ever wondered about the small soldiers in that breakfast who provide the fighting elements to your system! These are the tiny microbes that are present in your bread, curd, south Indian dishes, or pickles etc that are all made by the fermenting activities of microbes such as lactobacillus and saccharomyces cereviseae.
campus scene
Diverse and focused
It is an established fact that an MBA is of more benefit for students after they have a few years' work experience under their belt. Being a practical course, geared towards producing efficient managers, an MBA deals with 'real-world' experience. An interaction with a group of students of the Indian School of Business at the sprawling 70-acre campus in Mohali revealed some interesting facts and pointed towards the changing profile of MBA students. One of the country's top B-schools, the I SB with campuses at Hyderabad and Mohali, has its Class of 2014 in place.
study abroad: germany
Mecca of technical and management education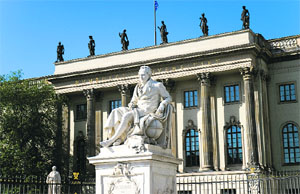 Germany is becoming an increasingly popular destination for Indian students. Germany is a country which not only has high quality of teaching in some of the world's top-ranked universities; it also is very affordable as education cost is as low as 500 euros a semester. So, it is no surprise that international students prefer this country. The universities have also changed a great deal as many of the courses are now offered in English.
course cruising
Lateral entry
Manav Rachna International University (MRIU) invites application for B Tech-Lateral Entry, a three year full time programme.
smart strategy: professional protocol
Social media and work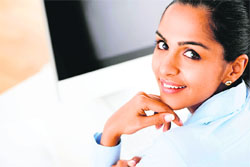 Social media has overtaken our lives, both professional and private and it is all pervasive now. Much of what we do and feel is shared with friends, family and even colleagues and strangers in the virtual world! The importance of social media cannot be ignored today as it has been established beyond doubt that it is a medium to promote oneself professionally, network, make like-minded professional groups and also stay updated on the goings on in one's work interest. But can all this be a part of professional ethos? Where does one draw the line between being private and professional?
Careers bloom with trust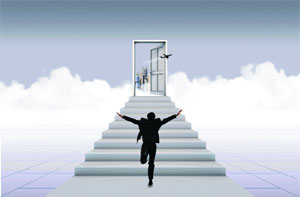 Frontline employees will help in their organisation's improvement if they see that there is a high degree of autonomy in their jobs and have trust in their leaders, a new research by two Indian business professors has suggested. The study conducted by Gopesh Anand and Dilip Chhajed, professors of business administration at University of Illinois found that a flexible environment plays a significant role in increasing employee's commitment to continuous improvement initiatives.
Focus shifts to profiles post appraisals
In keeping with the growing focus on managing their careers proactively, professionals are quick to ensure that their online profiles and resumes reflect their career successes and are updated as soon as there is any change in their roles.


CareerCature
SANDEEP JOSHI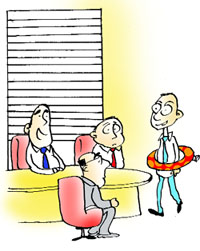 No Sir, there are no floods in our city. He is the head of our new disaster preparedness department.
India's great places to work in
Google India Pvt. Ltd. topped the list of best companies to work for in a survey of 550 companies across 22 industries in India. The survey was conducted by the Great Place to Work Institute recently. Intel Technology India Pvt Ltd, American Express India Pvt Ltd. and NIIT Ltd. were acknowledged as the second, third and fourth best companies, respectively, on the basis of employee satisfaction criteria.
bookshelf
Motivating moments
"Think Like Zuck" is a must have book for those who dare to think differently and accept new challenges for building enterprises of social value. It offers the line of thought and ideals behind the work strategy of Facebook's iconic founder and CEO Mark Zuckerberg, who led a social media revolution in his early 20s and is now among one of the most influential people in the world.
Happiness @ work
Gems of ancient wisdom
Money matters
Happiness cannot happen on an empty stomach. All of us do a job and get paid to take care of the necessities of life.