Poll reforms
Leadership in the shadow of bars
The Supreme Court's recent judgments, attempting to clean up politics by debarring jailed politicians from contesting polls, are a welcome step. But there are grey areas. What if a leader has been implicated, or is acquitted by a higher court subsequently?
By KV Prasad
TWO pronouncements by the Supreme Court last week — one disqualifying elected parliamentary and legislative representatives in the country on being convicted, and second, debarring those behind bars or in police custody from contesting elections — has been largely welcomed by political parties in principle, but have since raised larger questions.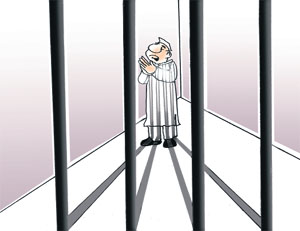 Sandeep Joshi
In disposing of two petitions, the Bench of Justices AK Patnaik and SJ Mukhopadhaya gave the judgments that have been received well as they seek to attack a deep-rooted malaise in Indian politics — criminalisation.
Several years have gone by as political parties continue to stress on the need to bar criminals and law-breakers from entering the hallowed portals of state legislatures or Parliament and don the role of lawmakers. Yet, a majority of political parties, national or regional, have been guilty of nominating candidates with criminal antecedents, who then interpret an electoral victory as being absolved of all charges in the court of the people.
According to statistics compiled by the Association of Democratic Reforms gleaned from affidavits filed by contestants as mandated by the Election Commission, 30 per cent of politicians in Parliament have criminal cases pending against them and 14 per cent are fighting serious charges like murder, rape, forgery, fraud, cheating and inciting hatred among communities.
Crime and power
While statistics and public perception provides a grim picture of the quality of political leaders, among the early shock to society was when the Samajwadi Party gave a ticket to Bandit Queen Phoolan Devi, who was elected to Parliament in 1996. Of course, in her case, it was a high-profile criminal who served a term and then entered political stream. There were others with lesser known crimes who made it as legislators or parliamentarians without much spotlight on them.
Political parties reacted with caution, welcoming the apex court judgment. As details came out, so did the reactions, raising larger questions. There is apprehension of false cases by political rivals and innocents languishing in jails. The other strand of argument is against the disqualification of elected representatives on conviction leading to complication in case of an acquittal by higher courts. The moral and ethical approach is recognised but the practical difficulties in implementing these are now being debated.
Congress MP and lawyer Abhishek Singhvi, reacting in his individual capacity, welcomed the judgment on disqualification in principle but said there are angularities that need to be ironed out in a comprehensive manner. These include: the two-judge Bench allegedly violates an earlier decision by a Constitution Bench; no caveat against false or trivial cases that entail such disqualification; and a clear gap in regard to the restoration of right in case of reversal.
BJP Deputy Leader in the Rajya Sabha Ravi Shankar Prasad felt political parties would have to take responsibility in nominating people to contest while CPM general secretary Prakash Karat said the intention of the Supreme Court to immediately remove persons convicted of serious criminal and corruption cases was good but the verdict that Section 8 (4) of the Representation of The People Act was ultra vires "poses certain problems".
"Given the present state of the judicial system, conviction by a trial court is often set aside by a higher court on appeal. If a member is disqualified in some case and gets an acquittal later by a higher court, there will be no scope for redress. Therefore, the judgment needs to be clarified by a review," Karat said in an obvious reference to the unseating leading to a vacancy that can be filled in a byelection by another person. The earlier law was that once convicted, the elected representative has three months to file an appeal in a higher court.
The devil is in the details and in the case of debarring those behind bars, there is near unanimity across political thought. Singhvi felt while it was novel, moral and ethical, he sought to know: "If a person behind bars, substantially defanged, is still powerful to win an election, who are we to deny him and deny the electorate their right?"
Judicial activism?
What remains unsaid is that it may no longer be possible for the likes of fiery trade union leader George Fernandes, who won the 1977 Lok Sabha elections from Muzaffarpur in Bihar while being incarcerated during the Emergency, to enter the electoral fray.
Expressing serious reservation, Prasad said political rivals in power could resort to vendetta and book opponents on trumped-up charges. Bharatruhari Mahatab, Biju Janata Dal MP, echoed similar sentiments, stating that petty police officers could fix people and put them behind bars.
Karat, too, felt that besides depriving a number of political activists on whom false cases were foisted, there were "lakhs of undertrial prisoners languishing in jail unjustly deprived of their basic liberties given the inefficiency and bias of the legal-judicial system. This judgment can lead to large-scale misuse. Ruling parties and governments can get people behind bars in order to prevent them from contesting elections. The judgment is a case of judicial overreach and requires to be overturned".
Subsumed in the latest debate is the larger issue of a crying need for comprehensive electoral reforms rather than piecemeal solutions to remove systemic deficiencies that have crept into electoral politics over the years. Some measures have been taken but are clearly not enough.


Star politicians in jail, or on bail
A Raja: A DMK leader and once powerful Union Minister is in Tihar Jail since February 2011 following his arrest in the 2G Spectrum case. He has not moved a bail plea. His request to depose before the JPC has not been accepted.
Kanimozhi: Daughter of DMK chief M Karunanidhi, Kanimozhi spent a term in Tihar Jail in 2011 and is on bail. She was recently re-elected to the Rajya Sabha from Tamil Nadu.
Jagan Mohan Reddy: Son of former Andhra Pradesh Chief Minister, the late YS Rajasekhara Reddy, Jagan has been in jail since May last year in connection with a disproportionate assets case. He floated the YSR Congress and plans to contest polls next year.
Janardhan Reddy: One of two infamous Reddy brothers of Bellary in Karnataka, he made millions from mines and iron ore. He was charged with illegal mining and is cooling his heels in jail with his sibling Srinivas Reddy.
Suresh Kalmadi: A former Union Minister, Kalmadi was arrested by the CBI in 2011 in connection with the 2010 Commonwealth Games scam. He spent nine months behind bars.
Amar Singh: A former Samajwadi Party leader who flaunted his proximity with celebrities, Amar Singh was in judicial custody in 2011 in connection with the 2008 cash-for-votes case.
Sukh Ram: A former Union Minister from Himachal, he was convicted in a CBI case. He is on bail after the Supreme Court upheld a 2002 Delhi court verdict.
Jagir Kaur: A former head of the SGPC, she was convicted in a case of abduction and forcible termination of pregnancy of her daughter. She was lodged in jail, but is currently on bail.
Om Prakash Chautala: The powerful Jat leader from Haryana and former Chief Minister, Chautala has been sentenced to 10-year imprisonment in the JBT recruitment case. He has been granted bail on health grounds.
Mahipal Maderna: A powerful Congress leader from Rajasthan, Maderna was removed as minister and arrested along with Congress legislator Malkhan Singh last year in connection with the disappearance of Bhanwari Devi, a nurse.
Lalu Prasad: Former Union Minister and Bihar Chief Minister, Lalu was jailed in connection with the fodder scam. The Supreme Court has stayed the verdict in a case that was to be delivered on July 15 following an appeal.
Disqualification
A person who has no right to vote by virtue of the provisions of sub-section (5) of Section 62 of the Representation of the People Act, is not an elector and is, therefore, not qualified to contest the election. — Supreme Court order
(Section 62 (5) of the Act provides that a person shall not vote if he is confined in jail or is in the lawful custody of the police.)