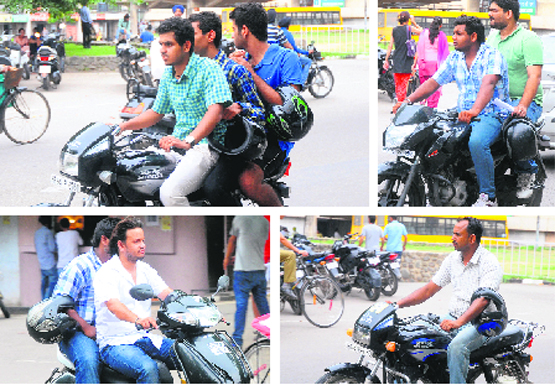 Mocking traffic rules: (Clockwise from top): Flouting the guidelines of Panjab University, youths ride motorcycles without wearing a helmet on the campus. Tribune photos: S Chandan
Patients sweat at PGIís New OPD Block
Chandigarh, July 15
Waiting outside OPDs for their turn, patients at the PGI have to brave the heat for several hours since there is no provision for fans in the corridors on any of the floors. Besides, a number of fans in the already overcrowded patient waiting areas do not work.



In the absence of fans, patients and their attendants brave hot and humid conditions in the corridors of the New OPD Block at the PGI, Chandigarh, on Monday. Tribune photos: Pradeep Tewari
Illegal mining continues unabated in Mohali dist
Mohali, July 15
Illegal mining of soil continues unabated in Mohali district. The fact came to light during a visit by Chandigarh Tribune team to Roorkan village, located alongside a 200-foot under-construction road leading to the new airport.



Illegal mining under way at Roorkan village in Mohali on Monday. Tribune photo: Vicky Gharu
Employees have a hectic day clearing telegram rush
Chandigarh, July 15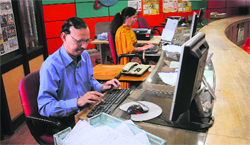 It was a hectic day for employees of the local telegraph office as a "record" 400 telegrams, sent by people yesterday, the last day for sending telegrams, had to be cleared by them today. The rush of telegrams was witnessed yesterday as people wanted to use the telegram services one last time.

Employees clear pending telegrams at the BSNL office in Sector 17 on Monday. Tribune photo: Manoj Mahajan




City Beautifulís heart bruised
Chandigarh, July 15
As the Chandigarh Administration and the Municipal Corporation have turned a blind eye towards Sector 17, the heart of the City Beautiful, it is now slowly turning into a picture of neglect.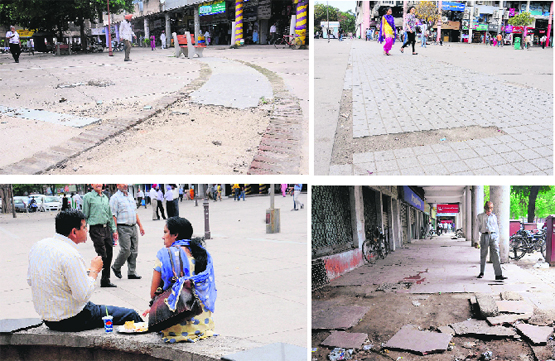 Clockwise from top: A damaged pedestrian path; missing tiles in an open space; a man walks past a damaged corridor; and visitors have snacks while sitting on a structure the tiles of which have been removed by miscreants. tribune photos: Manoj Mahajan

Objections to city master plan to be decided soon
Chandigarh, July 15
The Chandigarh Administration today told the Punjab and Haryana High Court that objections to the recently notified master plan of the city would be decided as early as possible. The Administration, at the same time, asserted that the exact time for finalising the master plan could not be specified at the current stage.
Staff crunch not Postal Deptís concern
Chandigarh, July 15
Ignoring inconvenience to the public due to a delay in postal delivery, the Postal Department is the least bothered to recruit staff to fill the vacant posts. The records of the department revealed that there is a shortage of more than 50 postmen in the local post offices.
Only 5 turn up at Patil's public darbar
Chandigarh, July 15
Union Territory Administrator Shivraj V Patil's public darbar once again evoked a poor response today. Only five complainants attended the public hearing session.
Accused should be booked for making false statements: CBI
Chandigarh, July 15
Elaborating on the falsity of the plea taken by three of the accused in the Judge bribery case, special public prosecutor Anupam Gupta, while arguing during the framing of charges in the CBI court, today pleaded that accused Sanjeev Bansal, Rajeev Gupta and Nirmal Singh should be booked for making false statements under sections 192, 193, 196, 199 and 200 of the IPC.
Three BJP councillors expelled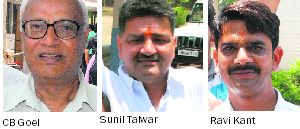 Panchkula, July 15
The three newly elected BJP councillors were expelled from the party after it was learnt that they had voted in favour of a Congress candidate. CB Goel from ward number 9, Sunil Talwar from ward number 12 and Ravi Kant Swami from ward number 13 voted for a Congress candidate in the Mayoral elections.
Residentsí body felicitates new Mayor
Panchkula, July 15
The Residents' Welfare Association of Sector 10 honoured the new Mayor of Panchkula, Upinder Ahluwalia.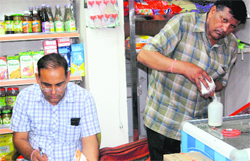 2 shops raided in Panchkula
Panchkula, July 15
Officials of the Food and Supplies Department today raided two shops at Sector 25 in Panchkula. The officials collected samples of milk, cheese, 'gulab jamun' and 'barfi' from Grocery Supermarket and Goel Ji Sweets.


Officials of the Food and Supplies Department collect samples from a shop in Panchkula on Monday. A Tribune photograph
Phulia takes over as Píkula DC
Panchkula, July 15
The new Deputy Commissioner of Panchkula, Dr SS Phulia, assumed charge today.



(1) Dangerous ride: A motorcyclist takes a wrong turn at Sector 54 in Mohali.
Tribune Photo: Vicky Gharu
Private schools found charging fees from EWS students
Chandigarh, July 15
Several private schools in the city were found charging fees and other funds, even though a nominal amount, from the Economically Weaker Section (EWS) students admitted under the Right to Education (RTE) Act for the academic session 2010-11.
BCom admissions: UT pool seats filled
Chandigarh, July 15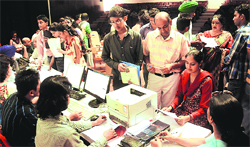 All seats in the UT pool for admission to BCom have been filled following the first counselling conducted on Sunday. The counselling for reserved seats was held today. Until two days ago, only 167 BCom seats in the general quota of UT pool (85 per cent) were vacant in three city colleges.

Students show their documents for admission at Panjab University on Monday. Tribune photo: Pradeep Tewari
Teachers to present lectures before colleagues
Chandigarh, July 15
The UT Education Department has put government schoolteachers to a litmus test by asking them to prepare lectures from the academic syllabus and then present the same before their fellow colleagues in the upcoming faculty development programme.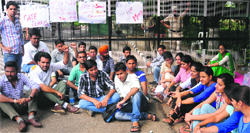 PU research scholars hold a protest outside the VCís office in support of their demands on Monday. Tribune Photo: Pradeep Tewari
Teachers oppose move to extend school hours
Chandigarh, July 15
State executive committee of the Government Teachers Union (GTU) unanimously opposed the move of extending school hours without providing appropriate infrastructure and facilities.
Psychology a favourite with students this year
Chandigarh, July 15
Psychology has emerged as the most popular subject among a majority of students seeking admission in Bachelors of Arts (BA) this year in city colleges. This time, the number of applicants for the subject has almost doubled in most of the colleges compared to last year.
Parents made to wait for four hours
Chandigarh, July 15
Parents of students seeking admission to BSc (non-medical) at Post Graduate Government College (PGGC), Sector 11, alleged that they were forced to wait for over four hours for counselling today but to no avail.