Pahari paintings of Himachal showcased in Germany
Chamba, July 16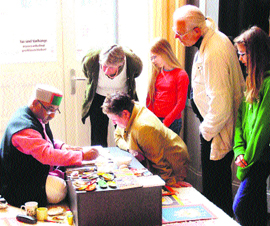 The Kangra valley is famous for its picturesque landscapes, flora and fauna. The beauty of this valley apparently reflects in the Pahari miniature paintings especially of Guler and Kangra schools.
Artist Vijay Sharma demonstrates Kangra painting techniques to lovers of the art in Hamburg, Germany.

112-year-old Kotla bridge on verge of collapse
Nurpur, July 16
The single-lane Kotla bridge, 20 km from here, on the Dehar Khad on the Pathankot-Mandi national highway built 112 years ago, in 1901, is in a dilapidated condition. The bridge is considered very significant from tourism point of view in the Kangra valley and Kullu district.