Children found engaged in construction work at Mother and Child Care Centre
Amritsar, July 20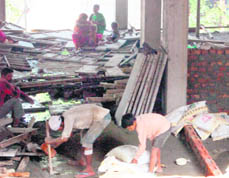 Even as the law prohibits engaging child labour, children can be seen engaged in construction work at the Mother and Child Care Centre of the Jallianwalla Bagh Martyrs Memorial Civil Hospital here. The district administration had recently rescued child labourers from a few establishments, but the businesses in the city continue to engage minors in work.
Children engaged in the construction work of the Mother and Child Care Centre at the Jallianwalla Bagh Memorial Civil Hospital in Amritsar on Saturday. Photo: Sameer Sehgal

Expired medicines recovered from store at Civil Hospital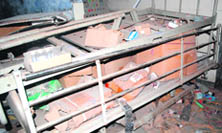 Amritsar, July 20
Huge stocks of expired medicines were recovered from a store at the Jallianwala Bagh Martyrs Memorial Civil Hospital yesterday. The medicines included ORS packets, paracetamol tablets, folic acid tablets, injections and syringes.
The expired medicines recovered from a store in the Jallianwalla Bagh Martyrs Memorial Civil Hospital in Amritsar. A Tribune photo

Cylinder blast victims demand justice
Amritsar, July 20
Some members of the family, at whose house a cylinder blast occurred on June 4 in Maqboolpura, today approached the National Commission for Scheduled Castes vice-chairman Rajkumar Verka here.
Singer Jazzy B to debut as a bad boy in Punjabi film "Best of Luck"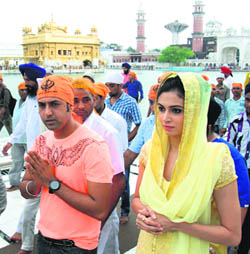 Amritsar, July 20
Popular singer Jazzy B will be seen as a bad boy in his debut Punjabi film "Best of Luck". Starring alongside Gippy Grewal, Binnu Dhillon, Puneet Issar and Simran Kaur Mundi, who is also making her debut in Punjabi films, Jazzy seems quite upbeat about his mobster big screen avatar. In city, the star cast promoted the film while performing live at Alpha One mall. "I had been getting lot of offers but nothing exciting. I didn?t want a routine typical hero debut for myself. I didn't want to act for the heck of it and wanted a role that I actually love playing. I play that role in Best of Luck," says the singer.
The star cast of upcoming Punjabi film "Best of Luck" Gippy Grewal and Simran Kaur Mundi pay obeisance at the Golden Temple in Amritsar on Saturday. Photo: Vishal Kumar
Policy to legalise unauthorised colonies an opportunity for residents, say realtors

Amritsar, July 20
Even as the state government has appointed a committee to review the policy related to legalising the unauthorised colonies, some believe that the policy has offered a golden opportunity for the residents authorise their illegal colonies to enjoy basic amenities.
An illegal colony in Amritsar. Tribune file photo
Shawl Club flays seizure of stole consignment by excise officials
Amritsar, July 20
Shawl Club India, a conglomerate of the shawl manufacturers, has flayed the Excise and Taxation Department for taking into custody a consignment of stoles. In a communiqué to the Punjab Excise and Taxation Commissioner, Anurag Verma, the club said both shawls and stoles must be treated similarly. Hence, VAT must be exempted on stoles on the similar lines.
Committee to discuss regularisation policy
Amritsar, July 20
A high-powered committee of the Punjab government would meet to discuss the policy of regularisation of unauthorised colonies on Tuesday in Chandigarh. Industry Minister Anil Joshi said this while meeting a delegation of property dealers who intimated him about their demands and reservations over the new policy. He said the committee would comprise Revenue Minister Bikram Singh Majithia, PWD Minister Sharanjit Singh Dhillon, Parliamentary Secretary Som Parkash besides Joshi himself.
Campaign to diagnose TB patients launched
Amritsar, July 20
The Voluntary Health Organisation of India has launched a door-to-door campaign to diagnose TB patients in the city under its project Axshya. An awareness camp in this regard was organised at Katra Baghian area in ward number 26 here.
Workshop on classroom management concludes
Amritsar, July 20
A two-day workshop on classroom management for teachers concluded at Bhavan's SL Public School today. Geeta Duggal was the resource person who conducted the entire workshop. With the help of entertaining games and activities, Geeta elaborated the concept of classroom management. She said classroom management was the operational area of a teacher where she organises students, space, and time material so that student learning can take place.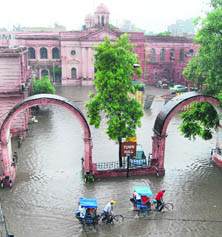 Heavy rain brings respite from heat, roads remain clogged
Amritsar, July 20
After city residents woke up to a grey sky on Saturday, heavy rains provided them respite from heat and humidity. Water that accumulated at various spots also caused inconvenience to the commuters. People had to brave it out on the roads as traffic jams, clogged streets and filled drains were seen everywhere in the city. "It is impossible to drive a two-wheeler on road once it rains here. It took me several hours to reach my destination amid waterlogged routes," said Gaurav Narang, an insurance executive.
The civic body office in Town Hall was inundated after a heavy rain lashed Amritsar on Saturday. Photo: Vishal Kumar

Action against ASI sought
Amritsar, July 20
Activists of the CPM and Shaheed Naujwan Sabha yesterday met ADCP city-II Amrik Singh Pawar and submitted a complaint against an ASI posted at Chheharta police station. They alleged that the said ASI was extorting money from innocent people and indulged in corrupt practices. — TNS