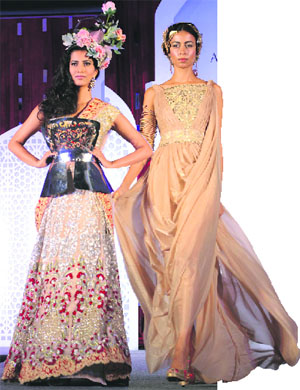 Couture charisma
Even though it was couture that ignited the fashion movement across India, it's a bit appalling that a subsequent fashion week dedicated to the crafts came much later than those celebrating pręt. Now when the two major couture weeks, India Bridal Fashion Week and Delhi Couture Week, are all set to enter the fourth edition, the rich couture of India is getting its due. This edition of IBW will be attended by all the big names from the industry, from Suneet Varma, JJ Valaya, Tarun Tahiliani, Ashima Leena, Shane to Falguni and they will all showcase their opulent collections.





Dress circle: A creation by Falguni and Shane Peacock; and (R) an outfit by Suneet Varma.

A story in strokes
There is nothing better than a quiet summer evening with an artist, just flowing in his stream of thoughts and strokes of the brush. Here's an account of one such tete-a-tete with S Raj Kumar, a city-based artist who has recently been honoured with the Amrita Sher-Gil Samman Award by the Chandigarh Lalit Kala Akademi.
Identity issues
Hues of my identity is an apt nomenclature that artist Jasbir Bhogal has given to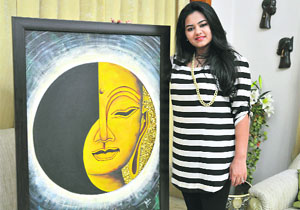 her collection of art pieces, which she exhibited at the Sutlej club, Ludhiana, recently. Drawing purely on the reserves of her instinct, Jasbir has endeavoured to be very realistic and expressive in her works. Painting since school days, Jasbir got a little formal training from IFA Chandigarh but as she affirms, "Formal training did not suit me much; I wanted to bring out real-life experiences on the canvas and something with which the viewer could identify."

creative streak: Jasbir Bhogal with her creation. PHOTO: INDERJEET VERMA

Par Excellence


Maintain your centre
The position of the body in relation to the ball at impact has a direct effect on the angle of approach of the club. This affects the quality of contact with the ball. If the centre of your body (the sternum) is ahead of the ball the club would approach the ball on a steep plane and the divot would tend to be deep and ahead of the ball. If the body falls back with the centre being well behind the ball the club would approach on a very shallow plane and would tend to hit the ground behind the ball or would not hit the ground at all, which means that there would be either a thin divot slightly behind the ball or no divot.
Doc Talk


Make-up woes
The make-up is something which can make one look beautiful. While this is a routine for women it is becoming popular among men too. Countless brands are available in the market, each one of them claiming to be the best. The fact, however, remains that you need to have a little understanding of your skin type to know which brand deserves to be on your dressing table.
Hot & sweet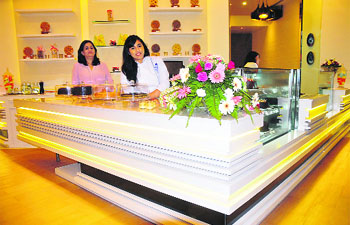 How many times have you gone to an eating joint expecting something great, and it has actually turned out to be far better than your 'great' expectations? How many times have you picked up a never-tried-before dish on the menu, and you asked yourself why you didn't try this all this while. Carrying these thoughts, stepping up the elevator, you reach the farthest corner of the third floor at Elante Mall.

Spicing up: Monica Sood & Gayatri Sood at the newly opened Monica's Kitchen & Kaffe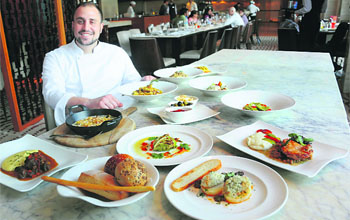 Italian delight
If you have a different kind of evening on your mind, fresh taste, some country music and wonderful hospitality, then head to savour Peidmontese cuisine at Oregano at JW Marriott, Chandigarh, where Chef Daniele Trivero prepares an elaborate menu with as many as eight starters, bigger main course and delectable desserts.

say cheese: Chef Daniele Trivero displays his culinary creations

star track
Miles to go
After taking the world by storm with their first Bollywood Film Production Oh My God (OMG), Akshay Kumar and Ashvini Yardi are on a journey of creating milestones in the entertainment industry with their latest venture, 72 Miles Ek Pravas.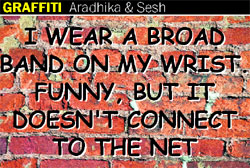 Kat loses out to DP


Clinching the title


When Rob met Riley


Of flings and fits


Taylor Swift in love again?


Angelina Jolie 'completes' Brad Pitt


Paris' perfect partner
chatter box
Mughal history revisited
With the promise of presenting some of the most fascinating stories from our vibrant past to re-energise the audiences with original entertainment, Epic, India's first genre-specific Hindi entertainment channel, presents the preview of the legendary tale of the Mughal Empire, which will be depicted in its first fiction show Malikaa.



Ice-cream spree!


Manav's a busy man


Bad chapter


The wedding sequence