LIFE+STYLE

CHANDIGARH

LUDHIANA

BATHINDA

JALANDHAR

AMRITSAR TRIBUNE

JALANDHAR TRIBUNE

BATHINDA TRIBUNE

JAMMU TRIBUNE

KASHMIR TRIBUNE

DELHI

DEHRADUN

DEHRADUN PLUS
Donít cross party line, Rahul tells Cong workers
Pushes for for decency in debates at partyís media conclave
New Delhi, July 22


Stressing consonance of opinion on critical issues confronting the party, Congress vice-president Rahul Gandhi today sent out two clear messages to all spokespersons: Donít cross the party line and donít cross the limits of decency in media debates.
Rahul Gandhi arrives for the party conclave in New Delhi on Monday. PTI


CJM wifeís murder


2 bullets found; dowry charge against in-laws
Gurgaon/Panchkula, July 22
The Gurgaon police today recovered two of the three bullets that pierced through the body of Geetanjali Garg, wife of Gurgaon Chief Judicial Magistrate Ravneet Garg, during a fatal attack last week.
Book scam: Badal chooses Maluka over Pannu
Officer posted as Secretary, Agriculture, Punjab
Chandigarh, July 22
The Punjab Government today transferred Director General of School Education (DGSE) Kahan Singh Pannu, who is said to have blown the lid off the scam involving selection of certain companies for supply of library books and science kits by a committee formed by Education Minister Sikander Singh Maluka.
OTHER PAGES

PUNJAB: Govt plans cyber kiosks for efficient delivery of services


J&K: Police says no need for further probe, opposes inquiry commission


HIMACHAL: 1,087 bighas washed away in Sirmaur


CHANDIGARH: Court questions contradictions in statements


LUDHIANA: Manufacturers go on strike


DELHI: Carjacker shot in daylight encounter


Business:

SEBI gets powers to attach properties, bank accounts

OPINIONS: Joe Biden in India

SPORTS: IBL set to give big boost to badminton

WORLD: Twin quakes rattle China, 89 killed


Lahore Log

The tribune guide to best colleges

Budget
2013-14

INDIA CHINA WAR 50 YEAR LATER

YEAREND SPECIAL: 2012

Year of survival

The tribune 130 years
a witness to history
book released by prime minister manmohan singh

Guide to best colleges

Results of Punjab Assembly Polls 2012

HIMACHAL VOTES 2012

EARLIER FEATURES
Saina snapped up for Rs 72 lakh in IBL auction
New Delhi, July 22
Hitherto unimaginable riches came to the humble sport of badminton today at the Indian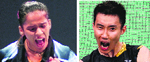 Badminton League (IBL) player auction, in which world No. 2 Saina Nehwal was snapped up for Rs 72 lakh ($120,000) by the Hyderabad franchise.
Top buys: Saina Nehwal bought by Hyderabad Hotshots for $1,20,000 (L) and Lee Chong Wei bought by Mumbai Masters for $135,000


Sports page: IBL set to give big boost to badminton
Itís a boy! The royal babyís here
London, July 22


Prince William's wife Kate Middleton today gave birth to a baby boy at a hospital here, as Britain raised a toast to the much-awaited arrival of its future monarch. The 31-year-old Duchess of Cambridge gave birth to a baby boy this evening at 16.24 (local time), Kensington Palace confirmed.
Special to the tribune
Afghan jewellery makes its way to New York, London
Afghan jewellers trained in Jaipur will benefit from having their products showcased from next month in New York and London. Afghan gemstones such as lapis lazuli, emeralds and rubies as well as gold, silver and other materials are included in the jewellery brand called Aayenda, meaning Ďfutureí in the Dari Language, that is being launched at a fashion expo in New York, NY Now, as well as at London Fashion Week this coming September.
Uncertainty over sale of power to Pakistan
July 22, 2013
100 Yamunanagar villages flooded
July 21, 2013
PM admits growth rate may fall below target
July 20, 2013
4 dead, 42 injured as mob raids BSF post in J&K
July 19, 2013
Bihar mid-day meal tragedy toll 22; 50 more kids fall ill
July 18, 2013
Govt revises FDI cap, allows 100% in telecom, 49% in insurance
July 17, 2013
One month on, 5,748 still missing in Uttarakhand
July 16, 2013
New Bhutan govt keen to boost ties with India
July 15, 2013
Roll out food scheme quickly: Sonia to CMs
July 14, 2013
2002 riots: Modi says did no wrong
July 13, 2013
Allahabad HC puts on hold caste-based rallies in UP
July 12, 2013
Convicted lawmakers to lose membership: SC
July 11, 2013