Minor migrant girl falls from roof, dies
Jalandhar, July 24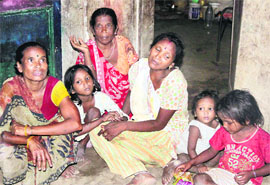 Mystery shrouds the death of a minor migrant girl, who died after falling from the roof of the three-storeyed house she was working in at New Vijay Nagar here this afternoon. The deceased has been identified as Prem Sheela. Her mother Sunita had been working in the house on the first floor while her father Naresh Mahato, who is a rickshaw puller, was sitting outside the house when the incident occurred.
Relatives of migrant girl Prem Sheela mourn her death at her house in Jalandhar on Wednesday. Photo: Sarabjit Singh
Mid-day meals inspected in over 25 schools
Jalandhar, July 24
Taking a cue from the tragedy at Bihar, Deputy Commissioner (DC) Shruti Singh instructed a team of SDMs and other officials in the district to conduct inspection of mid-day meal arrangements at more than 25 schools and angnwari centres in rural and urban areas.
Teachers to protest if demands not met
Jalandhar, July 24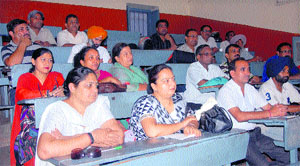 Aided School Teachers and Other Employees Union has decided to start a struggle for their demand of merger into government schools. To chalk out a strategy for this struggle, the union's Jalandhar unit held a meeting at Sain Dass School, Patel Chowk, Jalandhar, under the aegis of district president Arvind Bains.

Aided school teachers at a meeting in Jalandhar on Wednesday. Tribune photo: Malkiat Singh

Computer teachers protest, seek regularisation of jobs
Jalandhar, July 24
A series of dharna was started against the state government by computer teachers today under which protests would be held at tehsil and block levels. The teachers said they would bycott non-teaching work from July 25th to 27th.
Forum asks bank, insurance firm to refund Rs 15 lakh to NRI
Kapurthala, July 24
The District Consumer Disputes Redressal Forum, Kapurthala, has asked the ICICI Bank and the ICICI Prudential Life Insurance Company to refund an amount of Rs 15 lakh to a Canada-based NRI for allegedly diverting the amount for an insurance policy without her consent. The forum has also entitled her to Rs 50,000 as compensation and Rs 10,000 as litigation expenses.
Naujawan Sabha wants drug trade report to be made public
Jalandhar, July 24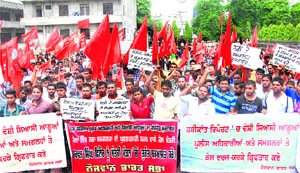 Members of the Naujawan Bharat Sabha today held a rally at Desh Bhagat Yadgar Hall demanding making public of a report on bigwigs involved in drug trade tabled by former DGP Prisons Shashi Kant.


Members of Naujawan Sabha take out a rally in Jalandhar on Wednesday. Tribune photo: Malkiat Singh

Three killed in accidents
Phagwara, July 24
Soorat Singh, a Mohali resident, and his seven-year-old daughter Noor Inder, were killed on the spot, while his wife Manjit Kaur, sustained serious injuries, when a Maruti Zen car (No CH-04-8978), which Soorat was driving towards Phagwara, collided with a private company bus (No PB-23M-1855), near Behram, on the Phagwara-Banga road, on Tuesday afternoon.
CRPF personnel participate in drive against female foeticide
Jalandhar, July 24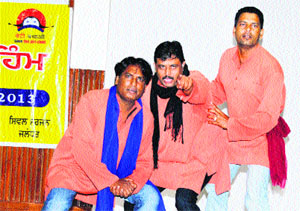 A programme was held by the health authorities at the CRPF campus, Sarai Khas, here today, in continuation with the fortnight against female foeticide. CRPF jawans, members and officials participated in the event. District family welfare officer, Dr Shi Dyal Malhi, said first vice in Punjab was addiction and the second social vice the state was struggling against was female foeticide.

Actors hold a skit on the issue of female foeticide on Wednesday. Tribune photo: Malkiat Singh
MC fails to provide succour to rain-affected residents
Jalandhar, July 24
The district administration seems to have done nothing for residents, who live in the low-lying areas of the district and face various health hazards due to rain water. Heavy rain has accumulated mud and slush in these areas. Decomposed and stinking trash is exposing the residents to unhygienic surroundings. The slums and unapproved colonies in the countryside are worst affected as these are inundated with rain water. The residents have been using carts and rickshaws to commute.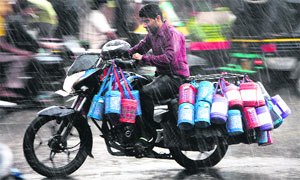 Punctuality first:

Braving heavy rain, a delivery boy carries tiffin boxes for his customers on a motorcycle in Jalandhar on Wednesday. Photo: Sarabjit Singh
Drug teams raid chemist shops
Kapurthala, July 24
The district administration conducted a series of raids on chemist shops selling medicines without doctor's prescriptions.
Iron scrap godown burgled
Jalandhar, July 24
Good worth thousands of rupees were stolen from an iron scrap godown at Sanjay Gandhi Nagar late last night.
Purse snatched
Jalandhar, July 24
A motorcycle-borne miscreant snatched a purse of a woman at Surya Enclave here this afternoon. The woman, Anu Sehgal, was reportedly going to a parlour when the incident occurred. She said the biker was wearing a helmet and she could not recognise him.
80 cases of liquor found from truck
Jalandhar, July 24
The city police last night confiscated 80 cases of liquor from an abandoned truck near Patel Chowk.