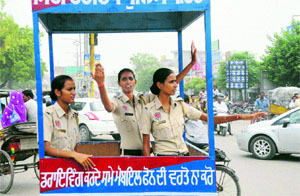 CHAOS ON ROAD: Police constables control the traffic at Hanuman Chowk in Bathinda on Friday as traffic police personnel were busy on other routes due to the CM's visit to the city. Tribune photo: Pawan Sharma
DPI (Secondary) checks mid-day meal at two schools
Bathinda, July 26
The Director of Public Instructions (Secondary Education), Punjab, visited the city today and inspected the mid-day meal being served at two government schools here. He also visited the offices of the District Education Officers (elementary and secondary).
solid waste treatment plant
Four booked for obstructing work at garbage dumping site
Bathinda, July 26
Four persons, including the complainant in a case before the National Green Tribunal (NGT) pertaining to the garbage dumping site of the solid waste treatment plant, have been booked for interfering with the work going on at the dumping site on the Mansa road.
Sensitise students to man-river relation: Waterman of India
Bathinda, July 26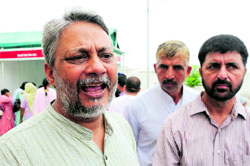 The man-river relation should be made a part of the school and college curriculum to save the future, which is not very rosy with respect to the quality and availability of water, said the waterman of India and Ramon Magsaysay Award recipient Rajendra Singh.
Rajendra Singh, recipient of the Ramon Magsaysay Award, speaks about the water issues, at the ongoing natural farming and environment festival being organised by the Kheti Virasat Mission, in Bathinda on Friday. Tribune photo: Pawan Sharma

Environment festival begins
Bathinda, July 26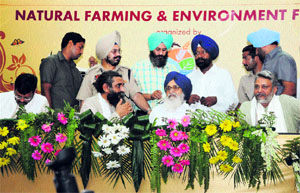 Chief Minister Parkash Singh Badal today called upon people of the state to join the cause of saving environment and not think it to be the onus of the government only.


(From left) KVM director Umendra Dutt, Chief Minister Parkash Singh Badal and Ramon Magsaysay Award recipient Rajendra Singh at the inaugural ceremony of the natural farming and environment festival in Bathinda on Friday. Tribune photo: Pawan Sharma

Municipal Corporation team inspects 8 dairies
Bathinda, July 26
The team of the Municipal Corporation Bathinda (MCB) yesterday intensified its campaign against dairies in the city that dump cattle waste into the main sewer. Led by Chief Sanitary Inspector Ranbir Singh, the team inspected eight dairies and cut off sewer connections of three of them.
DAV College gets nod for new courses
Bathinda, July 26
DAV College has got the nod from Punjabi University, Patiala, to introduce MA Punjabi and MA political science and BSc in computer, statistics and mathematics beginning this academic session.

Farmers urged to repair 'near-dead' soil in their farms to save Punjab from catastrophe
Bathinda, July 26
Punjab farmers urgently need to repair their 'near-dead' soil or else a catastrophe is awaiting to hit Punjab in next 15 years, said Lakshman Singh from Laporia village in Rajasthan, who was awarded the Rashtriya Bhoomi Jal Samvardhan Puraskar-2007 by the President of India.
property tax
Congress workers to meet today
Bathinda, July 26
Former Bathinda MLA Harminder Jassi said today that a meeting of Congress workers was being called tomorrow to chalk out a strategy to oppose property tax imposed by the state government. The meeting would be held at the Congress Bhawan in Bathinda.
Digitised library to be opened at district courts
Bathinda, July 26
A digitised library for lawyers at the District Court Complex, Bathinda, is likely to be inaugurated by Justice Jitendra Chauhan of the Punjab & Haryana High Court tomorrow. The library is equipped with nearly 7,000 books and most of them in digitised form in five computers would be open tomorrow.
4 arrested with drugs
Bathinda, July 26
The police has arrested four persons for possessing opium and intoxicating powder from opposite the local Harchand Cinema. SI Sikandar Singh, the investigating officer, said Harvinder Singh, Hardev Singh, Jaswant Singh and Gurdeep Singh, all residents of Joganand, were arrested for possessing 220 gm of opium and 250 gm of intoxicating powder.
Four held for stealing coal
Bathinda, July 26
The police has booked seven persons, including truck drivers and those weighing coal, at the Guru Gobind Singh Refinery for stealing coal. A complaint was lodged with the police by Bhola Singh, a security guard deployed at the refinery.