M A I N N E W S
A soldier's spirit comes alive as Army salutes Kargil war heroes
Majid Jahangir/TNS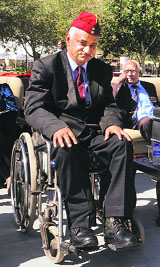 It is the spirit of being a soldier that has brought me here. I've come to pay homage to martyrs who laid down their lives for the motherland.— SK Razdan, Maj Gen (retd)
Drass, July 26
As troops on the icy heights of Drass prepared to salute the Kargil war heroes on the 14th anniversary today, a retired paraplegic officer wheeled himself to the memorial, his chest swollen with pride. Though not a part of Operation Vijay, Major General SK Razdan had all the reasons to celebrate his life and live the memories of the brave.
"It is the spirit of being a soldier that has brought me here. I've come to pay homage to martyrs who laid down their lives for the motherland," said 59-year-old Razdan, the country's first wheelchair-bound officer to serve as General Officer Commanding in the Army.
Razdan lost his lower limbs in an encounter in Kulgam in south Kashmir in 1994. He was a young Lt Colonel then. The officer, who originally hails from Habbakadal locality of the Srinagar, continued to serve the Army and retired as assistant chief, counter terrorism, last year. He was posted at the Army Headquarters in New Delhi and is currently staying in Gurgaon.
"I retired last year and thought my handicap shouldn't come in the way of my ardent desire to be at Drass to be a part of Kargil victory celebrations," said Razdan. A serving senior Army officer, who was present at the function, said Razdan was among many retired Army officers who were invited to inspire the serving soldiers. "Despite his physical limitation, Razdan managed to come here. His presence has motivated soldiers tremendously," he said.
General Officer Commanding-in-Chief of Northern Command Lt Gen Sanjiv Chachra in his address said: "The remarkable victory in Kargil continues to inspire the young generation across the country. The people will never forget the sacrifices of soldiers, who displayed exemplary valour to push back the infiltrators from our territory."
"The function has been organised to remember the contribution of the units and the formations which were the part of the Kargil operation," he said.
Chachra said the Army was well prepared. "Our soldiers remain guardians of the northern frontier to ensure that the safety and security of the nation remains well protected. We will retaliate strongly to those who challenge us," he said. The troops of Northern Command are responsible for the guarding the Line of Control and the Line of Actual Control.