LIFE+STYLE

CHANDIGARH

LUDHIANA

BATHINDA

JALANDHAR

AMRITSAR TRIBUNE

JALANDHAR TRIBUNE

BATHINDA TRIBUNE

JAMMU TRIBUNE

KASHMIR TRIBUNE

DELHI

DEHRADUN

DEHRADUN PLUS
A soldier's spirit comes alive as Army salutes Kargil war heroes
Drass, July 26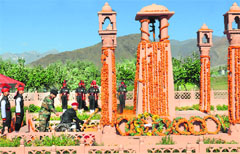 As troops on the icy heights of Drass prepared to salute the Kargil war heroes on the 14th anniversary today, a retired paraplegic officer wheeled himself to the memorial, his chest swollen with pride.
Major General SK Razdan (retd) lays a wreath at the Drass memorial to mark the 14th anniversary of Kargil victory on Friday. Razdan lost his lower limbs in an encounter in Kulgam in south Kashmir in 1994. Tribune photo: Amin War

Sonia to attend Birender's rally
Chandigarh, July 26
The Congress high command has found an amicable way to thwart an impending ugly situation that could have embarrassed Haryana Chief Minister Bhupinder Singh Hooda and senior leadership of the party. Former Haryana Finance Minister and Congress Working Committee (CWC) member Birender Singh had announced that he would hold a rally in Jind on August 20, but would not invite the CM.

OTHER PAGES

HARYANA: 99-km stretch to have 5 bypasses, 3 overbridges, 13 underpasses


HIMACHAL: Land leased to RSS society in Solan to be probed


CHANDIGARH: Body of sixth youth recovered


LUDHIANA: Industrialists observe fast


DELHI: Govt finalises details of Food Security Scheme


Business:

Govt cannot afford timid mindset, asserts Moily

OPINIONS: Encounter at Batla house

SPORTS: Dashing Dhawan stars for India

WORLD: Egypt court orders detention of Mursi over Hamas links


Lahore Log

The tribune guide to best colleges

Budget
2013-14

INDIA CHINA WAR 50 YEAR LATER

YEAREND SPECIAL: 2012

Year of survival

The tribune 130 years
a witness to history
book released by prime minister manmohan singh

Guide to best colleges

Results of Punjab Assembly Polls 2012

HIMACHAL VOTES 2012

EARLIER FEATURES
PM assures B'desh FM on border pact
New Delhi, July 26
India today conveyed to Bangladesh that the Land Border Agreement (LBA) between the two countries would be taken to Parliament for ratification while the government is seeking national consensus on the sharing of Teesta waters and assuring her that on water resources New Delhi will do nothing inimical to the interests of Dhaka.
Land for 5-star hotel: 2 HP IAS officers chargesheeted
Shimla, July 26
The government today chargesheeted Additional Chief Secretary (ACS) Deepak Sanan and another IAS officer RS Gupta in a case involving land allotment to Himachal Pradesh Cricket Association (HPCA) for construction of a high-end luxury hotel at Dharamsala.
Special to the tribune
Two Bangla-origin men convicted of sex offences in UK
Two men from Manchester convicted of child-sex offences are the latest in a series of male abusers of mainly South Asian origin who have been caught grooming young white girls with drugs and alcohol before assaulting them.
HRD Min wants Sen's aide on safety panel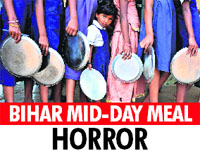 New Delhi, July 26
The Human Resource Development Ministry has proposed the name of welfare economist Jean Dreze —Nobel Laureate Amartya Sen's aide — in the list of independent experts for a national-level monitoring committee on mid-day meal safety. This panel is in the process of being formed.
Court: Batla encounter not fake; IM operative convicted
July 26, 2013
Compensate Railways for loss in 2011 stir, SC tells Haryana
July 25, 2013
India, US keen to take civil N-deal forward
July 24, 2013
US Vice-Prez arrives to discuss trade, defence ties
July 23, 2013
Uncertainty over sale of power to Pakistan
July 22, 2013
100 Yamunanagar villages flooded
July 21, 2013
PM admits growth rate may fall below target
July 20, 2013
4 dead, 42 injured as mob raids BSF post in J&K
July 19, 2013
Bihar mid-day meal tragedy toll 22; 50 more kids fall ill
July 18, 2013
Govt revises FDI cap, allows 100% in telecom, 49% in insurance
July 17, 2013
One month on, 5,748 still missing in Uttarakhand
July 16, 2013