Parents of Kargil martyrs a distraught lot
Deepkamal Kaur
Tribune News Service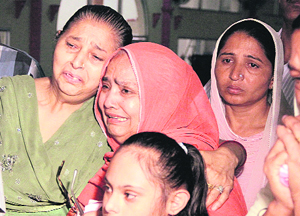 Families of martyrs of the Kargil war share their grief during a programme organised on Vijay Divas in Jalandhar on Friday. Photo: Sarabjit Singh

Jalandhar, July 26
Fourteen years down the line since the loss of their sons in the Kargil war, the void left in the hearts of their parents perhaps has only been getting deeper and wider. The parents of martyrs, who at that time had their jobs, independent earnings and were energetic to fend for themselves, now seem to have become emotionally, physically and financially distraught.
Since most of the widows of the martyrs had parted ways with their in-laws' family taking a bigger share of compensation in the form of job, gratuity and monthly pension, the ageing parents blame it on the apathy of the government for not paying attention to their plight.
The families shared their grief with one another during the Kargil Vijay Divas programme organised by the Kashyap Naujawan Dharmik Sabha here today. Kamla Rani, whose son Deputy Commandant in the BSF Mahinder Raj got martyred on July 13, 1999, had tears rolling down her eyes throughout the function. She recalled her saga, "My son was married for just seven months when the tragedy struck. My daughter-in-law left the house for her parents' place the day it was his kirya. Two months later she delivered a child. She has not got re-married but we have no ties with her. She got adequately compensated in the form of a job as an ETO, has now got promoted as Assistant Excise and Taxation Commissioner and has no financial burden on her unlike us. My husband has retired, but his job was not pensionable. I have three daughters, who are married. It is just the two of us looking at each other's long face the whole day."
Similar is the story of Kirti Chakra awardee Major Raman Dada's family. His retired father, Ravi Dada, too, is upset at the government not doing the needful for the parents of the martyrs. "My son got killed during the Kargil war in 1999. My daughter-in-law left soon after his kirya ceremony with her son Dhruv, who would now be 16-year-old. Ever since, we have had no contact with her. Had he lived and his family been around us, our life would have been much different. It is just a few social organisations which remember the supreme sacrifice made by our sons. The politicians and bureaucrats have never felt any pain for us and have never bothered to inquire about our well-being," he said.
A retired honorary Captain Dr SSN Vinayak and his wife Prem Vinayak, whose son Major Kapil Vinayak was killed on July 20, 2005, in Operation Vijay, said their biggest problem in life was loneliness. "After the tragedy, Kapil's widow got remarried and took along her four-year-old son. We have had no problems with that for she had a long life ahead, but we somehow wanted that we be allowed to meet our grandson off and on. He should now be grown up 12-year-old boy and we have been living just to see him one day. It has been really shattering to hear recently that he has been re-christened as Harshit Sharma, instead of Harshit Kapil Vinayak, the way we loved to call him," the couple had seemed much peeved at the thought.
Vinayaks have a daughter who is married. "While I run a clinical laboratory to kill time, my wife has not kept any maid at place so that she remains involved all day with household chore," Dr Vinayak said, adding that financial issues, too, had started bothering them now but still were secondary.
Families of martyrs Lt Gurvinder Singh, Capt Satnam Singh, Capt Mandeep Singh and Lakhbir Kumar, too, attended the programme.