Area watch: NOIDA-GREATER NOIDA EXPRESSWAY
Express gains
Geetu Vaid
The 23-km stretch along Noida-Greater Noida Expressway is attracting realtors as well as homebuyers. A number of commercial, office and residential projects have made it a promising destination in the NCR
The realty scene in NCR has not only been able to buck the overall slowdown trend that has been gripping the sector in the other parts of the country, but it has also seen the addition of new promising areas over the past couple of years.
So after Gurgaon and Noida Extension, it is the stretch along the Noida-Greater Noida Expressway that is riding the realty wave in NCR. The stretch that connects to the 165-km Yamuna Expressway has a number of residential and commercial projects lined up for homebuyers and investors.
Sectors 92-94, 96-100, 105, 108 and from 124 to 144 constitute Noida-Greater Noida Expressway area which is emerging as the next "go to" location. According to real estate research group DTZ this location has witnessed a high annual (2011-12) growth in take-up of 15 per cent year-on-year, especially in the context of decline in take-up in the already established office hubs of Sectors 15 to 18 and 58 to 63 that have ample vacancy and witnessed a steep fall of 95 and 61 per cent, respectively in the past one year.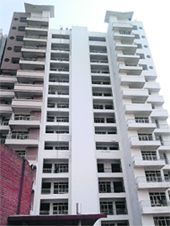 Work in progress at supertech's eco citi project

Noida /Greater Noida Expressway has provided an edge for both residential as well as commercial set ups. It is becoming a hub for the real estate market and the projects in the area have received overwhelming response from potential buyers and investors due to locational advantage. Key developments are taking place around these areas. Being a new settlement, the space crunch is not that much of a concern till now as compared to other destinations around Delhi-NCR. — R.K Arora, CMD, Supertech Ltd
Growth catalysts
Good connectivity and excellent infrastructure are some of the key factors that are driving growth in this area. "Connectivity to South Delhi, 18 km distance from central Delhi, a developing commercial hub, presence of luxury hotels, good employment opportunities, existing and upcoming metro lines, excellent infrastructure are the favourable factors in this area", says Samir Jasuja, Founder and CEO, PropEquity while talking about the growth positives of this area.
Connectivity, however, is seen as the major factor that has made this a preferred location for commercial as well as residential projects. The travel time for those commuting from Delhi is shorter due to better approach and less traffic congestion. "On any given day, during the peak hours, it easily takes around one hour and 30 minutes to reach Sector 62 from Connaught Place (CP), Delhi, whereas it is just an hour's drive from CP, Delhi to Noida–Greater Noida Expressway", says Rohit Kumar, Head of Research, India, DTZ.
One can also reach the business hubs of Delhi like Jasola, Nehru Place and Okhla easily. Moreover, the proposed infrastructure projects are going to improve connectivity in the near future, say experts. The FNG (Faridabad, Noida, Gurgaon) Expressway will make connectivity to Faridabad, Ghaziabad and Gurgaon convenient. Metro connectivity through the proposed metro line which will have 7 stations in Greater Noida will further enhance the accessibility of this corridor.
The focus of the authorities is on complementing the development of infrastructure with economic boosters and this will also benefit the area. Setting up of SEZ in Sectors 144-147 and 164-167 will generate employment. Anil Kumar Sharma, President, CREDAI-NCR, says, "A number of steps like the new master-plan for coordinated and planned development of the area, show the positive mindset of the authorities about the development of this area. The stretch will also emerge as an educational hub of NCR, as there are plans to establish around 40 educational institutes in this area. Besides, the authorities are also taking steps to boost the retail segment and open new shopping malls and complexes in this location."
Project watch
Some of the major realty players have residential as well as commercial projects lined up here. Jaypee, Supertech, 3C, Assotech, Logix, Ajnara, Unitech Amarpali and Eldeco are some of the main developers here. Between them these developers have more than 30 residential projects under construction. These projects range from the mid-segment affordable to the high-end luxury ones to cater to a broad spectrum of buyers looking to invest between Rs 45 lakh to Rs 1 crore. Making an interesting observation about the demand in this area Samir Jasuja says, "The first half of the Expressway i.e. 10 km from Delhi end, is a premium to luxury property market whereas; the next half of the Expressway (towards Greater Noida) is predominantly mid-end".
Some of the major projects here are: Jaypee Greens Wish Town, Unitech Grande, Heartbeat City by Amrapali Group. The Supertech group has three projects in the area, including 12.6 acre Eco-Citi in Sector 137 that will have 1,700 units; Emerald Court in Sector 93A; and a retail-cum-office space complex E Square in Sector 96. Assotech Realty has Assotech Business Cresterra, a mixed-land development in Sector 135 which will have office spaces and service residences.
On the commercial front IT/ITES is the primary industry sector driving the demand in the region, contributing on an average more than 70 per cent of the total take-up in the last three years. According to a DTZ report, multinationals based out of the US and UK have dominated the take-up, together contributing more than 60 per cent of the total take-up in the last four years with average deal size of 42,000 sq ft. Some of the key projects that are slated for completion this year are Advant Navis, NSL Techzone and VM Collect.
Although the rentals on Noida-Greater Noida Expressway are 4 to 5 per cent higher than those of Sector 58 to 63, the availability of better quality infrastructure and shorter travel time, has generated a lot of interest among potential occupiers who are looking for quality office space at reasonable and affordable rents.
The commercial activities have accelerated the development of housing sector, cutting across segments, from affordable to mid-segment and up to luxurious residential projects, all of which come with high technology and world-class facilities. The fast developing residential segment has given impetus to the ancillary sectors such as education, healthcare and hospitality. "Several reputed schools and colleges have their presence in this area. Additionally, popular hospitality brands such as Westin Resort, The Lalit Grand, Grand Hyatt and Marriot have planned projects along the expressway", informs Rohit Kumar.


Prominent developers
Jaypee, 3C, Ajnara, Logix, Supertech, Assotech and Unitech
Office rental value
Rs 50-55 per sq ft/month
Distance from International Airport
33 Km (approx)
Factors fuelling demand
High quality real estate opportunities for all segments with better approach as compared to developed locations such as Sectors 15-18 and Sectors 58-63.
Schools in the vicinity
Delhi Public School, Ryan International, Jaypee Public School, Somerville International School, The Shriram Millennium School, Genesis Global School, Lotus Valley International School, Mayoor School, JBM Global School
Hospitals in the vicinity
Kailash Hospital, ITS Dental Hospital, Sharda Hospital
Things to watch out for
Physical and social infrastructures are still developing though at a fast pace.
Source: DTZ Research
The price factor
At present the prices in the affordable segment are in the range of Rs 3,500-5,500 per sq. ft., while high-end or luxury apartments can cost anywhere between Rs 9,000 and Rs 15,000 per sq. ft.
According to market watchers the rates have registered a hike of 28-30 per cent over the past couple of years, which is good for an area that is still developing.
While a majority of the properties are being lapped up by IT professionals who have better job opportunities in the vicinity, investors, too, have shown readiness to park their funds here as the area has already given good returns and prices are likely to consolidate further once people start moving in after the completion of projects.
The projects that were launched a couple of years ago for Rs 2600 per sq ft are now fetching close to Rs 5,000 per sq ft. "Looking at the current slow state of real estate sector, and considering the fact that the property prices near Expressway have already appreciated a lot, one can expect an appreciation of approximately 12-15 per cent in the next couple of years, depending on the market conditions, specific project and developer credentials of the subject investment", says Samir Jasuja.
This area, thus, is all set to be a lucrative option for long and short term investors and end users. As Rohit Kumar says "This area has a lot of potential, which it has already started leveraging, given the fact that the established micro markets such as Gurgaon and Noida are expanding towards the periphery now".
Source : Nirmal Infrastructures
Email:nirmalinfrastructures@yahoo.com