Fluid n festive
If fashion was static, we wouldn't have seen a pair of denims oscillate between the bell bottoms and tapered shapes, it's length altering with the change of season; suits wouldn't have varied from anarkalis to straight to the ones with asymmetric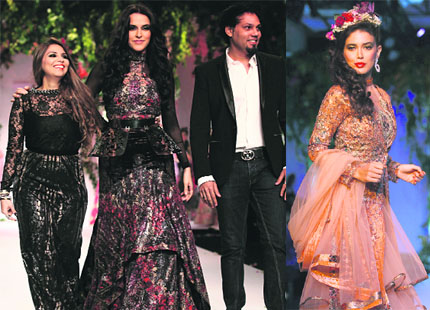 hemlines, and the bridal affair would have been strictly about three pieces of clothing--lehanga, choli and duppatta. It's the fluidity of fashion that introduced us to the bridal couture that went beyond the conventional and brought into picture, anarkali gowns, lehanga sarees, saree jackets, anarkali with trousers and much more.
(L-R) Neha Dhupia with Falguni & Shane: a model in their creation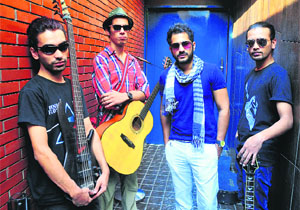 United they Rock !
He didn't go greedy with the huge round of applause as a solo artist. Nor was the title of one man army quite cutting it. "Through solo performances and practices I was not being able to achieve this unique sound that I wanted. Moreover, one man army was not what I really enjoyed. If I wanted our product to be much richer, I had to bring in more people," lead vocalist Suryaveer goes through the reasons behind his hit and trial search operation to form a core team of five members.
Boy Zone: Suryaveer(second from right) with his band members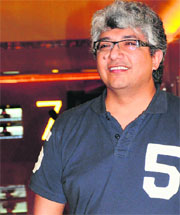 It's all about entertainment
A man with salt and pepper hair, visibly composed walks to and fro. He pulls out his mobile, slips his finger on the screen, puts it away after a while and then resumes his stroll. In between he stops to pose for the lensman. A guide (this is a new sect in Punjabi cinema called the Punjabi film tour guide) whispers the man's claim to fame in your ear. Junaid Memon is the producer of the Punjabi film starring Lakhwinder Singh of Mitti fame, Neetu Singh and Gurmeet Chaudhary.



punjabi stint: Junaid Memon

Full of beans
Director producer Shoojit Sircar, who is ready with Madras Café, believes in making films that are content driven
Wed in style
After making a mark amongst fashion connoisseurs in Delhi, Wedding Asia 2013, a renowned brand in wedding exhibitions, got off to a luxurious start in Chandigarh's JW Marriott, Sector 35. Around 40 exhibitors are showcasing opulent trousseau and stylish wedding 'must haves'.
star track
Break ke baad
Amitabh Bachchan says that all is well on the health front. He talks about his upcoming movie, working with Prakash Jha and much more.



Lights, camera, auction!


Red carpet beckons


The search operation


At her best behaviour


Ranbir, these days


What a launch


Getting bigger and better


Price of fame
chatter box
Kodak moment
The always cheerful Bappi Lahiri turned teary eyed on the sets of Sony Entertainment Television's popular music reality show. The music composer and singer showed a different side to his personality on the sets of Indian Idol Junior. Bappi da made an appearance on the sets of Indian Idol Junior for an evening dedicated to him.



Jump start


Calling it quits


Watch out!


Dance in the rain


Rucha's back


Hiten has all the fun!
punjabi scope
This Robinhood needs luck
Sahnu Rab ney banaya Maharajey, aaya main gaddi mod key…We are hoping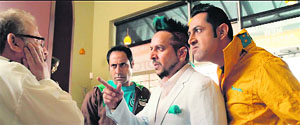 throughout the movie that the singing Romeo, Jazzy B doesn't break in his Yo Man style. Thankfully, he does nothing like this. In fact, even with his Mowhawk hair died in blue, and his red and black pants in place, Jazzy B as Goli delivers an appreciable performance in his debutant movie Best Of Luck.
A still from Best Of Luck

first-day-first show
Witty & intense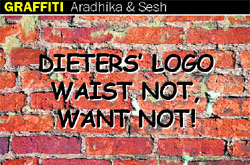 Directed by Shashant Shah and produced by Sunil A Lulla, the film Bajatey Raho is a comedy-thriller. The film features Tusshar Kapoor, Vinay Pathak and Dolly Ahluwalia in the lead roles. The plot of the film witnesses Sabbarwahl (Ravi Kissen), who commits a series of frauds in the garb of a successful business entrepreneur. Little does he know that one of his misdoings has created a huge impact on the lives of four poor sods, including Baweja (Dolly Ahluwalia), Sukhi (Tusshar Kapoor), Mintoo Hasan (Vinay Pathak) and Ballu (Ranvir Shorey), which has only resulted into an enormous wave of need for vengeance. The death of Baweja due to a cardiac arrest after being framed in a bank fraud and Saira his assistant being put behind bars, Baweja's wife takes the situation in her hands as she decides to take revenge.