M A I N N E W S
Court: Batla encounter not fake; IM operative convicted
Legal Correspondent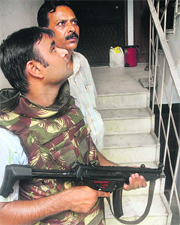 File photo of the Batla House encounter
New Delhi, July 25
Holding that the controversial Batla House encounter on September 19, 2008, was not fake, a Delhi court today convicted Indian Mujahideen (IM) activist Shahzad Ahmed for gunning down decorated police inspector MC Sharma and assaulting other members of the special cell of the Delhi Police.
Additional Sessions Judge Rajender Kumar Shastri will pronounce its order on sentence on July 29.
"He (Shahzad) is held guilty of attempting to cause the death of head constables Balwant Singh and Rajbir Singh and causing the death of Inspector MC Sharma by firing on them," the judge said. Shahzad was also found guilty of assaulting public servants to prevent them from performing their duty.
The police raided flat number L-18 at Batla House in Jamia Nagar locality on a tip-off that militants involved in the September 13, 2008, serial blasts in Delhi were hiding there. The blasts at Karol Bagh, Connaught Place, Greater Kailash and India Gate had left 26 dead and 133 injured.
Of the five occupants of the flat, Atif Ameen and Mohammed Sajid were killed in the encounter, while Mohammed Saif was not made an accused as he had surrendered without resorting to any violence. Ariz Khan alias Junaid, declared as a proclaimed offender, is still at large.
The police had recovered one AK series rifle, two loaded magazines containing 30 live cartridges and two .30 bore pistols from the flat.
Shahzad, nabbed on January 1, 2010, from Azamgarh in UP, had taken the help of Saif and Zeeshan during the trial in an attempt to show that he was not present at Batla House at the time of the encounter. The two defence witnesses had been lodged in Sabarmati jail in Ahmedabad for their alleged role in the serial blasts in that city on July 26, 2008.
The Delhi Police examined 70 witnesses, including the six cops who were part of the raiding team. It had contended that Shahzad's telephone records showed that he was present in the flat. During the encounter, he and Junaid had escaped jumping off the balcony.
The encounter diaries

Sept 13, 2008: Serial blasts rock Delhi, killing 26 & injuring 133
Sept 19: Police raids Batla House on specific tip-off; decorated inspector Mohan Chand Sharma (pic) and two terrorists killed in the ensuing encounter; one surrenders; Shahzad (below) and Junaid escape
Jan 1, 2010: Shahzad arrested from Uttar Pradesh

April 2010: Chargesheet filed
Feb 15, 2011: Trial court frames charges against Shahzad
July 20, 2013: Court reserves judgment
July 25: Court convicts Shahzad
'Why no bullet-proof jacket?'
The court wondered why slain Delhi Police Inspector MC Sharma did not wear a bullet-proof jacket despite knowing that they may face firing. Additional Sessions Judge Rajender Kumar Shastri wondered if not being properly equipped while going on the operation was merely a "misadventure or lack of professionalism" in Delhi Police or scarcity of weapons with the probe agency. — PTI