Disbelief turns into grief
Panchkula, July 25
Disbelief turned into grief for the family of Samvit Raina when his body was not identified twice leaving them with a ray of hope that he was still alive. But the third time his father identified his son with the "kara" in his hand that he had gifted him.
| | |
| --- | --- |
| (From left) Micky who was tagged by Hitesh (centre) and Samvit one hour before the incident. Tribune photos | Samvit (left) with a teacher and Pradeep (right) who is missing. |
Admn's callous approach cost our children's lives: Parents
Panchkula, July 25
"Callous approach of the local administration claimed the lives of our children, who became victims of the flash floods in Ghaggar yesterday", alleged the devastated parents who lost their children in the tragic incident.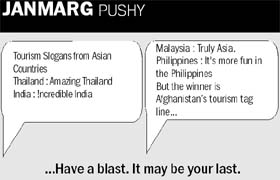 Ravinder Singh was dummy purchaser in Solan land deal, CBI tells court
Chandigarh, July 25
Asserting that the source, cause and opportunity for the payment of Rs 15 lakh to Justice Nirmal Yadav (retd) in August 2008 was a judgment of March 11, 2008, which she gave in favour of former Haryana Additional Advocate General Sanjiv Bansal and not the Solan land deal as projected by the defence, CBI special public prosecutor Anupam Gupta today said the Solan land deal was a complete smokescreen and a 'red-herring' across the track.


CBI raid on two CTU workshops
Chandigarh, July 25
Teams of the Central Bureau of Investigation (CBI), Indian Oil Corporation and UT Weights and Measures Department today conducted simultaneous raids on the workshops of the CTU. The CBI had received complaints of pilferage of diesel from the workshops. Sources said employees of the CTU were allegedly selling diesel in the open market.

Officials test the quality of diesel at the CTU workshop. Tribune photo: Manoj Mahajan

road accident
SI suspended, SHO, inspector sent to lines
Chandigarh, July 25
Taking a strong note of the 'carelessness' and 'unprofessional' attitude of police officials in handling the accident case in which three persons were killed, the UT Inspector General of Police (IGP) today suspended sub-inspector Kuldeep Singh and transferred SHO of the Sector 17 police station inspector Ram Gopal and in charge of the bus stand police post Harminderjit Singh to the police lines.
The damaged Tavera. A file photo

dengue alert
City low on awareness, high on risk
Chandigarh, July 25
Despite several awareness camps being organised by the Health Department, the level of awareness on dengue prevention is quite low. Officials at the National Vector Borne Disease Control Programme (NVBCP) unit said they received complaints regarding poor sanitation in residential areas, which meant residents were not aware of the real cause of the disease.


Mosquito larvae breed in muddy water at Colony No. 5 in Sector 51, Chandigarh. Tribune photo: Parvesh Chauhan
Dept fears higher number of dengue cases this year
Chandigarh, July 25
Having found larvae in 1 out of every 10 desert coolers inspected at various households in and around the city, the Health Department fears higher number of dengue cases this year.


July sees 55% dip in rainfall this monsoon
Chandigarh, July 25
The city has recorded 55 per cent lesser rainfall this season as compared to the normal average of around 280.4 mm in the month of July. A meteorological department report revealed that till today the city received 162 mm rainfall, which is the lowest in the past five years. The city received 68 mm rainfall today.
Students enjoy the weather after a light shower in Chandigarh on Thursday. Tribune photo: Parvesh Chauhan
Mysterious letter rocks city Congress political circles
Chandigarh, July 25
A 'mysterious' letter highlighting alleged controversial past of leaders who are in race for the post of Chandigarh Congress president rocked the political circles of Chandigarh Congress today.


security gates
Mohali MC in a tight spot
Mohali, July 25
A Delhi-based company and another one from Chandigarh have evinced keen interest in running the security gate system in Mohali more effectively by installing closed-circuit television (CCTV) cameras and deploying an adequate number of guards besides generating revenue for the Municipal Corporation.
A security gate at the entry to a sector in Mohali. A file photo
Month on, family awaits consignment
Mohali, July 25
A local family alleged harassment at the hands of a Zirankpur-based packers and movers firm hired by them to shift goods to Hyderabad following their transfer there. The victim, Ajay Kumar, alleged that he along with his wife and a three-year-old son has been living in Hyderabad without any household items for around one month.


Apples come pouring down from HP
Chandigarh, July 25
With bumper cultivation in Himachal Pradesh this year, city markets have been flooded with three times the apples than the previous year. Not only has the 'delicious' variety of apples hit the markets 15 days in advance, these cost 15 to 30 per cent lesser too.

Apple cartons from Himachal Pradesh arrive at the Sector 26 fruit market in Chandigarh on Thursday. Tribune photo: Pradeep Tewari
PGI spreads awareness on hepatitis
Chandigarh, July 25
To mark the sixth World Hepatitis Day, the department of hepatology, PGI, has planned weeklong activities in the tricity. Academic activities to make general public aware about the viral hepatitis are being organised in different schools and other organisations.


Party leaders bat for power workers
Chandigarh, July 25
To press for the demands of the UT Electricity Employees Union, an all- political parties rally was organised in Sector 17 today. The leaders of the parties raised their voice against the proposal of the Administration for privatising the Electricity Department and cancelling the tenders for the appointment of a consultant.
Politicians and power workers hold protest at Bridge Market in Sector 17, Chandigarh, on Thursday. Tribune photo: Parvesh Chauhan
BPL scheme
Rashtriya Swasthya Bima Yojana launched
Chandigarh, July 25
With an aim to provide social security to workers in the unorganised sector and BPL families residing in Chandigarh, the Rashtriya Swasthya Bima Yojana was launched with the support of the UT Labour Department today.


fee hike
Five-member panel formed
Chandigarh, July 25
The UT Education Department has formed a five-member committee to look into the feasibility of setting up a permanent regulatory mechanism to check hike in fee in private unaided schools in the UT. The committee has been asked to propose a system within a month.
HC directs UILS to prepare fresh merit list
Chandigarh, July 25
The Punjab and Haryana High Court on Thursday directed the University Institute of Legal Studies (UILS) to prepare a fresh merit list by giving weightage to students seeking admission in BCom LLB course.


Schoolteachers decide to put agitation on hold till July 31
Chandigarh, July 25
After meeting Education Secretary VK Singh today, the joint action committee of UT schoolteachers postponed its ongoing protest till next Wednesday (July 31) and agreed to join the senior department officials for the next session of the faculty development programme, scheduled to be held this Saturday.
Members of the joint action committee of schoolteachers protest outside the DEO office at Sector 19 in Chandigarh on Thursday. Tribune photo: Manoj Mahajan

Students face inconvenience as PU postpones counselling for 5-yr courses
Chandigarh, July 25
Over 400 candidates from different parts of the country faced inconvenience as counselling for admission to BA LLB and BCom LLB integrated courses, offered by PU at University Institute of Legal Studies (UILS), Panjab University Regional Centre (PURC), Ludhiana, and PURC, Hoshiarpur, was postponed by it following a case challenging eligibility criteria for admission to the courses in the Punjab and Haryana High Court.
Students return after PU defered counselling for five-year integrated courses in Chandigarh on Thursday. Tribune photo: Manoj Mahajan
Conference focuses on German language
Chandigarh, July 25
At KV Principals' Conference here in the city, Surinder Maken, director, Goethe-Zentrum/Goethe-Institute, Chandigarh, emphasised on the importance of language, which helps IN creating a bridge between two different cultures.
Homoeopathic college panel to approach UT Administration
Chandigarh, July 25
The adhoc committee formed after the eight members of the managing committee of Homoeopathic Medical College and Hospital, Sector 26, resigned, has decided to approach the UT Administration and DAV management to take over the college, which is facing the financial crunch.


Students seek change in class timings
Chandigarh, July 25
Members of the Panjab University Students Union (PUSU) staged a protest at PU's Dr Harvansh Singh Judge Institute of Dental Sciences and Hospital against the class timings today.

Members of PUSU stage a protest outside the Dr Harvansh Singh Judge Institute of Dental Sciences and Hospital in Chandigarh on Thursday. Tribune photo: Parvesh Chauhan
500 students take part in workshop
Chandigarh, July 25
The sixth IJ Dewan Workshop on "Organs Talk" organised at the Zakir Hall, PGIMER, by the anatomy department concluded yesterday. About 500 students from various schools of the tricity attended the two-day workshop.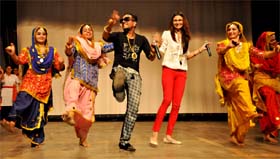 Bhangra beats: Punjabi pop singer Jazzy B performs during the induction day programme at MCM DAV College in Sector 36, Chandigarh, on Thursday. Tribune photo: Parvesh Chauhan
School principals demand parity
Chandigarh, July 25
A meeting of the principals of government aided schools in Chandigarh was held at Sri Guru Gobind Singh Senior Secondary School, Sector 35B, Chandigarh, today.
FROM SCHOOLS
Quiz
An inter-class GK quiz was conducted at Sacred Heart Senior Secondary School, Sector 26 ,Chandigarh today. Students of Classes VII and VIII enthusiastically participated in the quiz, which was hosted by the students of Class XI.