Sarna to appear before clergy today
Amritsar, July 25
Former DSGMC president Paramjit Singh Sarna will appear before the Sikh high priests at the Akal Takht secretariat here tomorrow to explain his move to approach the Delhi High Court against the construction of a memorial for those killed in the 1984 anti-Sikh riots in New Delhi.
BJP pressure works as SAD goes soft on taxes
Chandigarh, July 25
Despite having one of the lowest tax to GSDP (gross state domestic product) ratio in the country, the Punjab Government continues to soft-pedal on the issue of imposing fresh taxes. Under pressure from its alliance partner, the BJP, the SAD has refused to either raise the rate of value added tax (VAT) on diesel or impose professional tax.
Manpreet hints at pact with Congress for LS election
Tarn Taran, July 25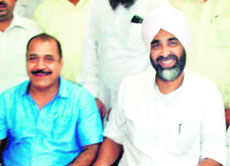 People's Party of Punjab (PPP) chief Manpreet Badal today hinted at forging an alliance with the Congress for the next Lok Sabha elections. Though Manpreet did not make any direct comment, he stressed on the need for the opposition parties to unite against the SAD-BJP government's "misrule".



PPP chief Manpreet Badal (R) in Tarn Taran on Thursday. A Tribune photograph
Mukerian channel repair work under Vigilance scanner
Hoshiarpur, July 25
The working of the Punjab State Power Corporation Limited (PSPCL) has come under the scanner with a team of the Vigilance Bureau seizing records relating to the repair of Mukerian Hydel Channel today.
Ludhiana chief engineer is PSPCL distribution head
Chandigarh, July 25
The state government has appointed KL Sharma, Chief Engineer (central), Ludhiana, as the Director, Distribution, Punjab State Power Corporation Limited (PSPCL). It, however, has failed to find a suitable candidate for the post of Director, Human Resource Development (HRD).
CM: Varsities must help in policy-making
Chandigarh, July 25
Chief Minister Parkash Singh Badal has sought the help of the state's three leading universities for framing a policy on key issues, including education, health, industry, and infrastructure.
New site for Kanakwal village finalised
Bathinda, July 25
The district administration, at a meeting last evening, finalised land for relocating Kanakwal village. The village residents had in April this year jolted the government with their decision to leave the village that is located next to the Bathinda refinery.
July 19 floods
Officials told to reassess losses of Ropar farmers
Ropar, July 25
Ropar Deputy Commissioner PK Agrawal today ordered the officials of the Revenue and Agriculture Departments to jointly reassess the losses suffered by the farmers due to July 19 floods in Nangal and Anandpur Sahib area.
Police returns stolen goods to owners
Pathankot, July 25
At a function attended by Deputy Inspector-General (Border Range) Paramraj Singh Umrananagal and Pathankot MLA Ashwani Sharma, the Pathankot police today returned goods worth Rs 2 crore to the rightful owners.
Medicines siphoned off from govt stock seized in Ropar
Ropar, July 25
Vigilance Bureau officials have seized tablets and injections worth Rs 19,000 from the residence of the storekeeper of the Ropar Civil Hospital. It also found that 250 kits of Copper-T were siphoned off from government stock at Baweja Multi-Speciality Hospital near the civil hospital.
2 Indians at Kot Lakhpat Jail
Centre to take up matter with Pak Govt, HC told
Chandigarh, July 25
Less than four months after a Pakistani human rights lawyer sent an email on the detention of two Indians in Lahore's Kot Lakhpat jail, the Centre has assured the Punjab and Haryana High Court that it would take up the matter with the Pakistan Government.
Conduct TET every year, High Court tells state
Chandigarh, July 25
The Punjab and Haryana High Court today directed the state of Punjab to conduct Teachers Eligibility Test (TET) every year in accordance with the guidelines issued by the Council for Teachers Education (NCTE).
Rural docs can't be equated with PCMS counterparts: HC
Chandigarh, July 25
The Punjab and Haryana High Court today once again made it clear that Rural Medical Officers (RMOs), working with zila parishads in Punjab, cannot be equated with PCMS in-service doctors.
5 get life term for killing constable
Ludhiana, July 25
The court of Additional Sessions Judge SS Panesar has convicted five persons for killing a Punjab Police constable, Harvinder Singh, a resident of Chowkimann village, in April 2010.
Two employees of store selling fake arms held
Ludhiana, July 25
The Khanna police late this evening arrested the manager and an employee of a store on Ferozepur road selling fake weapons. This was confirmed by S Bhupati, Senior Superintendent of Police, Khanna.
Robbers' gang busted, Rs 10 lakh gold seized
Patiala, July 25
The police busted a four-member gang of robbers today and recovered gold ornaments worth Rs 10 lakh, a Nano car and a motorcycle. The police suspect the gang to have murdered Assistant Sub-Inspector (ASI) Gurdial Singh in Ludhiana and to have carried out 250 snatchings across the state.